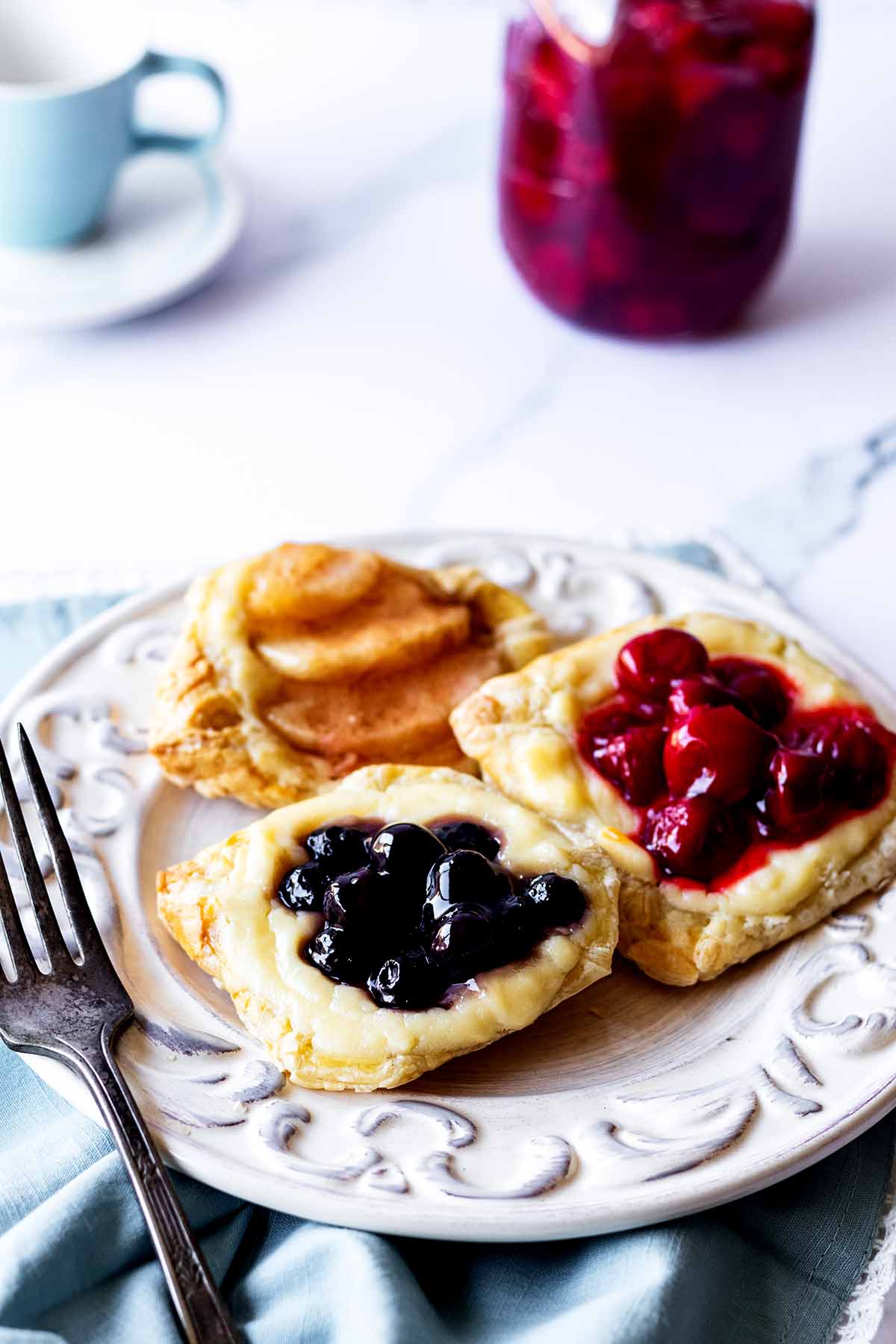 Today we are sharing some of our favorite easy sweet breakfast recipes. Sometimes you just really crave something sweet in the morning, and even better if it's easy, right? We hope you will enjoy these recipes as much as we do!
Table of Contents
1. Nutella Waffles
A couple sheets of ready made puff pastry, a jar of Nutella, and your waffle iron are all you need to make these beauties. It doesn't get any easier than that!
2. Strawberry Pancakes
Fresh strawberries are a favorite around here, so it made sense to add a few to these delicious pancakes. Easy and delicious!
3. Banana Chocolate Chip Pancakes
If you love chocolate and bananas, you will love these pancakes. They're sweet, easy, and the perfect breakfast or brunch treat for your favorite peeps!
4. Blueberry Granola
Intimated by making your own granola? Don't be. It truly is just a matter of mixing everything in a bowl and baking at a low temperature. Enjoy it with some homemade walnut milk.
5. Berry Yogurt Parfaits
These have to be some of our favorite healthy sweet breakfast ideas for summer. You can even make them ahead and store them in your fridge.
6. Pineapple French Toast
This easy, tropical sweet breakfast treat can be yours for the taking. It uses only 7 simple ingredients and comes together in a snap.
7. Caramel Apple French Toast
You may think you have died and gone to heaven when you try this amazing caramel apple French toast. It may seem that you spent a lot of time on it, but it's truly a super easy sweet breakfast recipe.
8. Apple Compote
9. Oat and Honey Granola Bars
These granola bars are sort of a cross between a candy bar and a breakfast bar. If you're looking for something sweet for breakfast that can also be made ahead and shared with others, you have what you need right here.
10. No Bake Oatmeal Peanut Butter Bars
Like our Oat and Honey Granola Bars, these guys will have you feeling like you're having candy for breakfast. We love to enjoy these in the summer because we don't have to turn our oven on. Plus this recipe makes plenty to share!
11. Lemon Blueberry Pancakes
Lemons and blueberries, need I say more? It's such a delicious, sweet flavor combination, and it certainly brings out the best in these pancakes.
12. Raisin Bread Pudding
Is it breakfast? Is it dessert? You decide. We have been known to enjoy this sweet treat for breakfast. You can too!
13. Bananas Foster Pancakes
You've probably heard of the bananas Foster dessert. Well this recipe captures the best of that dessert and brings it to your breakfast table. Don't let the ingredient list fool you. This one is way easier than you can imagine.
14. Caramel Pull Apart Rolls
This is a great sweet breakfast treat to get started on the night before to make your morning full of sweetness and stress free!
15. Peanut Butter and Jelly Breakfast Bars
An easy sweet breakfast ideas lineup just wouldn't be complete without these 3 ingredient PB&J breakfast bars. Just mix and bake. Easy peasy.
16. Easy Breakfast Cheese Danish
Have a hankering for an easy breakfast cheese Danish? We've got you covered. This one is beyond easy.
There you have it! I hope you have found something here to make and enjoy for years to come. For more easy breakfast goodness, check out all of our easy breakfast recipes!