Jump to Recipe
This perfectly sweet and versatile 3-ingredient strawberry compote recipe will reside in your recipe collection now and in the years to come. Quick and easy.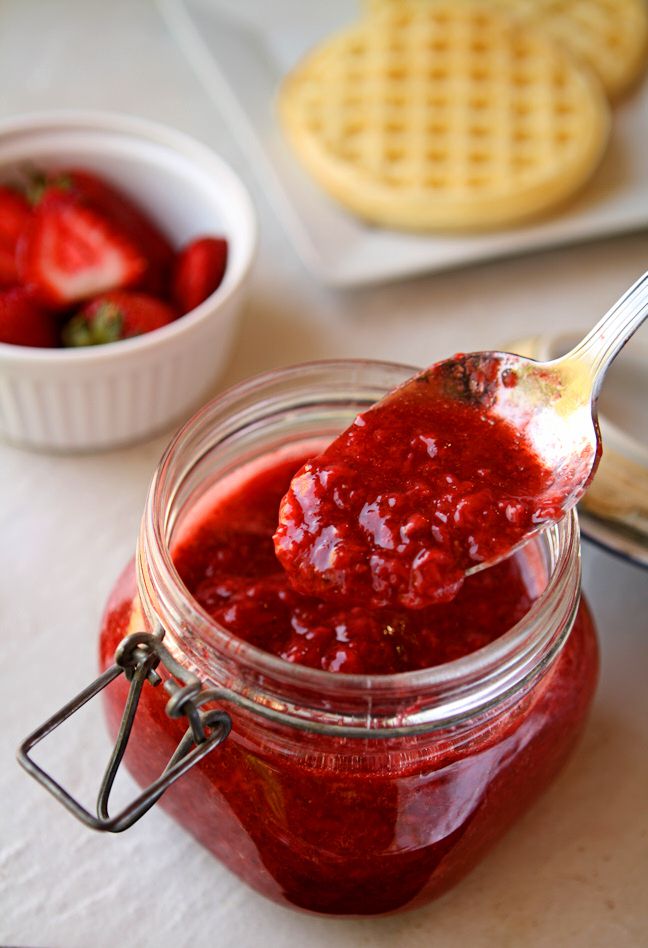 Right now I just want to chill for a while. Take a hiatus from all the craziness. To clean my house, see my family. Just see some movies and pick some strawberries.
Lauren Ambrose, Actress
I don't know about housecleaning. I suppose housecleaning is necessary in life. However, chilling for a while. I'm all about that. Seeing family, watching movies and picking strawberries? I could go for that. My grandparents lived in a mobile home on a few acres of land. We lived in the city. My grandfather used to make his living as a farmer. When he retired it was only natural that they would settle on some land and continue to grow their own food. They had fruit trees galore, grape vines and berry patches. When I was a little girl I loved to chase the chickens. I never caught any though. I wouldn't have known what to do with one if I'd caught it anyhow. I remember the peacefulness of my grandparents' place. I remember the contrast of my hectic life in the city and their quiet little trailer in Placerville, California. They did still work hard though. They worked the land. Farming was just in his blood.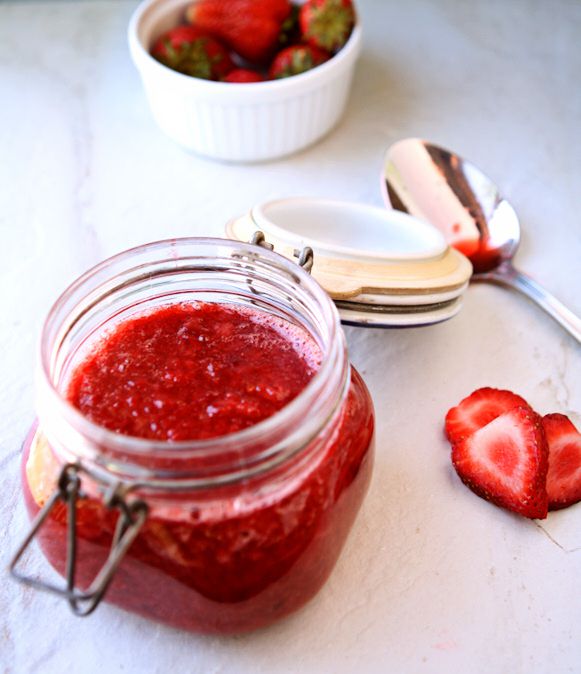 The quiet peacefulness of that place is a memory that will probably forever be etched in my mind. Especially the days we went blackberry picking. Out there, away from the noisy rhythm of the city you can meditate to the gentle white noise of nature. Sitting here thinking about those days in the berry patch, I can still hear the steady whirring of winged insects, birds calling to each other and the rustling of leaves stirred up by our picking. Berry-picking is definitely a chill out activity. It is fun perusing the bounty and picking just the right ones. That is a relaxing practice in and of itself.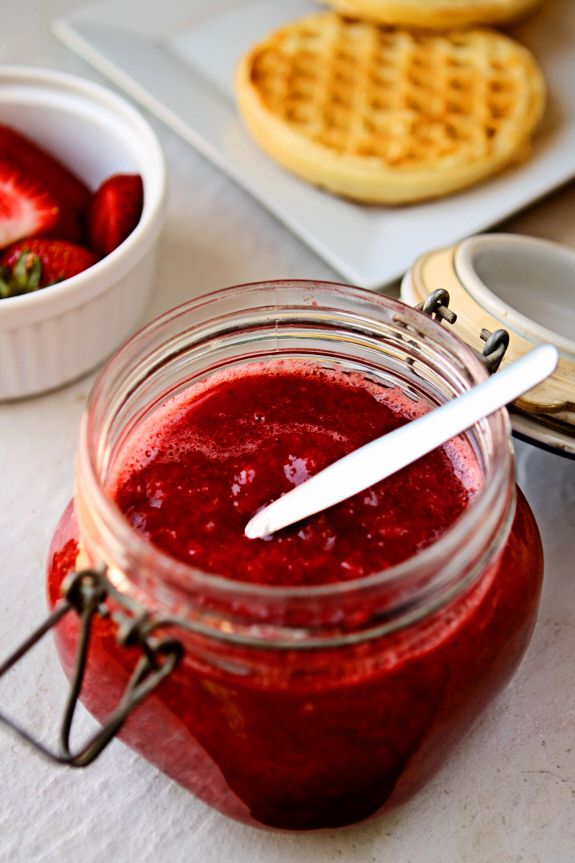 I still live in the city and don't know of any local strawberry patches, therefore I bought the strawberries for this compote at the grocery store. I live in Arizona now and am not sure that I would want to be anywhere outside doing anything in the heat of summer when strawberry season occurs. I like to imagine that the someone who picked my strawberries had a peaceful and enjoyable time with the task. I hope so.
I have made this compote a couple of times this season and usually use it on top of waffles as an alternative to maple syrup. This is such a versatile sweet condiment though. I can imagine that it would be wonderful on top of your favorite ice cream. How about cheesecake? I bet it would be divine on top of pound cake or angel food cake. Then of course there is strawberry shortcake too. Do you have any other ideas?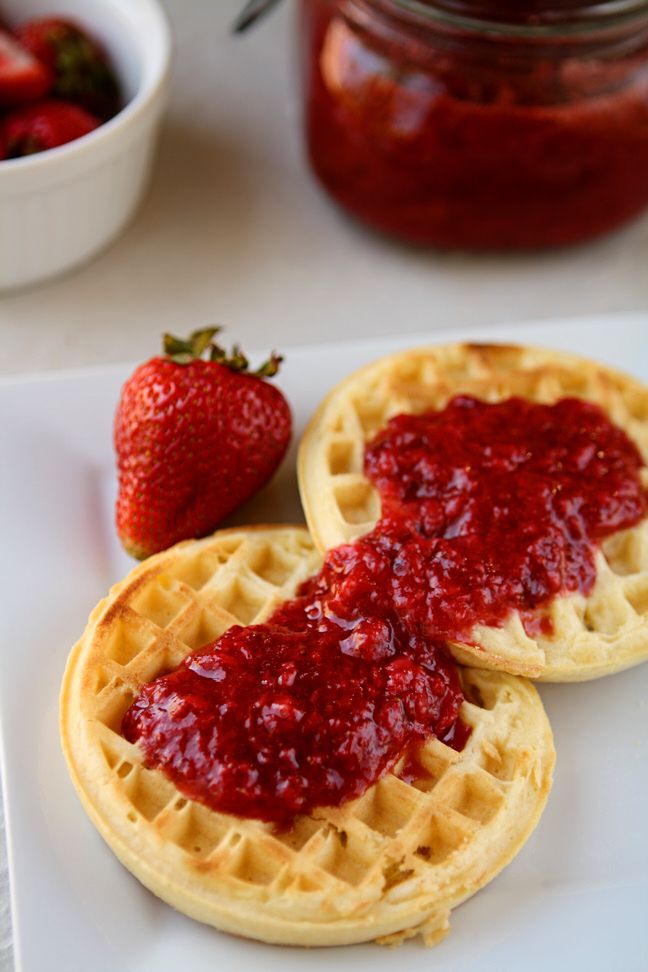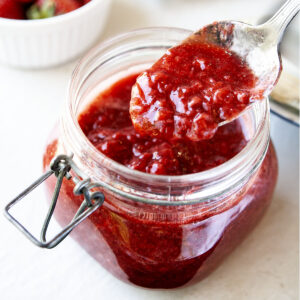 Strawberry Compote
This perfectly sweet and versatile 3-ingredient strawberry compote recipe will reside in your recipe collection now and in the years to come. Quick and easy.
Equipment
Stainless steel or glass saucepan
Ingredients
3

pints

fresh strawberries (or frozen strawberries thawed)

washed, patted dry and sliced

1

cup

granulated sugar

½

cup

cooking sherry
Instructions
In a non-reactive pan (stainless steel or glass), over medium heat, combine the strawberries, sugar and sherry.

Bring to a boil, reduce the heat to low and simmer until the fruit is soft, about 10 minutes.

Remove from heat and cool.

In a food processor, fitted with a metal blade, puree the strawberries until smooth.

Serve and enjoy.
Notes
Refrigerate any leftovers. Will keep in the refrigerator for two weeks.
Nutrition Facts
Calories:
663
kcal
(33%)
Carbohydrates:
156
g
(52%)
Protein:
5
g
(10%)
Fat:
2
g
(3%)
Saturated Fat:
1
g
(6%)
Sodium:
11
mg
Potassium:
1129
mg
(32%)
Fiber:
14
g
(58%)
Sugar:
135
g
(150%)
Vitamin A:
85
IU
(2%)
Vitamin C:
417
mg
(505%)
Calcium:
119
mg
(12%)
Iron:
3
mg
(17%)
Nutritional information provided is for one serving and is only an estimate. The accuracy of the nutritional information for any recipe on this site is not guaranteed.