Smoothie bowls make for a delicious and healthy breakfast. They're also very versatile and the flavors can be changed up depending on the toppings you put on them. We thought it would be helpful to create a list of toppings for smoothie bowls to help you get your creative juices flowing the next time you make a smoothie bowl!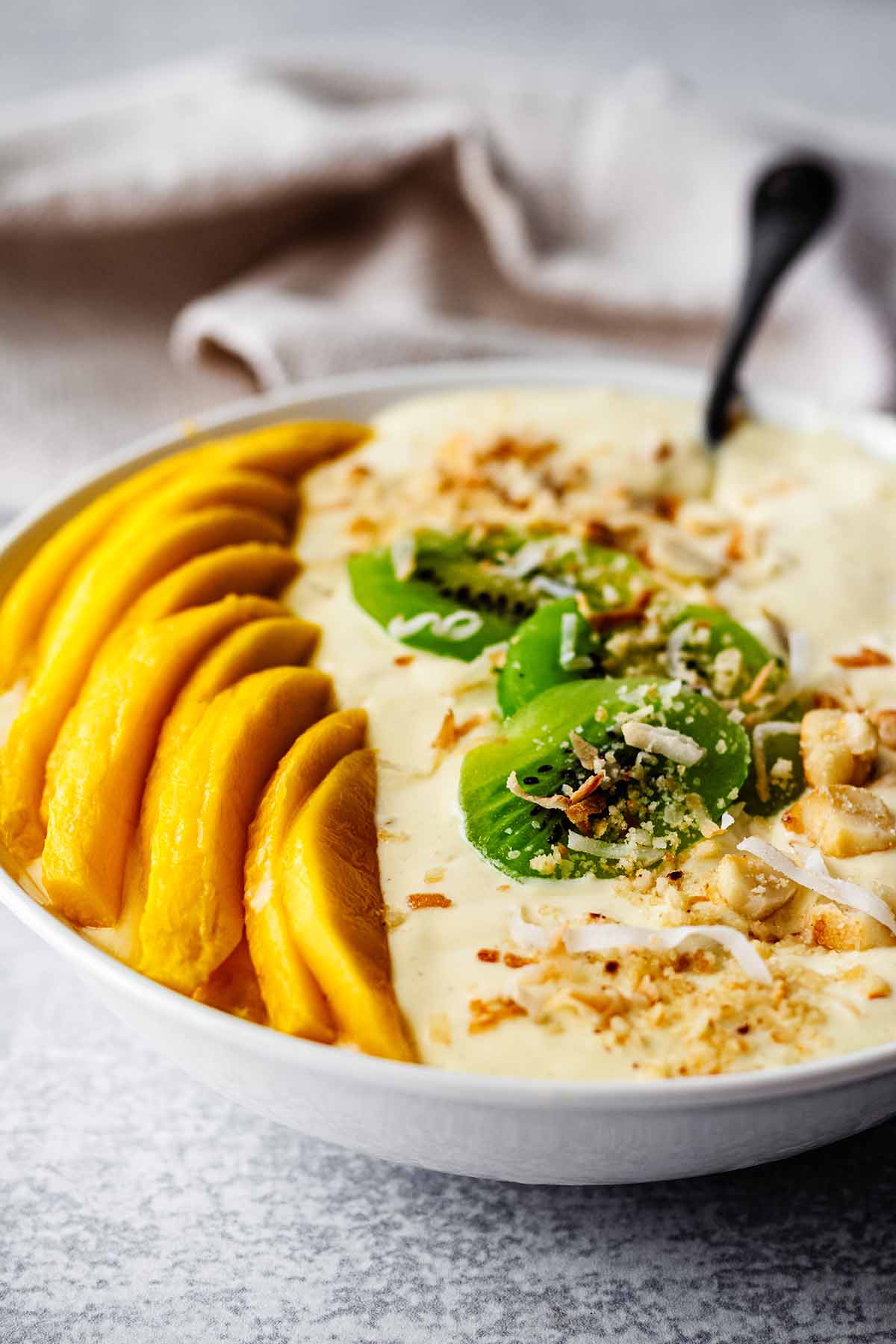 Dried Fruit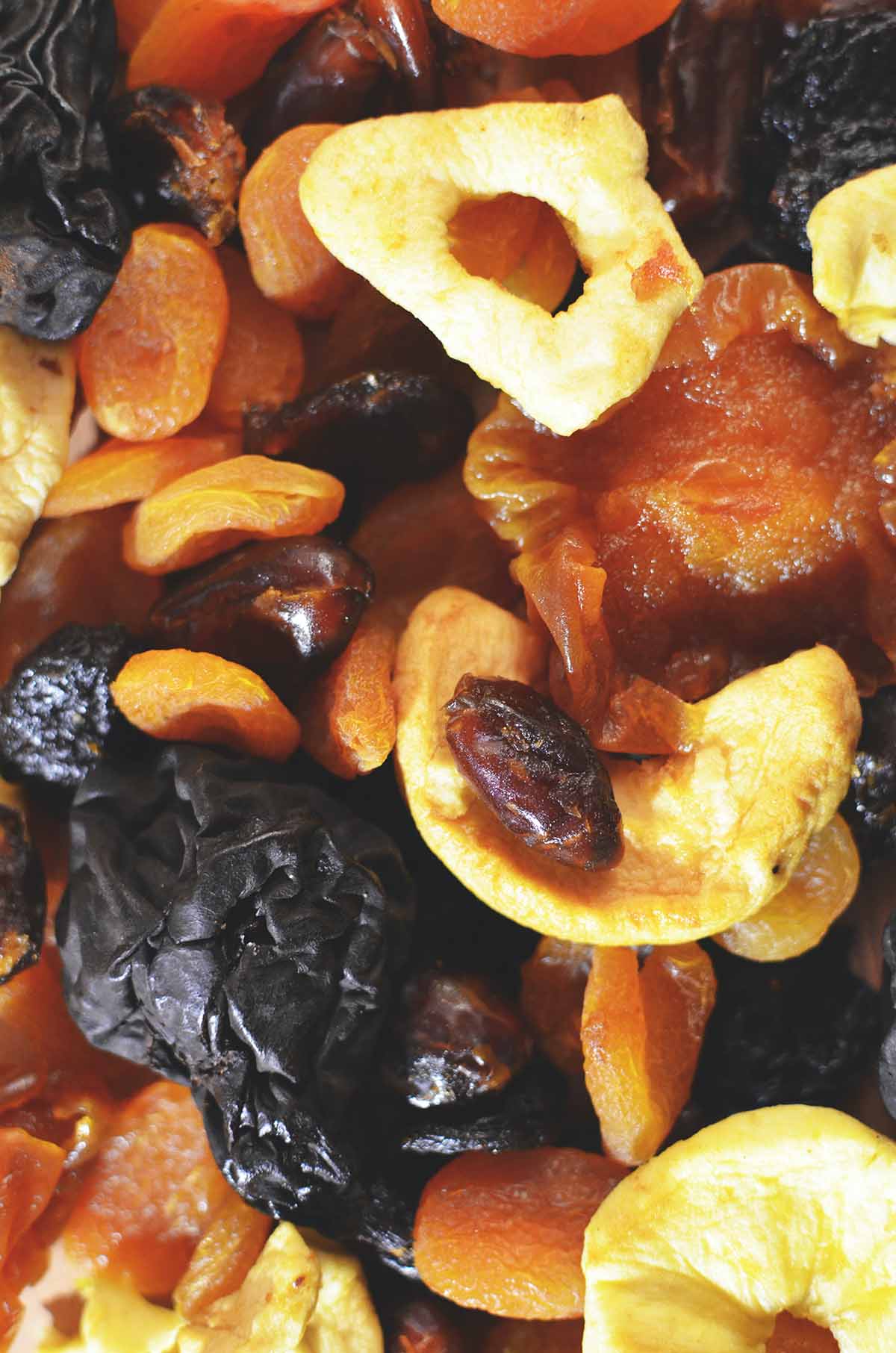 Dried fruit always makes a great smoothie bowl topping. It tends to be chewy and sweet, so it adds both texture and flavor.
Apricots. Chopped dried apricots are great when you want some summer flavors even in the dead of winter. Try them on top of this apricot raspberry smoothie bowl from Maroc Mama.
Apples. Dried apples and currants (listed below) are perfect for fall. Try them on this banana smoothie bowl.
Cherries. Dried cherries are a real treat. We love them in salads and on top of smoothie bowls. Dried cherries would pair very well with chopped almonds and be right at home on top of a chocolate smoothie bowl like this chocolate hazelnut smoothie bowl from Feel Good Foodie.
Cranberries. If you love a bit of tartness, dried cranberries are definitely the way to go! They also add a bit of sweetness to your morning smoothie bowl. They're not only for smoothie bowls though! We used them in our breakfast couscous recipe, and "yum" is all I have to say! If you love cranberries, check out this cranberry smoothie bowl recipe from Nutmeg Nanny.
Currants. A current is a small, dried berry. They are similar to raisins and can be used interchangeably.
Dates. I love to eat dates for dessert because they make me feel like I'm eating candy but without the guilt! Chop or slice some dates on top of your smoothie bowl for lots of sweetness. They pair very well with peanut butter, so we used them on this peanut butter toast and would make a great topping for these peanut butter pancakes or this peanut butter milkshake.
Figs. Dried figs will add color, interest, and flavor to your smoothie bowl.
Goji berries. Goji berries may not be as familiar to you. What are they? Goji berries, otherwise known as wolfberries, are small red berries that are native to Asia. They are used in traditional Asian cuisine and the dried version is often found in granola bars. We used them in this spicy chicken soup. They are a great alternative to raisins when you want something a little different!
Prunes. Not many people think of prunes as a topping for their smoothie bowl, but they taste great!
Raisins. Raisins are a great option on top of an autumn-inspired smoothie bowl, like this apple pie smoothie bowl from Fit Foodie Finds. If you would rather have a smoothie that you can drink, you might want to give this apple pie smoothie a try!
Chopped Nuts and Seeds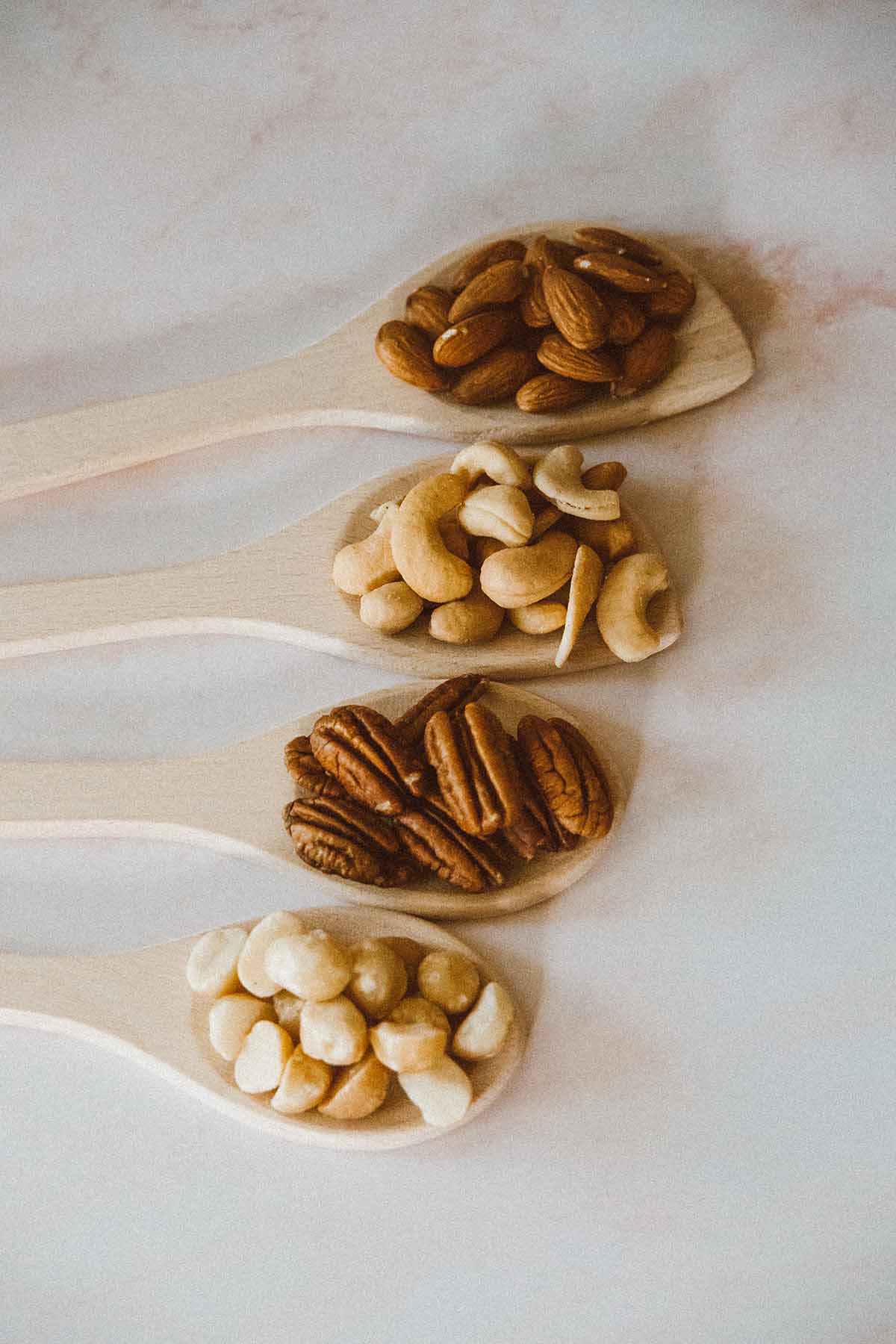 Chopped nuts and seeds make a great addition to your morning smoothie bowl because they add protein and texture. Toast them for added flavor.
Almonds.
Apricots.
Cashews.
Cherries.
Chia seeds.
Flaxseed.
Grapes.
Hazelnuts.
Macadamia nuts.
Pecans.
Peaches.
Peanuts.
Pine nuts.
Pistachios.
Poppy seeds.
Pumpkin seeds.
Sesame seeds.
Sunflower seeds.
Walnuts.
Fresh Fruit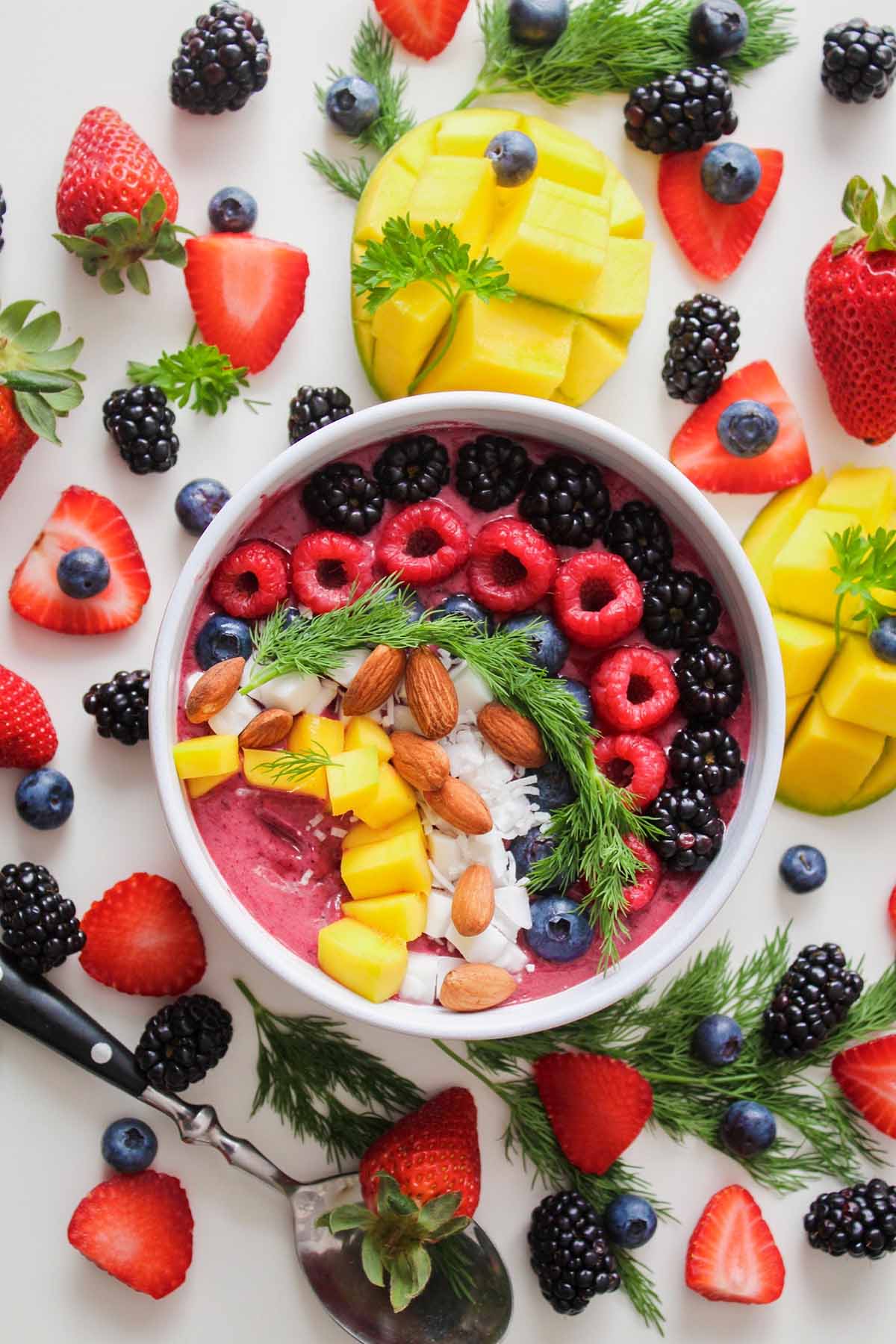 Your options for fresh fruit atop your smoothie bowl are limited only by what is available at your grocery store. This list is not exhaustive and provides only a few suggestions. Combine them to come up with your own flavor combination like we did for this tropical smoothie bowl.
Apples.
Bananas.
Blackberries.
Blueberries.
Kiwi.
Mango.
Pears.
Pineapple.
Pomegranate seeds.
Raspberries.
Strawberries.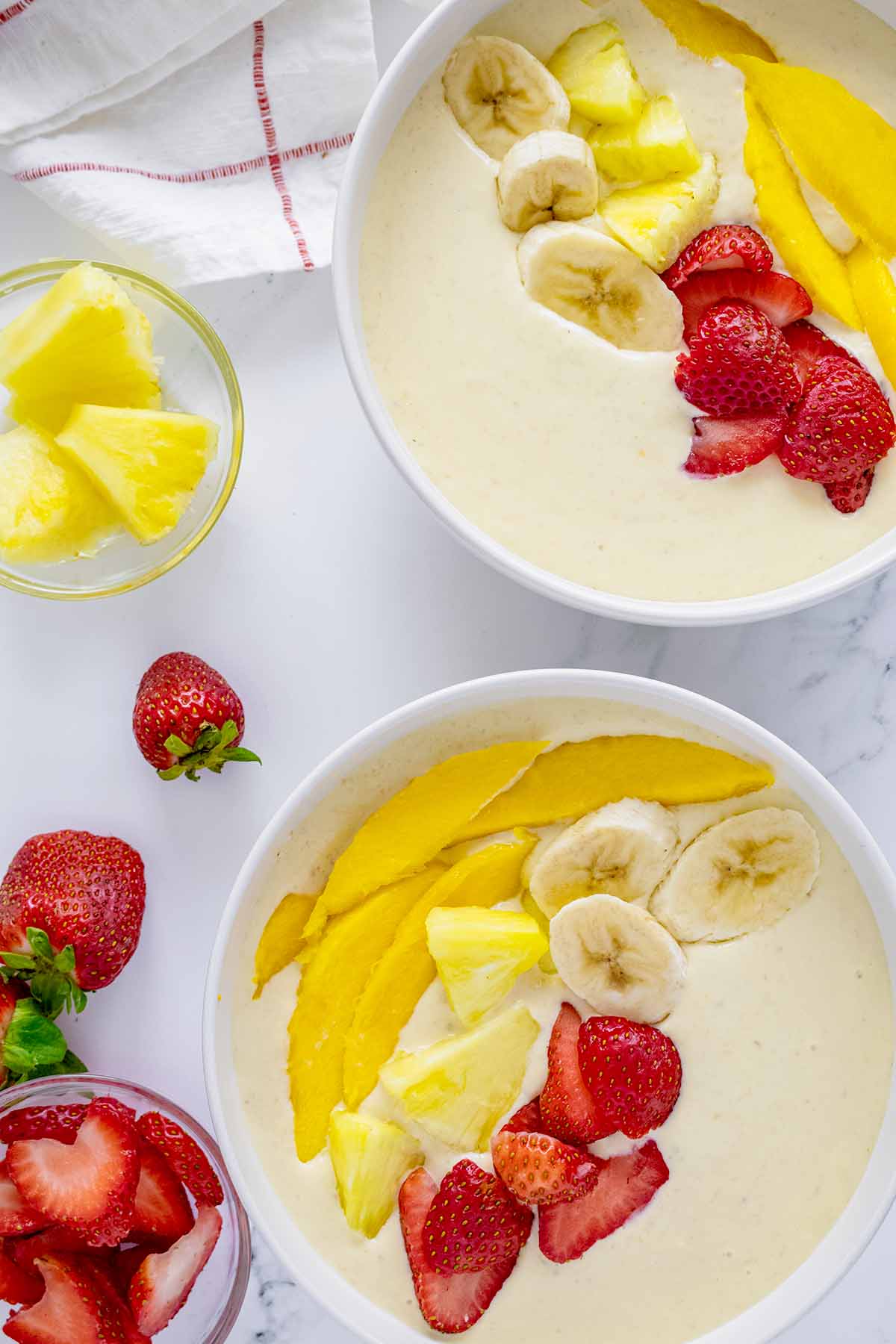 Miscellaneous Toppings
Combine some of these miscellaneous toppings with the other items on this page for a tasty mix for your next smoothie bowl!
Banana chips.
Buckwheat groats.
Cacao nibs.
Chili powder.
Chocolate chips.
Ground cardamom.
Ground cinnamon.
Oat bran.
Rolled oats.
Shredded coconut.
Steel cut oats.
Wheat bran.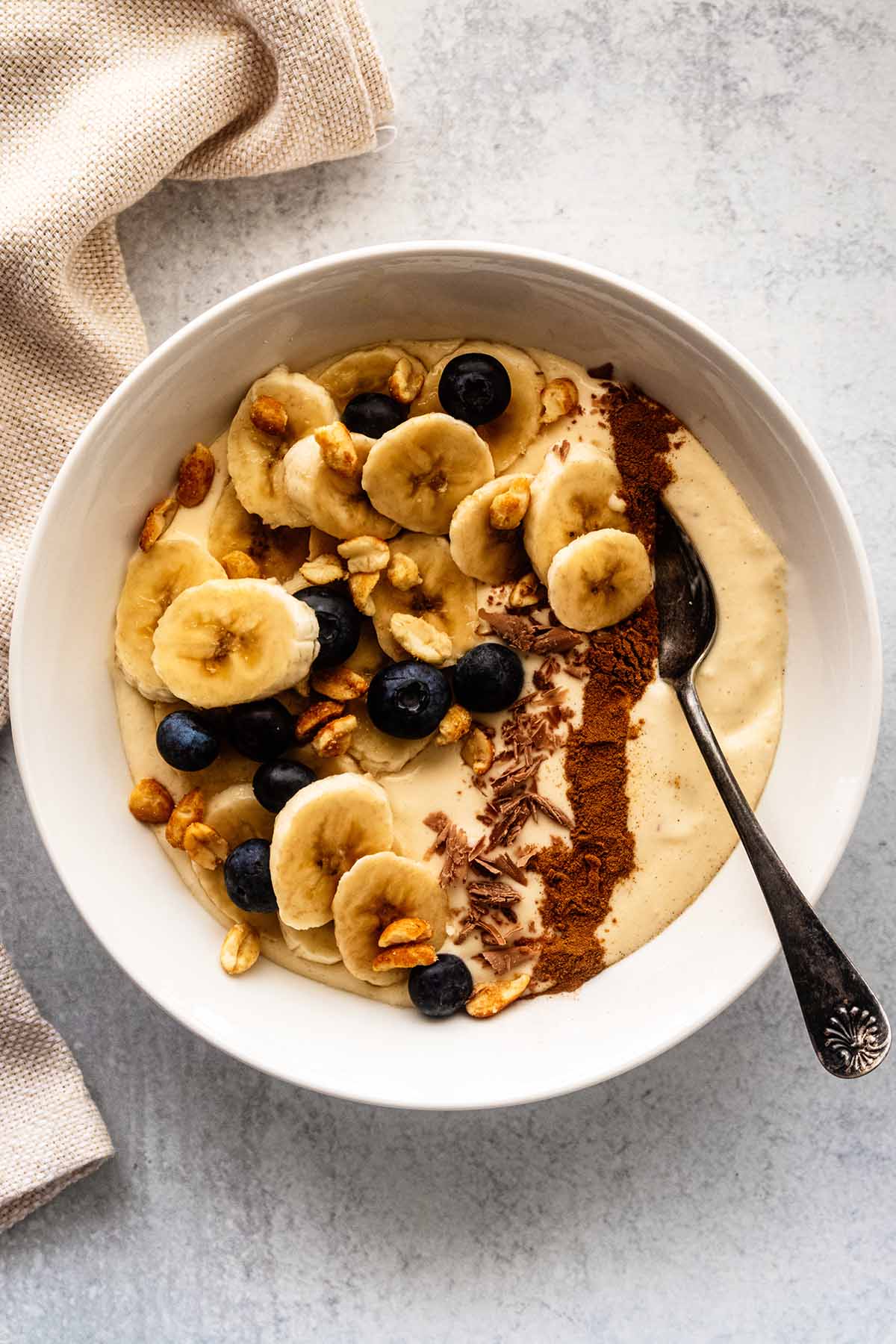 Topping Combinations
Toppings for smoothie bowls are not limited to the items listed individually on this page. Here we share some delicious combinations and recipes that will make your next smoothie bowl come alive with flavor and texture. You can mix many of these ahead of time and store them in an airtight container. Many will keep in your pantry, but some are best kept in the freezer.
Apricot crunch. Combine ⅓ cup each of dried apricot halves, pistachios, and roasted walnut halves. Add 1 tablespoon each of toasted sesame seeds and halved dried golden berries. Add 1 tablespoon orange blossom water. Stir to combine. Place mixture in a jar, seal with a lid, and store in the freezer for up to 6 months. It will be ready to go the next time you make your favorite smoothie bowl.
Cherry vanilla granola. This homemade cherry vanilla granola would be perfect on top of a vanilla smoothie bowl. Store in an airtight container in your pantry. It will keep up to one month.
Honey Crumble. Heat 1 tablespoon coconut oil in a frying pan. Stir in ¼ cup quinoa, 1 tablespoon each of honey and sesame seeds, and ½ teaspoon ground cinnamon until golden. Spread on a parchment paper-lined tray. Cool, and break into pieces. Store in an airtight jar in your pantry. It will keep for up to a month.
Vanilla crunch. Combine ⅓ cup coconut flakes, ⅓ cup sliced almonds, and the scraped seeds from 1 split vanilla bean in a small jar. Seal the lid and store in your freezer for up to 6 months.
Berry poppy. Combine ½ cup toasted shredded coconut, ½ cup dried goji berries (or cherries or cranberries) and 2 tablespoons poppy seeds in a small jar. Seal the lid and store in your pantry. It will keep up to a month.
Some topping recipes came from Smoothies & Super Juices magazine by Food to Love.
Smoothie Bowl Recipes
We hope you have found these suggested toppings for smoothie bowls helpful. We will be adding as we go. If you have any other suggestions, please let us know in the comments!