This recipe for healthy homemade cherry vanilla granola is delicious and super easy to make. It takes only 5 minutes to prep and can keep in an airtight container for up to a month.
Jump to Recipe
Print Recipe
This recipe for healthy cherry vanilla granola is delicious and super easy to make. It takes only 5 minutes to prep and can keep in an airtight container for up to a month. It also makes a thoughtful gift for the health-conscious loved ones in your life.
Answers to some frequently asked questions about this recipe:
How do I make a granola recipe?
Homemade granola is easy to make. In general, it consists of some type of grain (oats, cereal), fat, sweetener and mix-ins (e.g., dried fruit, nuts). You simply mix the grains, fat, and sweetener together in a bowl and spread the mixture on a cookie sheet and bake at a low temp (250 degrees F (121 degrees C)) for 45-55 minutes. After baking, break the mixture up into a bowl, leaving some clumps, and stir in your chosen mix-ins.
What makes this recipe healthy?
For the fat, this recipe uses healthy liquified coconut oil. Coconut oil has many health benefits, including increased fat burning and better brain function. Source: Healthline In addition, this recipe uses natural low glycemic agave syrup which is slowly absorbed by the body preventing sugar spikes in the bloodstream.
What makes the best granola recipe?
That really depends on your individual taste. This recipe calls for a mixture of sliced almonds and sunflower seeds to be mixed in with the grains. You could vary that by using your favorite chopped nuts like pecans, macadamia, cashews, peanuts. Whatever you like. Also the sky's the limit when it comes to mix-ins. Any kind of dried fruit and nuts would be great. It's all up to you.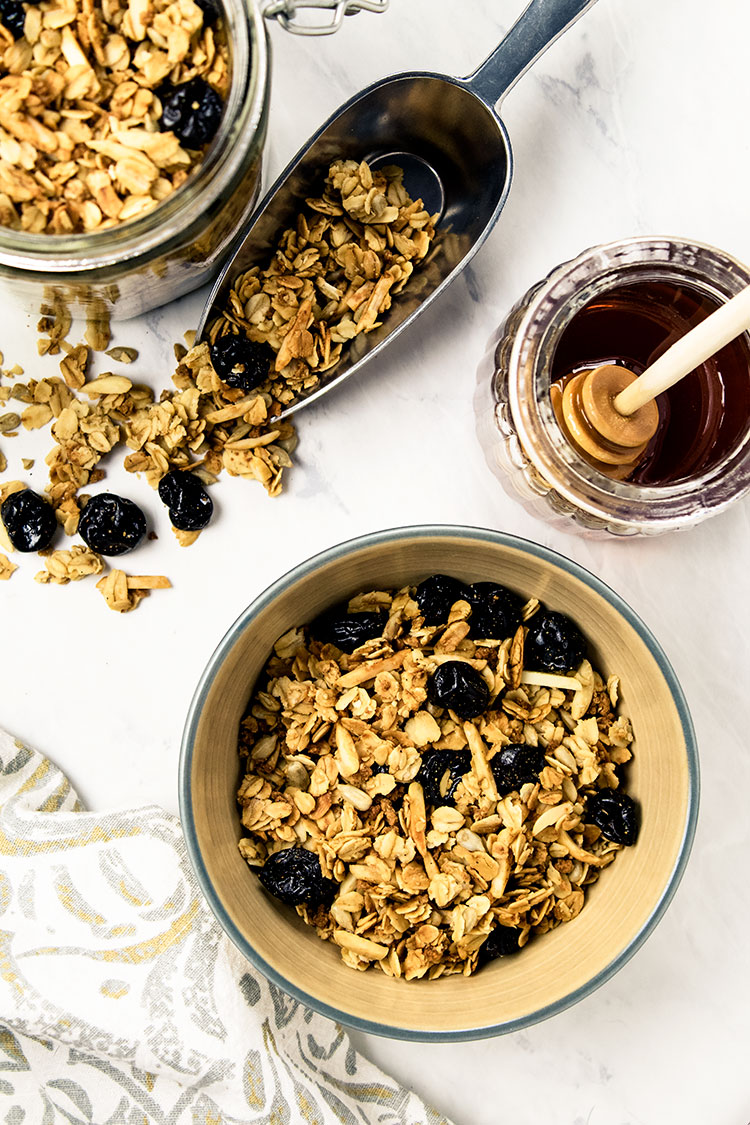 A Healthy Granola Recipe to Get Your Year Off to a Great Start
Hello and Happy New Year! I decided to kick off January 2019 with a series of healthy breakfast recipes, beginning with this healthy cherry vanilla granola recipe. December is usually filled with hustle and bustle in addition to loads of decadent food galore. Not that there's anything wrong with the occasional decadent delicacy, but usually by January folks are looking for healthier options. I am happy to oblige with this delicious healthy homemade cherry vanilla granola recipe.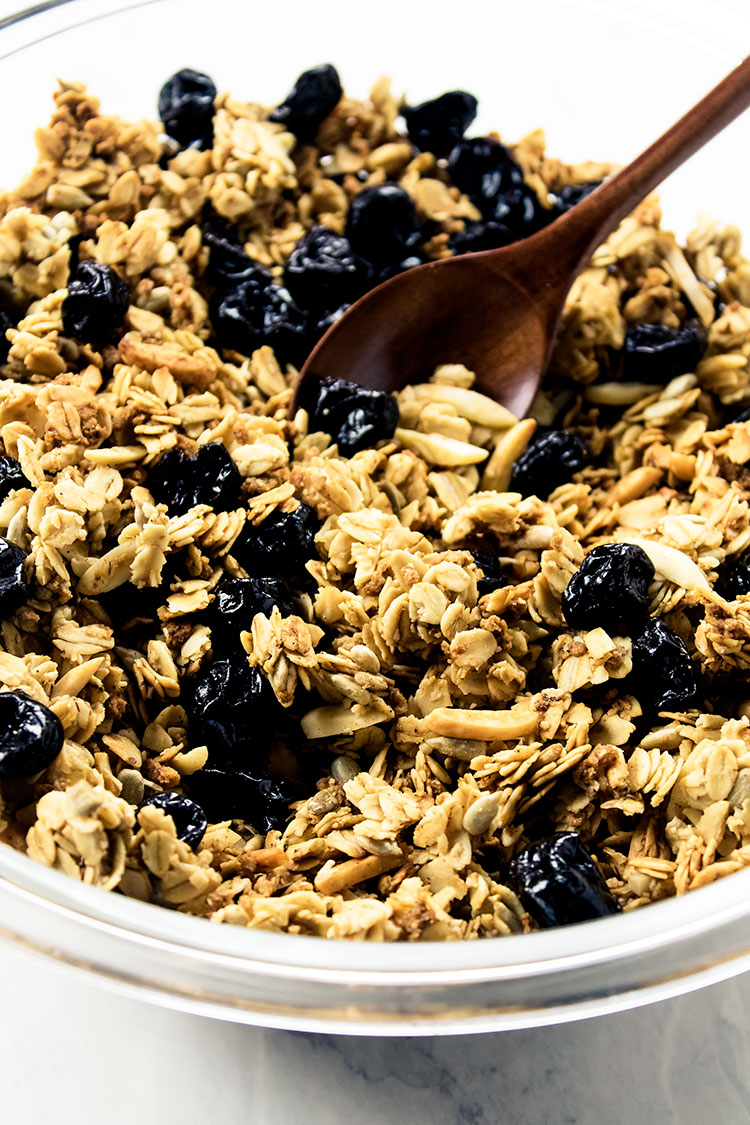 Healthy AND Easy – It doesn't get much better than that
Not only is this granola healthy, but it's super easy to make. You simply mix everything up in a couple of mixing bowls and bake in a low temp oven for about 45 minutes. Once cooled, you stir in your mix-ins (dried fruit and/or nuts). That is really all there is to it!
Healthier Alternatives
As I mentioned in the FAQs above, this granola recipe uses healthy alternatives for the fat and sweetener. Coconut oil is a healthy fat because it:
promotes fat burning. It might be counter-intuitive that eating fat actually helps you lose fat, but in this case it does!
improves heart health because it increases good cholesterol levels.
helps with brain function and memory.
In addition, I have noticed that as I've gotten older my body does not handle sugar as efficiently as it once did, which has led to an increase of fat storage. As a result, I have been on the hunt for healthier sweeteners. I found organic low glycemic blue agave syrup at my local Sprouts, which is a natural grocery store if you haven't heard of it. If you do not live near a healthy grocery store, you can purchase a bottle here. I love this sweetener because it:
is organic and all natural.
has a low glycemic index meaning that it is slowly absorbed by the body and prevents sugar spikes in the blood stream.
is 25% sweeter than sugar meaning that you can use less of it to get the same taste benefit.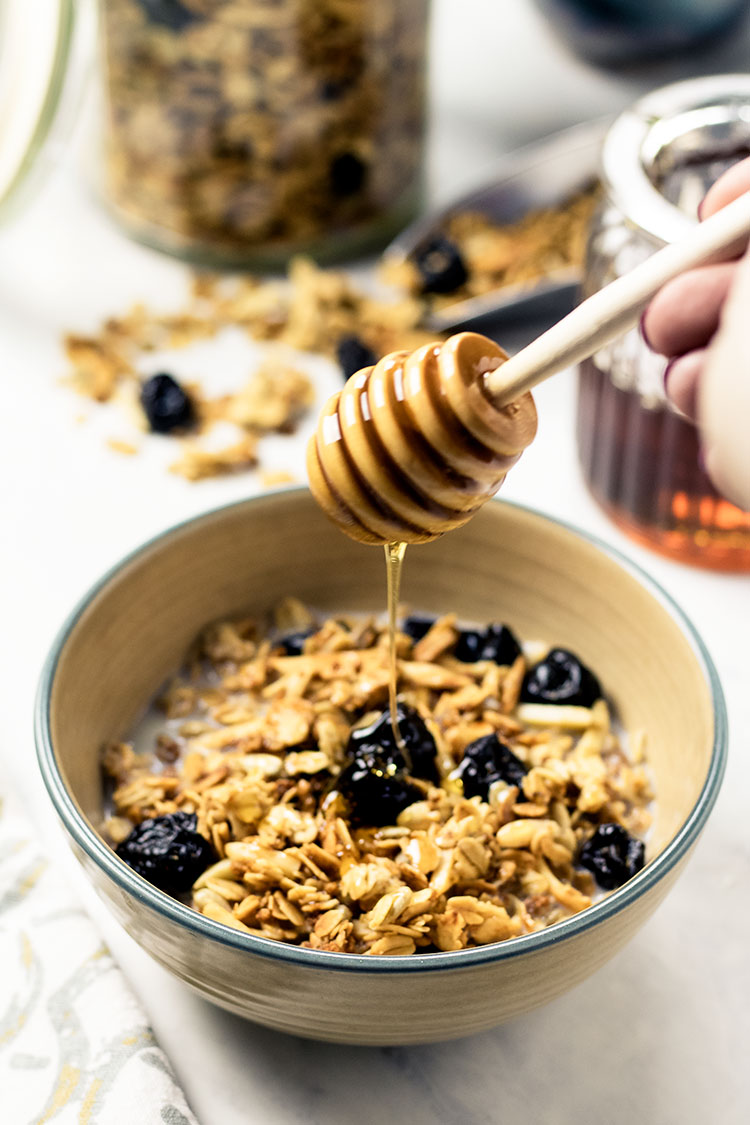 If You Love Honey
I had originally made this granola with honey, but discovered that it had turned bitter after baking. On further research, I learned that honey can be toxic when heated above a certain temperature. Not good! I don't know if that's true or not, but why take chances? If you love honey and are looking for a granola recipe that contains honey, this granola is delicious drizzled with raw honey as I've done in the photo above. Better safe than sorry is my motto. Besides the honey tastes better in its uncooked, raw state rather than cooked into the granola. Trust me on this one. 😉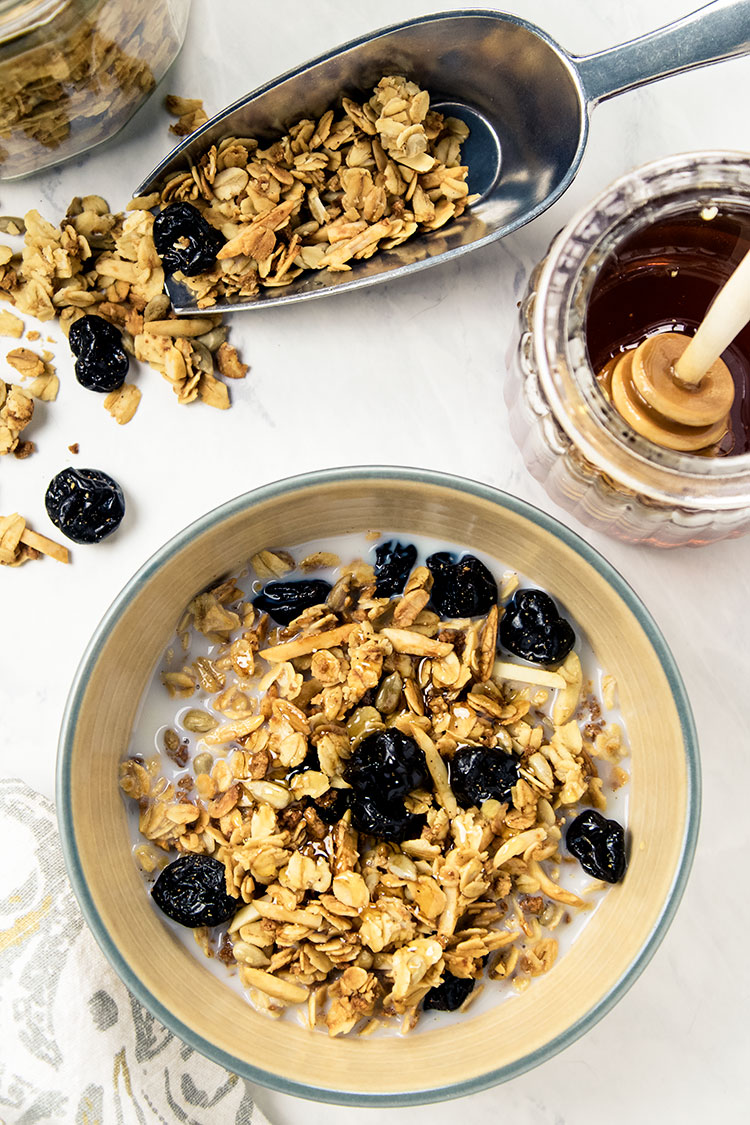 Seriously, this is a great alternative to commercial store-bought granola because you control what goes in it. It will keep very well in an airtight container. You can also freeze it.
If you like this recipe, you may also like:
I hope you make this healthy cherry granola recipe soon. If you do, please let me know in the comments what you think and leave a review. Also, please don't forget to subscribe to be notified whenever a new tasty breakfast or brunch recipe is published. If breakfast is your thing, this is the place for you! Please visit often and thanks for reading.
Enjoy!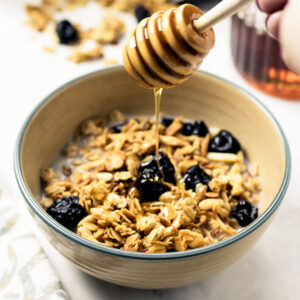 Healthy Cherry Vanilla Granola
This recipe for healthy homemade cherry vanilla granola is delicious and super easy to make. It takes only 5 minutes to prep and can keep in an airtight container for up to a month.
Ingredients
4

cups

uncooked oats

not quick oats

1/2

cup

slivered almonds

raw

1/2

cup

crunchy cereal nuggets

like Post Grape Nuts

1/4

cup

sunflower seeds

raw

1/2

cup

liquified coconut oil

1/3

cup

agave syrup

1

Tbsp

vanilla

1-1/2

tsp

ground nutmeg

1

cup

dried cherries
Instructions
Preheat oven to 250 degrees F (121 degrees C).


In a large mixing bowl, combine oats, almonds, cereal nuggets, and sunflower seeds.


In a separate medium mixing bowl, combine oil, syrup and vanilla.


Pour liquid mixture over dry mixture and mix thoroughly. Sprinkle nutmeg over mixture and combine.


Line a 15x10-inch baking sheet with parchment paper. Add mixture and spread out to cover bottom of baking sheet.


Bake in preheated oven for 40 to 45 minutes or until mixture is toasted and golden brown. Allow to cool and then crumble mixture into large bowl and stir in cherries.


Store in an airtight container. Can also be frozen.

Nutrition
Calories:
505
kcal
Carbohydrates:
62
g
Protein:
11
g
Fat:
25
g
Saturated Fat:
15
g
Sodium:
49
mg
Potassium:
286
mg
Fiber:
8
g
Sugar:
18
g
Vitamin A:
761
IU
Calcium:
67
mg
Iron:
6
mg