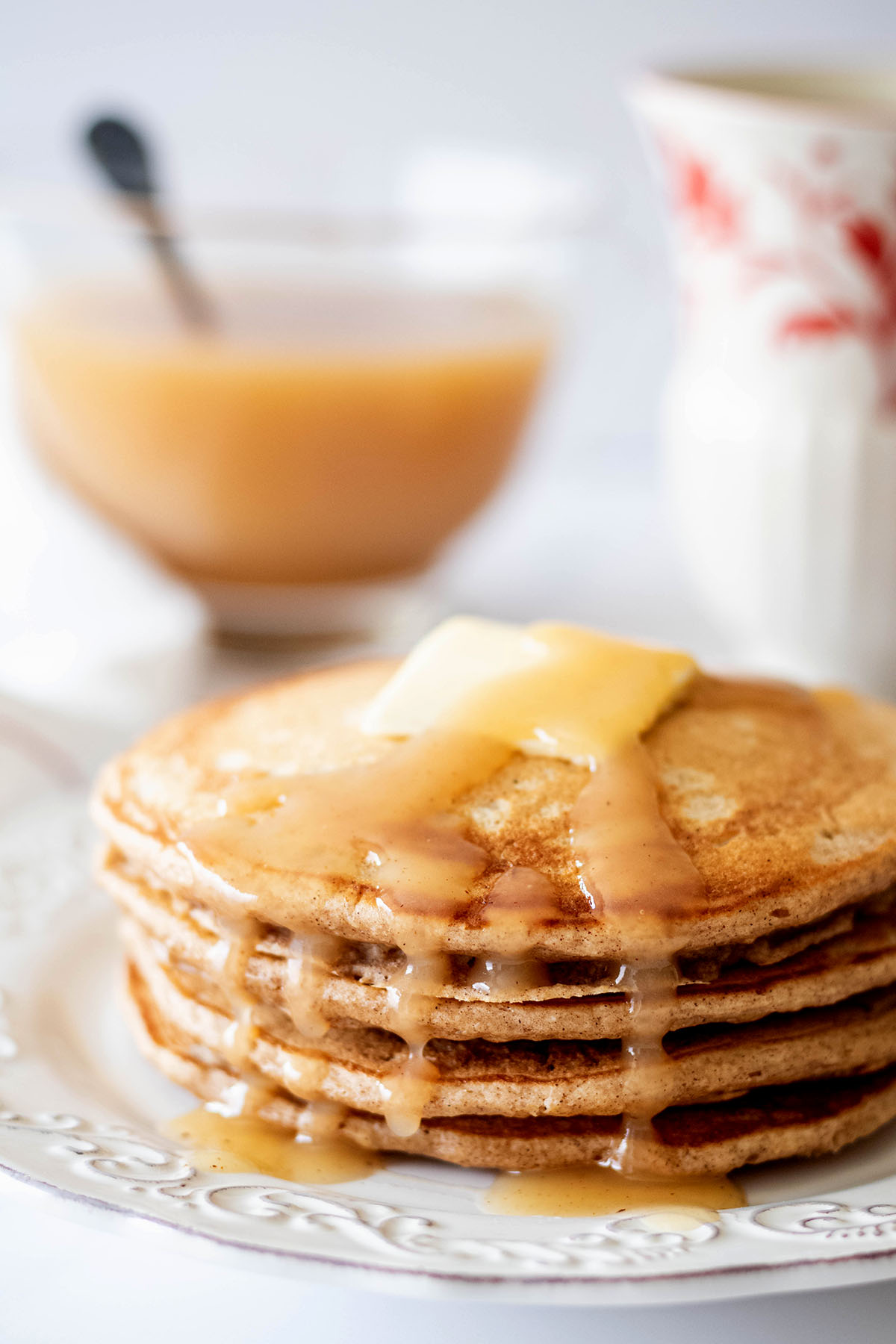 For many people, me included, breakfast is the favorite meal of the day. However, like many people, it's hard to budget enough time in the morning to do breakfast right. That's why we created this list of quick and easy breakfast recipes. All of these breakfast recipes can be made in 30 minutes or less. Many can be made in even less time than that!
I hope you enjoy these recipes. Please let me know which one is your favorite, and don't forget to sign up for the free cookbook below!
Table of Contents
Pancakes, Waffles & French Toast
1. Caramel Apple French Toast
Regular French toast is yummy but this caramel apple French toast takes it to a whole other level! The recipe includes an amazing homemade caramel syrup, but that won't stop you from having this quick and easy breakfast recipe on your table in less than 30 minutes.
2. Orange Pancakes
This easy pancake recipe is not only quick, but it's relatively healthy too. To make matters even better, they use only natural flavorings. There is nothing artificial here. They're quick, easy and tasty. I bet you didn't think pancakes would fit into the quick and easy breakfast recipes category, did you? Well, think again. You will want to make these pancakes again and again!
3. Cinnamon Sugar Waffles
The pancakes vs. waffles debate is real, but we here at Heavenly Home Cooking love them both. If you're in the waffle camp, you will love these delicious cinnamon sugar waffles. They're soft and fluffy on the inside and crisp on the outside. A dusting of cinnamon sugar while they're hot makes for a delicious caramelized crust!
4. Cinnamon Oatmeal Pancakes
We love this quick and easy pancake recipe because it uses oat and whole wheat flour both of which lend themselves to helping us feel full and satisfied for a longer period of time - not to mention they are so delicious! They are not overly sweet, which makes them perfect for a healthy portion of your favorite syrup - might we suggest our homemade apple (also listed below) or butter pecan syrup?
5. Pineapple French Toast
If you have 20 minutes, then you have time to make this tasty pineapple French toast. It doesn't even need syrup, but we have a selection of easy breakfast syrups for you to try.
Egg Dishes
6. Breakfast Quesadilla
Do you love quesadillas? Have you ever tried them for breakfast? This is no appetizer, it is a hearty breakfast meal all on its own, and 30 minutes or less is all that it takes to have this beauty on your table.
7. Breakfast Street Tacos
I have one word here "chorizo." That is the magic ingredient that makes these breakfast street tacos taste amazing. As complicated as they might look, they really do take only 20 minutes or less to make. 10 tacos + 20 minutes = winning the breakfast game.
8. Breakfast Pinwheels
Are they an appetizer? Are they breakfast? How about both? Looking for a quick, easy and snazzy little appetizer for your next brunch gathering? Well, here you go. Ready in 30 minutes or less.
9. Phyllo Breakfast Cups
These little guys are not only cute. They're delicious! Parmesan cheese, people! Need I say more?
Beverages, Sauces & Syrups
10. Homemade Raspberry Syrup
Got 7 minutes? Then you've got homemade raspberry syrup.
Who needs all of the preservatives in store bought syrup? We certainly don't, and that's why we love that this recipe uses only natural whole ingredients.
11. Apple Pancake Syrup
This syrup was made for our cinnamon oatmeal and cornbread pancakes and cinnamon sugar waffles (yes, it's good for waffles too!). Plus, nothing screams fall like this ground-breaking pancake syrup. You'll want to lick the plate.
12. Almond Roca Mocha
Who needs Starbucks? Make your own delicious brew at home. It takes less than 8 minutes. Seriously.
13. Mixed Berry Syrup
Liked our raspberry syrup, this breakfast nectar takes only 7 minutes to make. What are you waiting for?
14. Lime Curd
Our lime curd is an amazing, delicious breakfast spread that you will love for biscuits, scones, toast and muffins. It's make-ahead and freezes well.
15. Strawberry Compote
3 ingredients and 10 minutes. It doesn't get any quicker or easier than that. Excellent topping for your pancakes, waffles, French toast, and crepes. It also makes a great dessert topping.
16. Simple Blueberry Syrup
I suppose you can buy blueberry syrup in the store, but does it contain beautiful whole blueberries like this? Your pancakes, waffles, French toast and crepes are just begging for this stuff.
Healthy Breakfast Recipes
17. Tropical Smoothie Bowl
Oh yes, I can never get enough of this stuff. Quick, easy and healthy. This is a great way to use your blender.
18. Breakfast Couscous
A truly unique breakfast recipe that is also quick and easy. If you're tired of oatmeal, why not give this one a try?
19. Berry Yogurt Parfaits
Speaking of quick and easy breakfast recipes, these beauties reign supreme when it comes to quick and easy. Got 10 minutes? Then you've got breakfast!
20. Peanut Butter & Jelly Breakfast Bars
I love a recipe with a short list of pantry ingredients. If you have rolled oats, peanut butter, and jelly, then you are well-prepared to make this quick and easy breakfast recipe today.
21. Smoked Salmon Toasts
I am a huge fan of lox and bagels. However I am not a fan of the extra carbs that bagels bring. That's why I love these smoked salmon toasts, all the flavor of traditional lox and bagels, but fewer carbs.
I hope you enjoyed these 21 quick & easy breakfast recipes. If you did, don't forget to grab your free cookbook featuring all of these recipes!