Breakfast often gets overlooked in all of the planning that goes into the holiday season. Before we know it, the holidays are here and we don't have any holiday morning breakfast recipes ready to go. Hopefully, this selection of recipes will send you well on your way to serving something delicious for breakfast this holiday season.
Table of Contents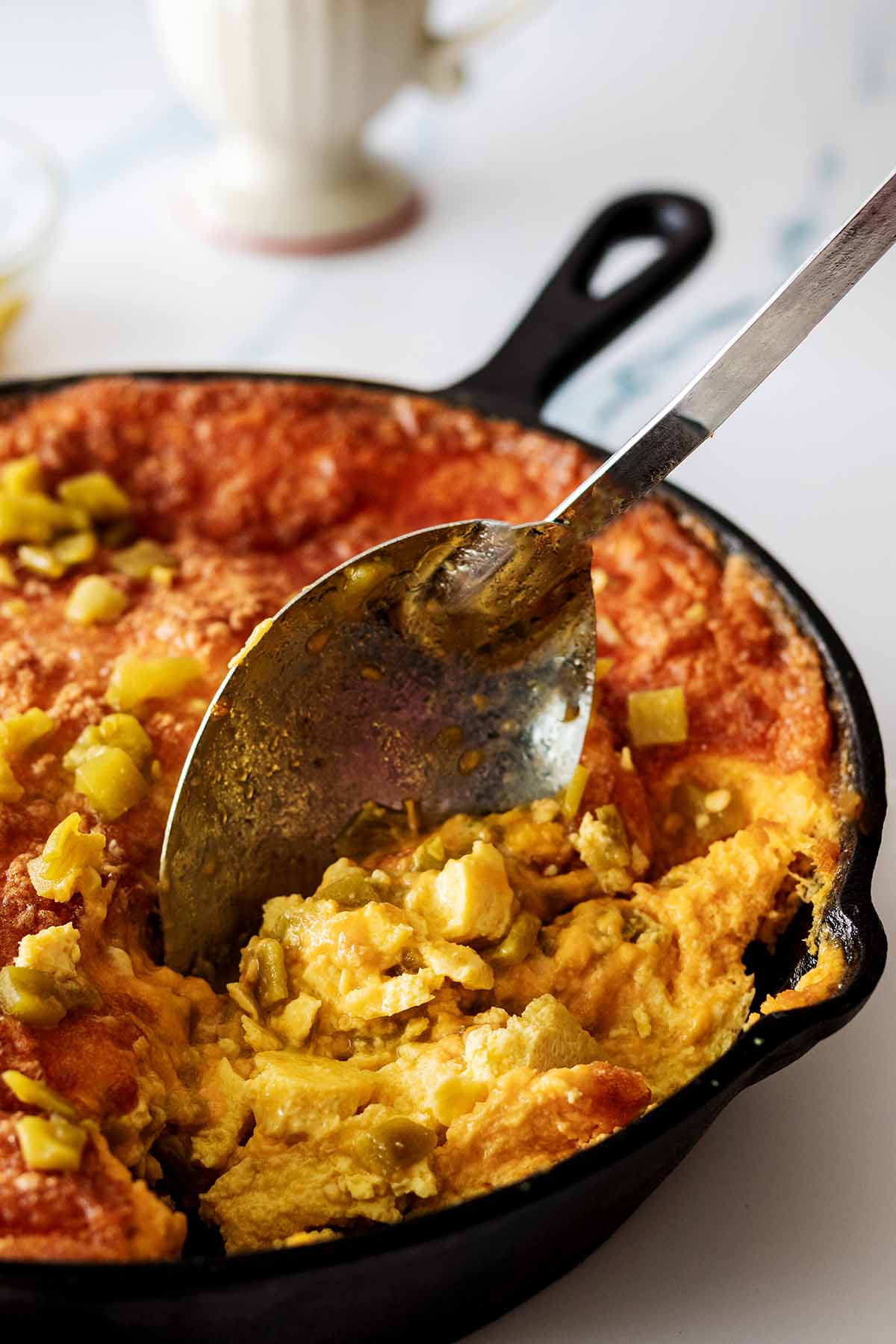 1. Quiche Provencal
If you are looking for a delicious make-ahead vegetarian option for your holiday breakfast or brunch table, this beautiful quiche fits the bill perfectly.
2. Triple Cheese Breakfast Casserole
This holiday morning breakfast recipe is literally dump and bake. It doesn't get any easier than that. The preparation takes less than 30 minutes and then your oven does the work, freeing you up to enjoy Christmas morning.
3. Green Chile Breakfast Casserole
If you're looking for some southwest flare for your holidays, you will love this casserole. It is even easier than our Triple Cheese Breakfast Casserole and uses only 3 ingredients. Plus, it's naturally vegetarian. However, you can add your breakfast meat of choice if you desire. Chorizo would be an eggcellent choice! 😉
4. Swiss Baked Eggs
As a fun and festive option, you can make this breakfast recipe in individual ramekins. Your guests will enjoy that personal touch. If that's too fussy, you can make them in a casserole dish as well. To make life even easier, prepare the onions a day or two ahead of time and store them in the refrigerator until ready to make. Then holiday morning all you have to do is assemble and bake.
5. Caramel Apple French Toast
Of all of our holiday morning breakfast recipes, this one has to be one of my favorites. If you have a sweet tooth this holiday season, you will love this French toast. The caramel syrup comes together easily on your stove top and makes the perfect finishing touch!
6. Mushroom Breakfast Casserole
Breakfast casseroles are a holiday breakfast table staple. There is a reason why home cooks go searching for breakfast casserole recipes when Thanksgiving and Christmas rolls around. They feed a crowd and are easy to pull together. This mushroom breakfast casserole is no exception. It's also another great vegetarian option.
7. Pineapple French Toast
I spent last Christmas in Hawaii. I wish I would have come up with this recipe then. It would have been the perfect Christmas morning breakfast treat! If you love pineapple upside down cake, you will love this French toast. It doesn't even require any additional syrup because it's so sweet and delicious on its own.
8. Cinnamon Sugar Waffles
These cinnamon sugar waffles taste a lot like snickerdoodle cookies, which are a traditional holiday cookie. I can't think of anything better for Christmas morning!
9. Cinnamon Oatmeal Pancakes
Are you looking for sweet treat for your holiday breakfast table that is a little healthier and filling? These cinnamon oatmeal pancakes are perfect. They combine rolled oats and whole wheat flour with all-purpose flour which will keep you full longer. It leaves more energy for holiday festivities! These pancakes pair perfectly with our apple or butter pecan syrup.
There you have it. I hope that we have inspired you to make your holiday breakfast table as wonderful and delicious as your dinner table.
Happy holidays!