This breakfast casserole is moist and delicious. It can be made ahead and is freezable. The preparation takes 30 minutes or less. Reheatable.
Jump to Recipe
Print Recipe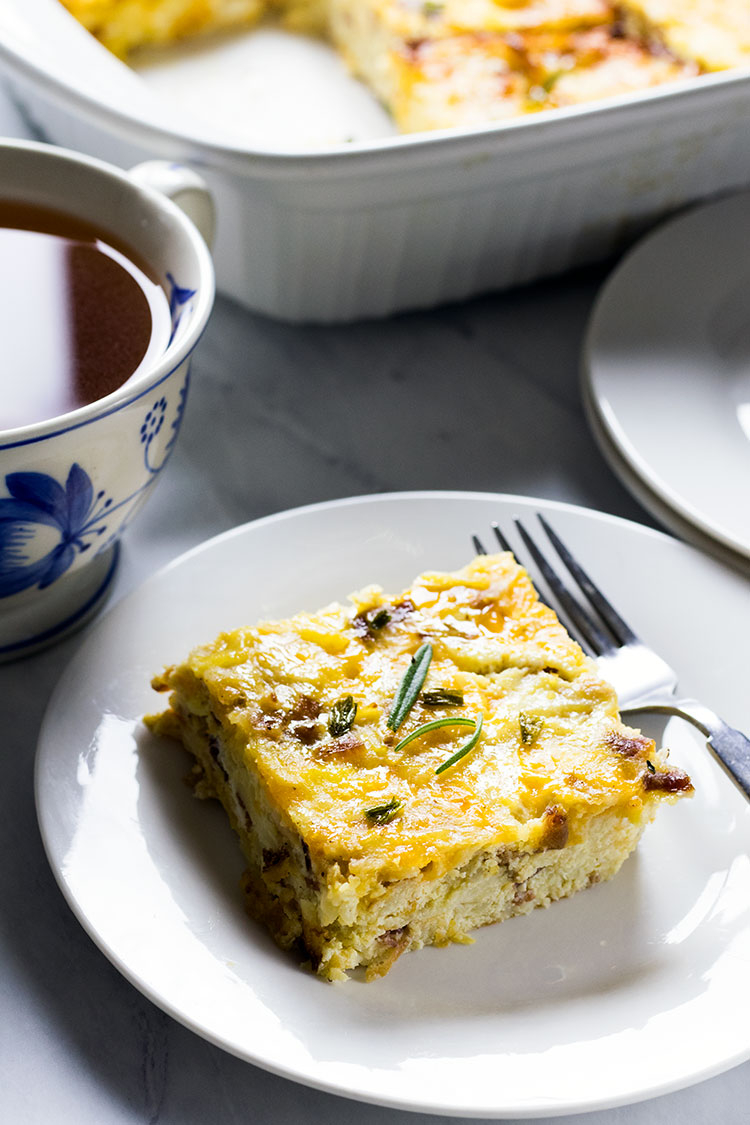 You really can't lose with this triple cheese breakfast casserole. Not only is it a great crowd pleaser, but you can also make it on the weekend for your family and freeze the leftovers to be enjoyed during your busy work week. Just slice it up and freeze or refrigerate individual portions for breakfast on the go. Simply heat in the microwave for 1-2 minutes or 3-5 minutes if frozen.
This recipe is featured in our best holiday morning breakfast recipes. Check them out!
Answers to some questions that you may have about this recipe:
Can this breakfast casserole be made ahead? Yes. You can put it together in the baking dish the day before, cover with plastic wrap, and store in the refrigerator until you are ready to bake it.
Is it freezable? Yes. After baking it, you can freeze it, but I recommend that you cut it into individual portions before freezing it so that you don't have to reheat the entire casserole.
Can you reheat it? Yes, if reheating the entire casserole, preheat oven to 350 degrees and bake until warmed through to 160 degrees, about 25-30 minutes. You can reheat individual portions in the microwave for about a minute or two or until internal temperature reaches 160 degrees. If reheating from frozen, increase the microwave time to 3-5 minutes.
What to serve with it? This dish is great on its own, but I recommend that you serve it with a side of fresh seasonal fruit to balance out the saltiness from the bacon with something sweet.
Is it gluten free? Yes it is. It contains not wheat or oats.
How many people does this recipe serve? This recipe serves 8-12 people. The calorie count noted in the recipe is for 12 servings.
It's casserole season to be sure. With so many gatherings happening and so much busy-ness going on, cooks everywhere are looking for easy recipes that can feed a crowd. Today I have for you a classic breakfast casserole that is sure to be a hit with your friends and family.
What is a breakfast casserole? Technically, a casserole is the dish that you use to both cook and serve the food. Over time, this term has evolved to include the food itself. So a breakfast casserole is a recipe made up of typical breakfast ingredients that you would bake in the oven in a casserole dish and then serve in that same dish. The most popular breakfast casseroles are made up of some combination of eggs, potatoes, meat and cheese, but you can get creative and make something else like our whole grain Pancake Breakfast Casserole.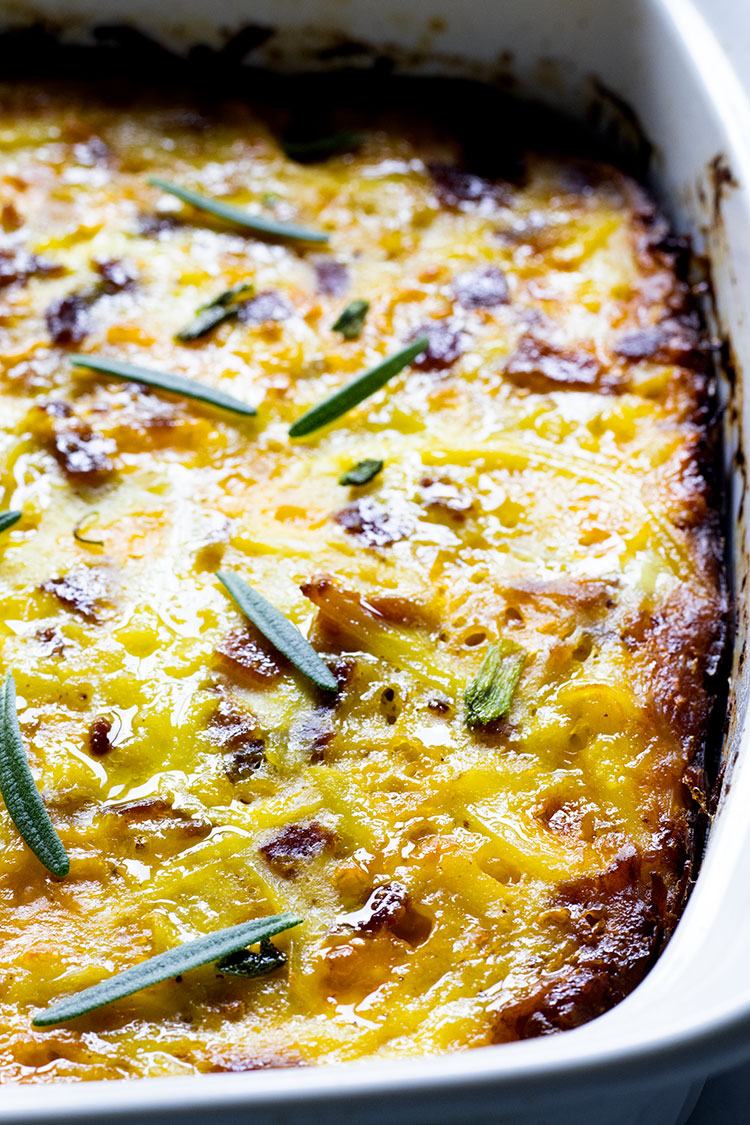 Casseroles are great for busy cooks because they are a convenient way to feed a crowd. In addition, most of the work is done by your oven. It's a one-dish meal, so clean up is quick.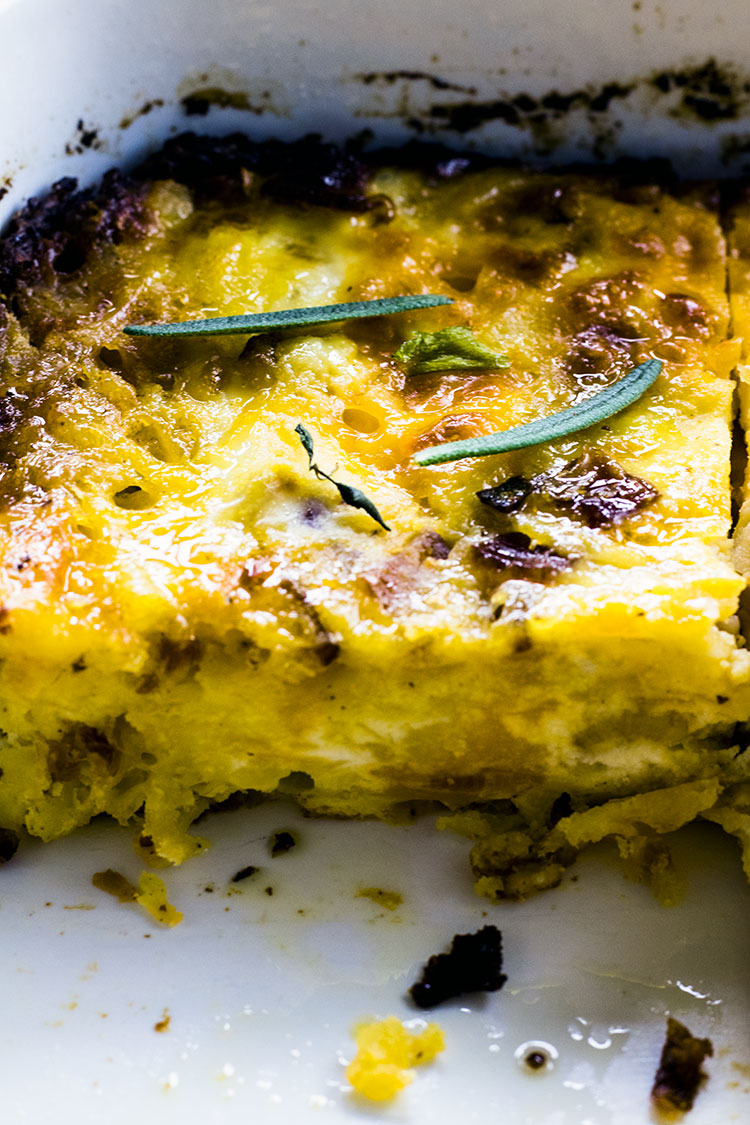 This video shows you how easy it is to make this amazing triple cheese breakfast casserole:
I hope you love this one and if you like what you see here, please don't forget to subscribe using the form on this page so that you can be notified whenever a new tasty recipe is posted.
Bon appetit!
Recipe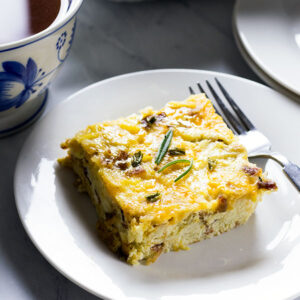 Triple Cheese Breakfast Casserole
This breakfast casserole is moist and delicious. It can be made ahead and is freezable. The preparation takes 30 minutes or less. Reheatable.
Ingredients
1

package

bacon

14 slices

1

sweet onion

minced

4

cups

shredded hash brown potatoes

9

large

eggs

lightly beaten

2

cups

grated cheddar cheese

1-½

cup

grated Swiss cheese

1-¾

cup

ricotta cheese
Instructions
Preheat oven to 350 degrees F (176 degrees C). Grease a 9x13-inch baking dish.


Heat a large skillet over medium-high heat. Cook bacon until crispy. Drain on paper towel-lined plate. Add onion to skillet and cook until browned, about 8-10 minutes. Transfer to large bowl. Chop bacon and add to bowl. Add potatoes, all three cheeses and eggs. Stir until combined.


Pour mixture into greased baking dish and bake in preheated oven until eggs are set and cheese is melted, 45-50 minutes. Allow to cool about 10 minutes before serving.

Nutrition