This wonderful basic homemade pancake recipe makes the perfect base for getting creative with add-ins and syrups. This is our ultimate guide to making perfect homemade pancakes, including step-by-step instructions, ingredient information, mix-in suggestions, answers to frequently asked questions, plus additional tasty pancake recipes!
Jump to Recipe
Print Recipe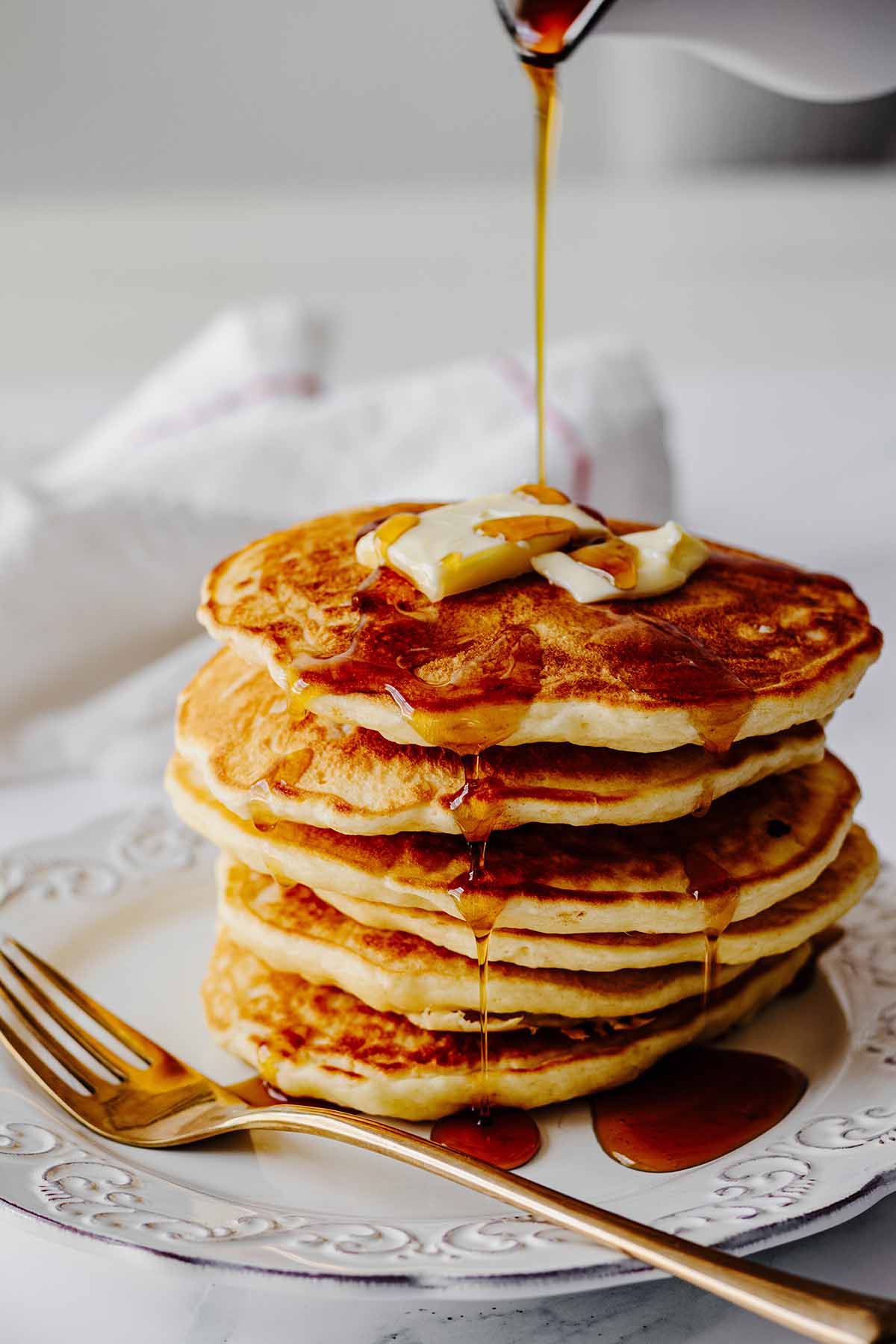 Welcome to our post about how to make homemade pancakes! Our goal for this post is to be helpful to as many people as possible. Therefore, we have packed it with lots of information on the topic of homemade pancakes, from their origin to ingredient information, detailed step-by-step instructions, popular add-ins, recommended syrups and recipes. This post will teach you how to make pancakes from scratch. We will not be using a pancake mix. When you see how easy it is to make pancakes from scratch, you will never rely on a mix again!
Please use the clickable index below to jump to the topics of most interest to you. If you feel that something is missing from this article, please let us know in the comments below, and we will try to get an answer for you.
Table of Contents
🇬🇷 Origin of Pancakes
Pancakes are said to have originated in ancient Greece and were known as tagenites, a word derived from tagenon, which means frying pan. Tagenites, or pancakes, were originally made with wheat flour, white wine, and curdled milk. They were cooked in olive oil and topped with honey and sesame seeds. Like today, they were primarily served for breakfast. (source)
🌎 Pancakes Around the World
Pancakes are popular around the world, and there are many diverse variations to be enjoyed on most continents from Africa to South America. However, this article focuses on the version that is popular in the United States and Canada.
🧾 Pancake Ingredients
You will get out of your homemade pancakes what you put into them, and this starts with the ingredients. Fresh ingredients are best. If you want the best pancakes, use the freshest ingredients. It's that simple. North American pancakes use the following six (6) basic ingredients: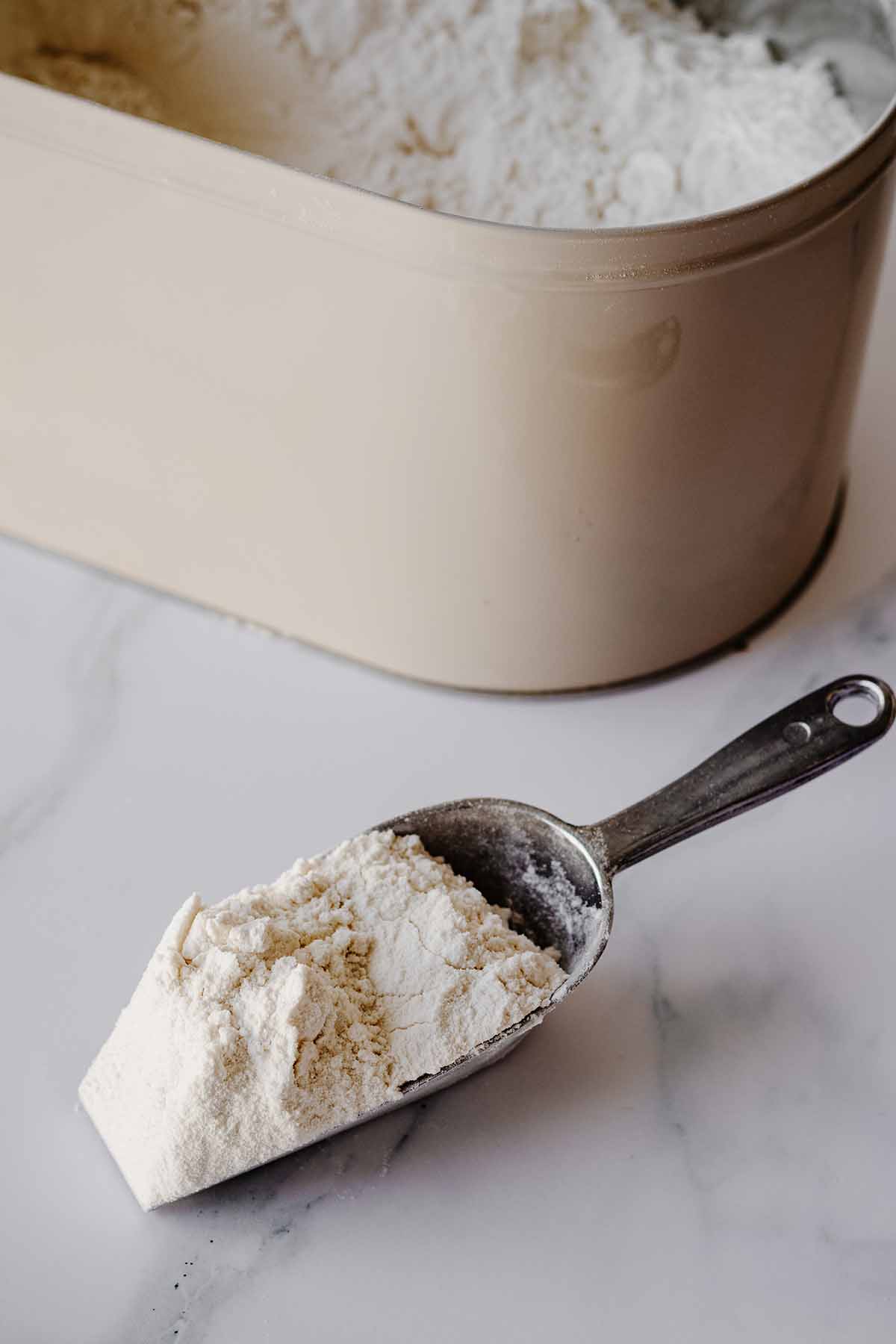 1. Flour
White all-purpose flour is the most widely used flour type for making pancakes. If a recipe simply calls for "flour" and does not specify a type, your best bet is to use white all-purpose flour. It is the most versatile of all flour types.

Some pancake recipes, like our cinnamon oatmeal pancakes, combine white all-purpose flour with other types of flour, like oat and whole wheat flour. Oat and whole wheat flour are great for added nutrition, but they are more dense than all-purpose flour, and may weigh your pancakes down. In addition, these flours tend to absorb more liquid, creating a stiffer dough. A stiff dough can significantly hinder the rise of the pancakes. To counteract these effects, we combine these flours with all-purpose flour to achieve light and fluffy pancakes.
Self-Rising Flour
What is self-rising flour? Self-rising flour is simply white all-purpose flour that already contains baking powder and salt. If you decide to use it, you can omit the baking powder and salt from this recipe. The benefit of using self-rising flour is convenience - fewer ingredients to measure out and store. If you are going to be making a lot of pancakes, waffles, muffins or quick breads, you may want to keep self-rising flour on hand. The downside of using self-rising flour is that you don't have as much control over the amount of baking powder and salt that you are adding to your recipe. Also, you will want to pay attention to the expiration date stamped on the flour bag. Baking powder loses its effectiveness over time.
Gluten-Free Flour
If you are on a gluten-free diet, here are some gluten-free flour substitutes that you can use instead of white all-purpose flour to make gluten-free pancakes:
Gluten-free flour. You can substitute gluten-free flour 1:1 for white all-purpose flour. You will need to add 1 teaspoon of xanthan gum, which acts as a stabilizer. The gluten in flour acts as a binding agent. Because gluten-free flour contains no gluten, something needs to be added to bind the ingredients together. Xanthan gum is most commonly used for this purpose. Recommended commercial gluten-free flour: Bob's Red Mill Gluten-Free All Purpose Baking Flour.
Homemade gluten-free flour blend. Gluten-Free Palate has a helpful post that will teach you how to make your own homemade gluten-free flour blend that you can use to make your pancakes.
Cassava flour. You can substitute cassava flour 3:4 for all-purpose flour. In other words, if a recipe calls for 1 cup of all-purpose flour, you would use ¾ cassava flour. Check out our recipe for cassava pancakes, for some tasty gluten free pancakes using cassava flour!
2. Leavening Agent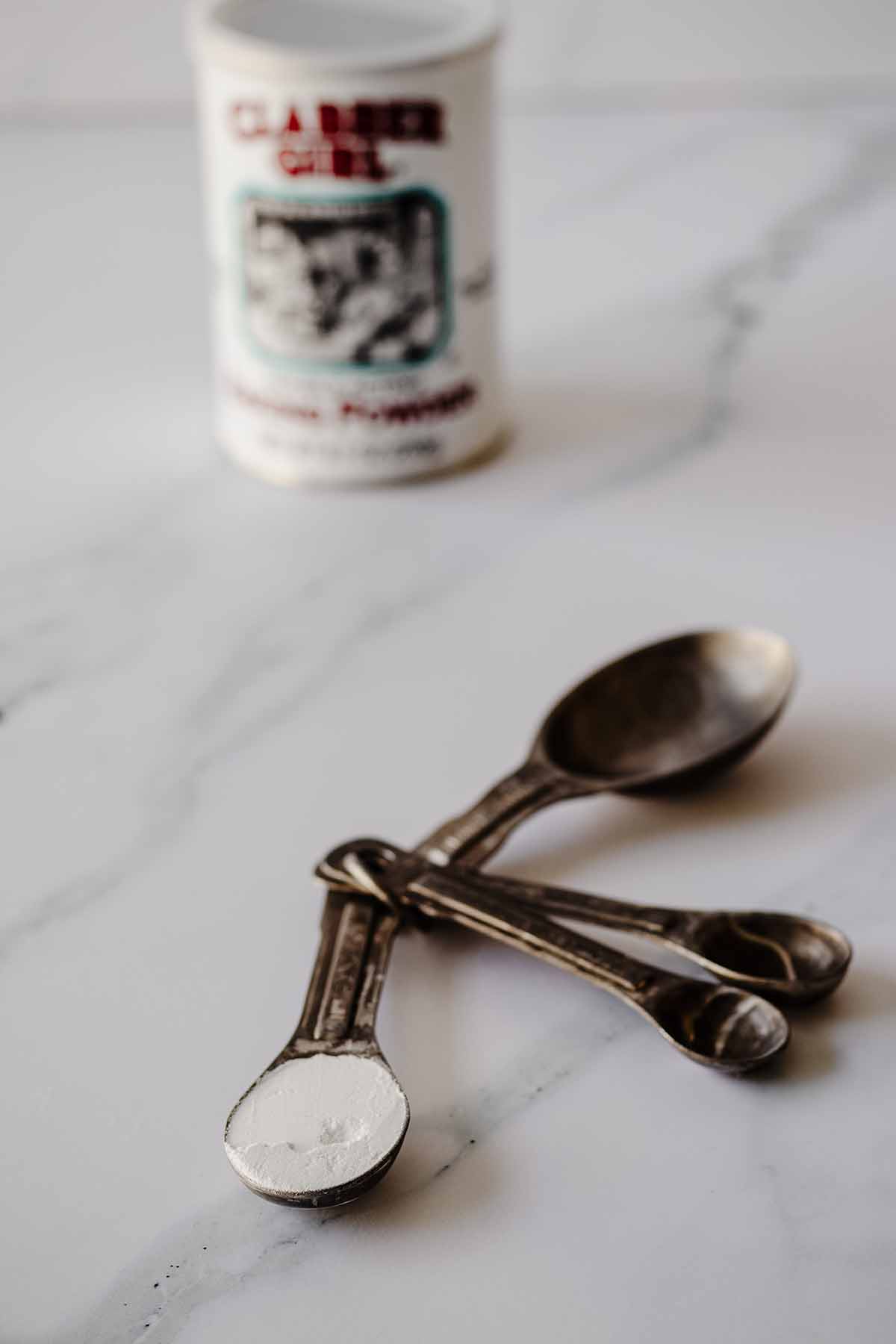 A leavening agent is essential for light and fluffy pancakes. It gives the pancakes their rise. Without it, they will come out flat like cardboard. We wouldn't want that! Pancake recipes use a few common leavening agents, which we discuss below.
Baking Powder
Baking powder is the most common leavening agent for pancakes. It works by a chemical reaction when liquid is added to the batter. This reaction creates gas bubbles, and this is what causes the batter to rise. There are two types of baking powder - single acting and double acting. While both react when liquid is added, double acting baking powder also reacts to the heat that is applied during the cooking process. Double acting baking powder is the most common and what you will find on your grocery store shelf. Baking powder loses its effectiveness over time. If you find that it has stopped working as well as it used to, it's time to replace it. If you want to make these pancakes without baking powder, replace the milk with buttermilk and the baking powder with baking soda.
Baking Soda
Like baking powder, baking soda works by a chemical reaction. However, for it to work, it needs to be paired with an acid, like buttermilk, yogurt, lemon juice or vinegar. Some pancake recipes, like our butterscotch pancakes, use both baking soda and baking powder. Baking soda has a short shelf life. It should be replaced after 30 days of opening the box. You can use any that you have leftover after 30 days to deodorize your refrigerator. Simply place the open box in your fridge.
Yeast
Some pancake recipes use yeast as a leavening agent. Yeast is a tiny living plant organism that feeds on sugar and produces carbon dioxide gas. It's this carbon dioxide gas that causes the pancakes to rise. There are two common types of yeast used in pancake batter - active dry yeast and instant yeast.
Active Dry Yeast
Active dry yeast requires proofing in warm water (110-120°F (43-48°C)) before it can be used in batter. It helps to add a teaspoon of sugar to the water with the yeast.
Instant Yeast
Instant yeast does not require proofing. It can be added directly to the dry ingredients.
3. Salt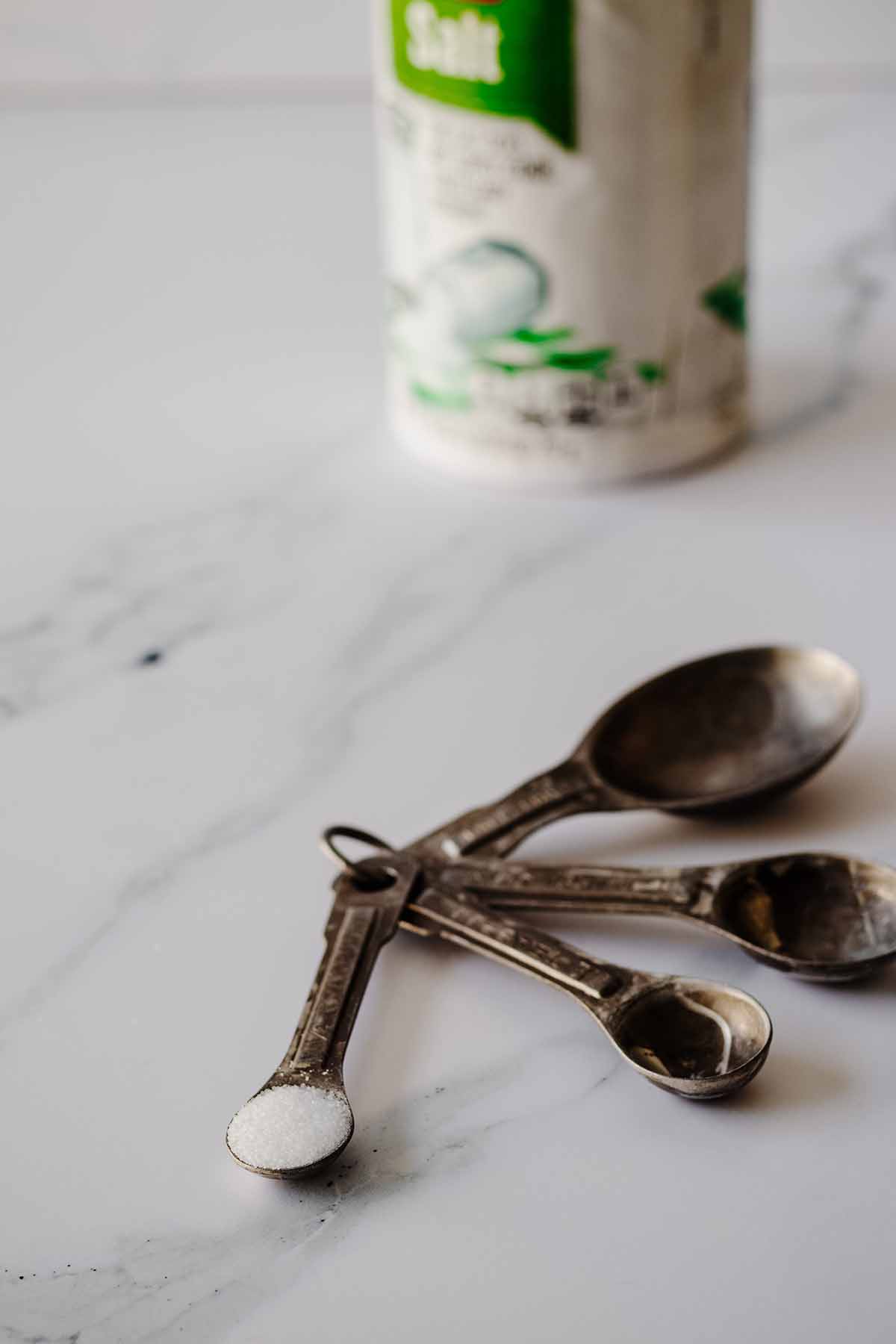 We use so little salt in this recipe that it may seem okay to omit it. However, salt plays an important role in enhancing the flavor of pancakes. It is important to include it.
4. Milk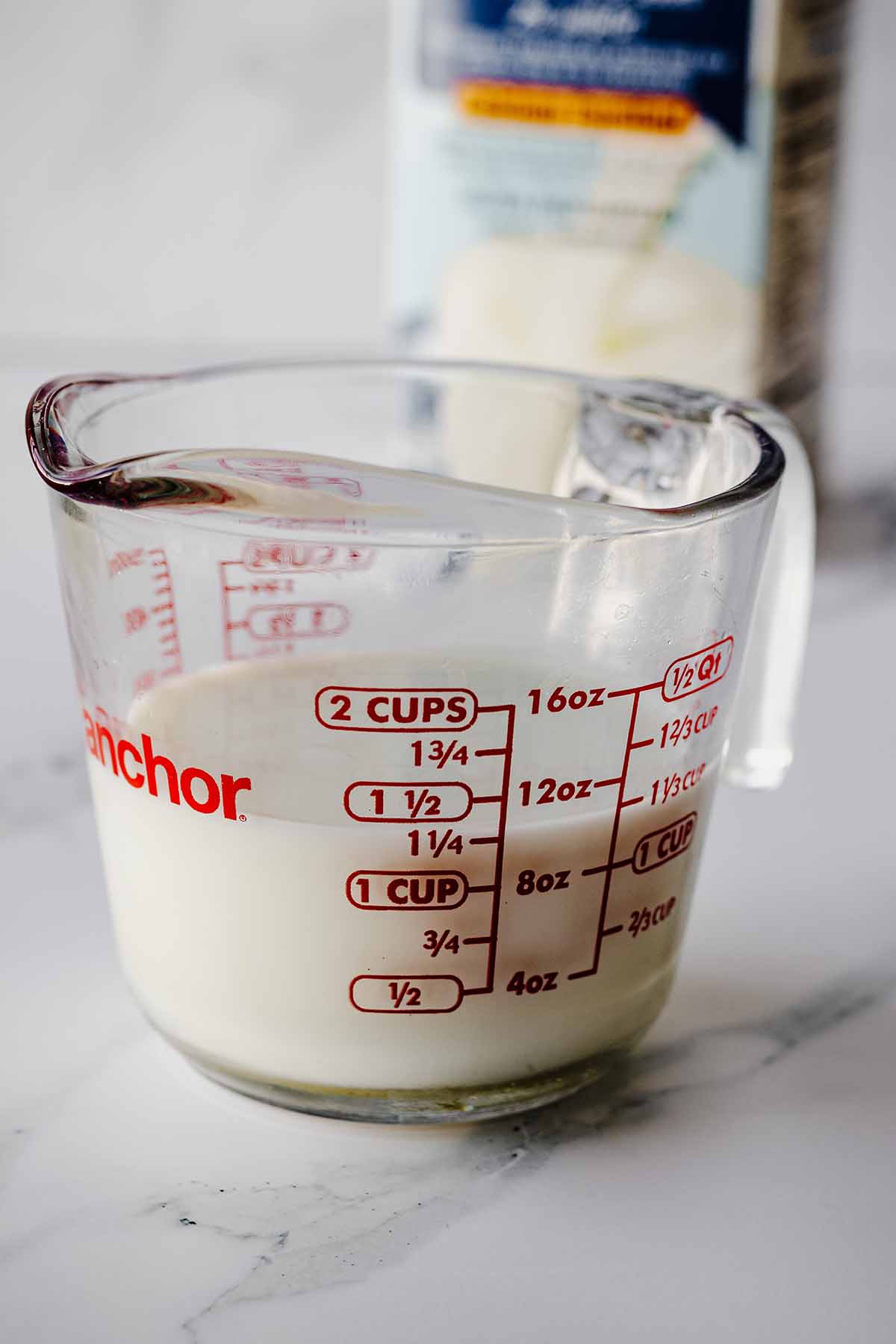 Milk adds flavor and richness. If given a choice, go with whole milk. The extra fat content will help to produce a tender crumb in the final product. While milk is the most common liquid ingredient, it's not the only option. Read on for some comparable milk substitutions. If you want to make pancakes without milk altogether, you can substitute water in a pinch. If you do, I recommend that you add a bit of flavoring to your batter, like vanilla extract.
Non-Dairy Milk
Dairy-free options like lactose-free milk, soy milk, almond milk, cashew milk, macadamia milk, walnut milk, hazelnut milk, coconut milk, coconut milk, pistachio milk, or peanut milk will work.
Buttermilk
As mentioned earlier, buttermilk is often used in conjunction with baking soda to give pancakes their rise. It also adds a delicious tangy flavor. If using buttermilk as a substitute for milk, add ½ teaspoon of baking soda to your recipe.
Yogurt
Yogurt works like buttermilk and can be substituted 1:1 in recipes that call for buttermilk. It is acidic and works in conjunction with baking soda as a leavening agent. If using yogurt as a substitute for milk, add ½ teaspoon of baking soda to your recipe.
Ricotta or Cottage Cheese
You can use ricotta or cottage cheese in place of milk. Our orange pancakes recipe uses ricotta cheese. Use them 1:1 in recipes that call for buttermilk. If using ricotta or cottage cheese as a substitute for milk, add ½ teaspoon of baking soda to your recipe.
5. Egg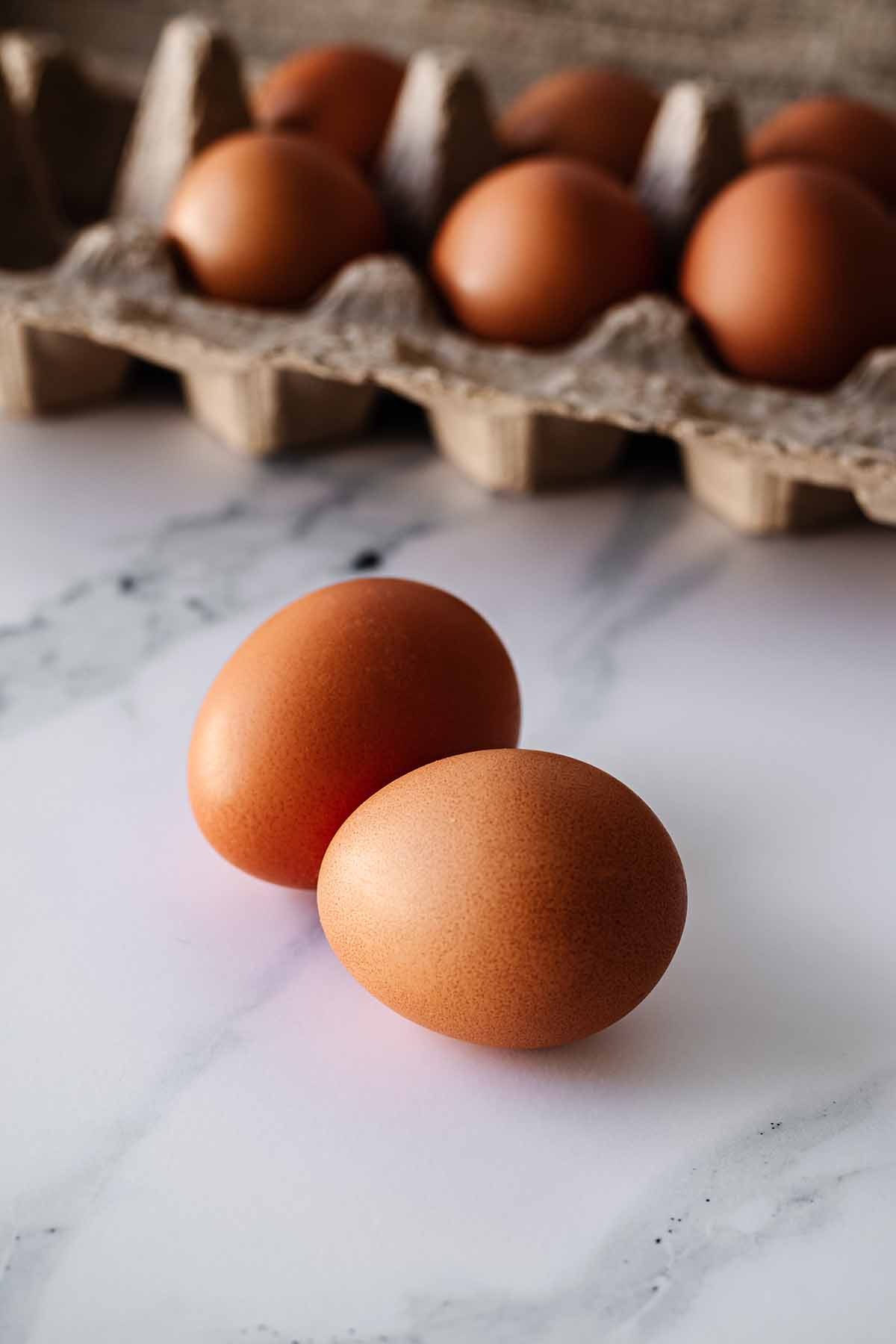 Homemade pancakes use eggs as a binding agent. They help to give the pancakes their structure and hold in the air bubbles that are present from the leavening agent. If you do not have eggs on hand or are following an egg-free diet, it is possible to make pancakes without eggs. Read on for some suggested egg substitutions.
Flaxseed Meal.
Use 1 tablespoon of flaxseed meal plus 2 tablespoons of water to replace one egg.
Buttermilk/Yogurt
Substitute ¼ cup of buttermilk or yogurt per egg.
Nut Butter
Substitute 3 tablespoons of nut butter (peanut, almond or sunflower) per egg. We recommend almond or sunflower butter because they have a more neutral flavor than peanut butter.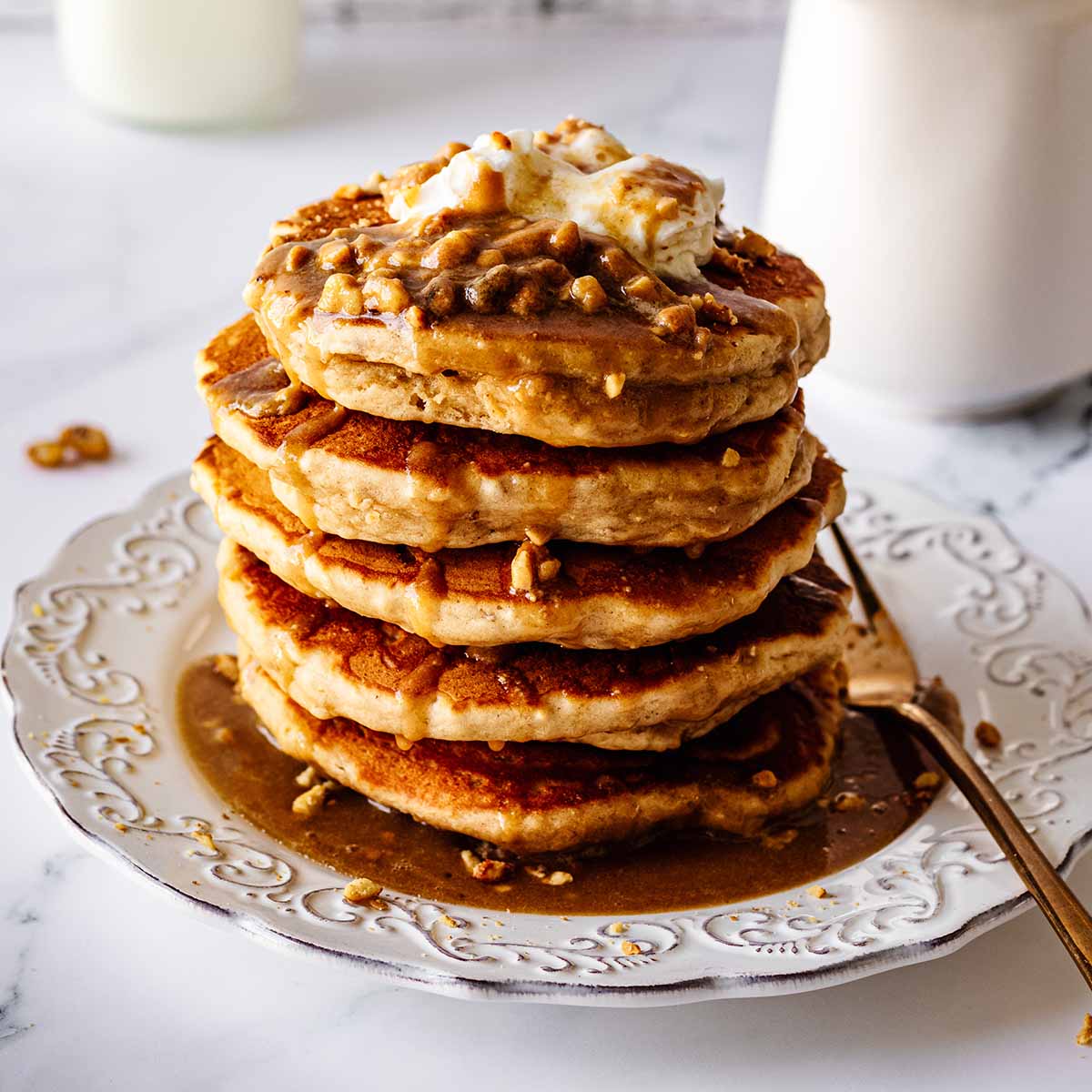 6. Fat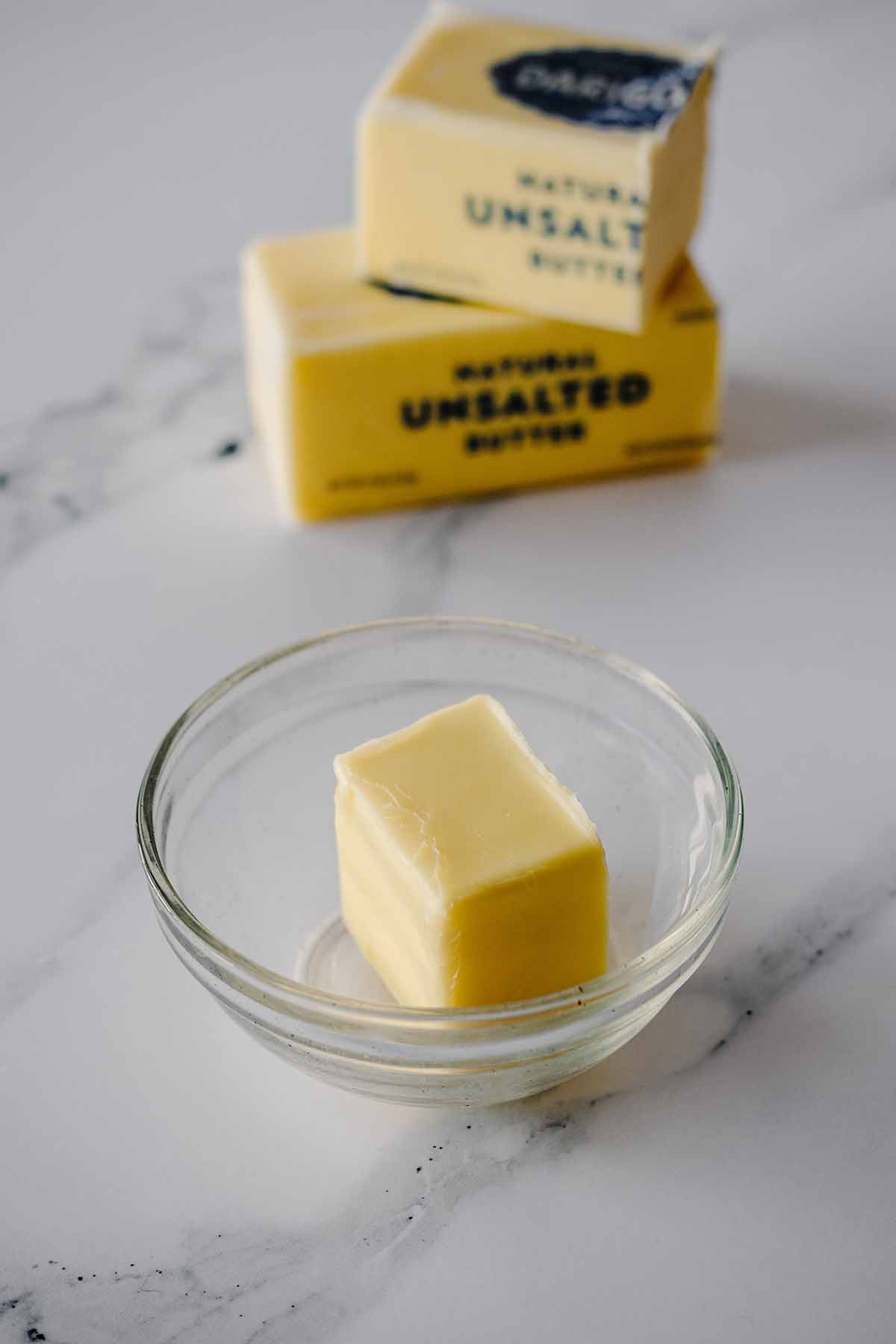 Fat gives the pancakes a tender crumb. Without it, they can turn out dry and end up soaking up too much syrup. There are many options to add fat, but we prefer melted butter. How much fat you add depends on the recipe. It should be added in the proper ratio of flour to liquid. Consult your specific recipe for guidelines on which fat to add and how much. Some recipes that use whole milk, ricotta cheese or yogurt do not add additional fat as these ingredients contain fat already. See list below for some common fats that are used in homemade pancakes.
Butter.
Vegetable oil.
Coconut oil.
Shortening.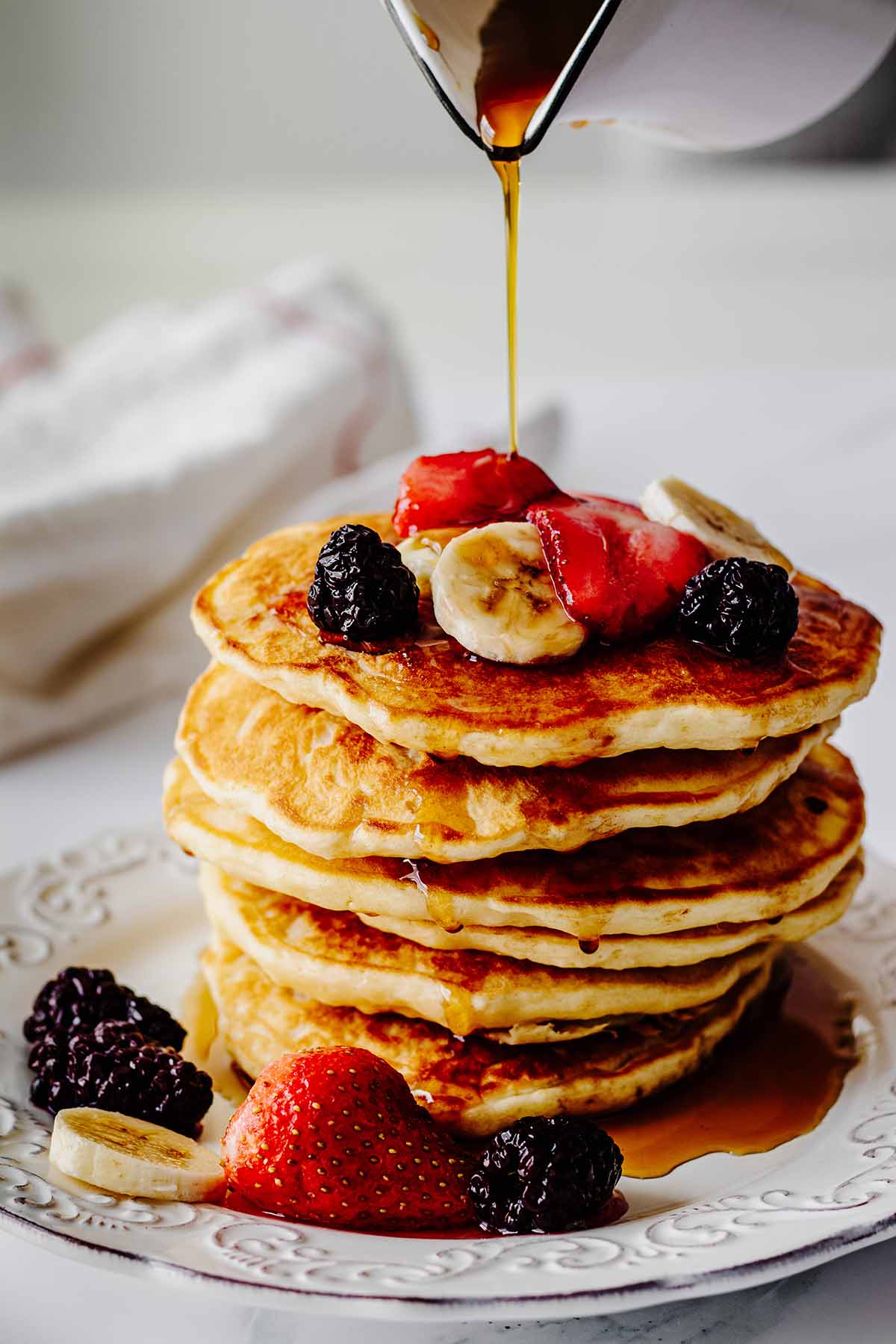 📝 How to Make Homemade Pancakes Step-By-Step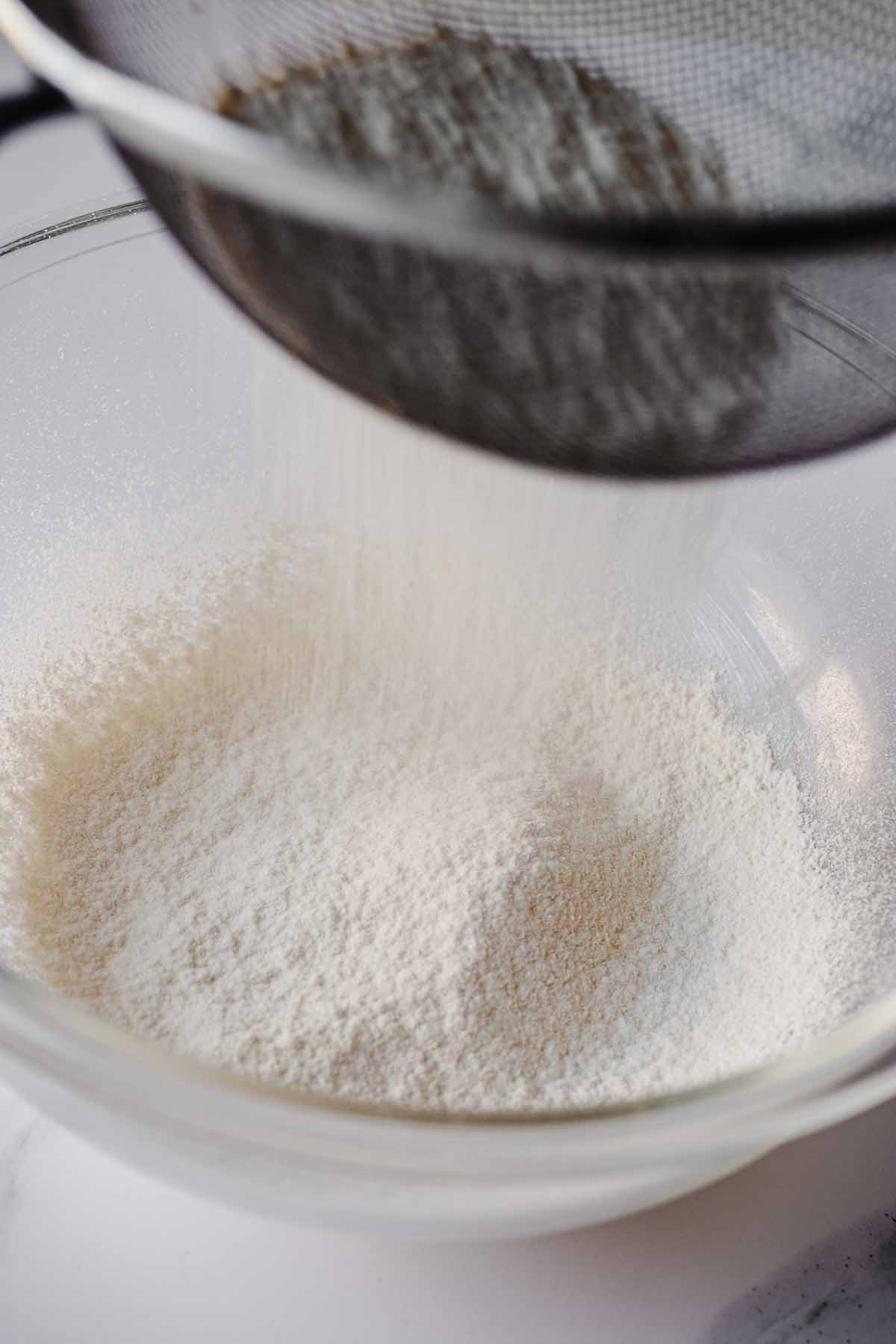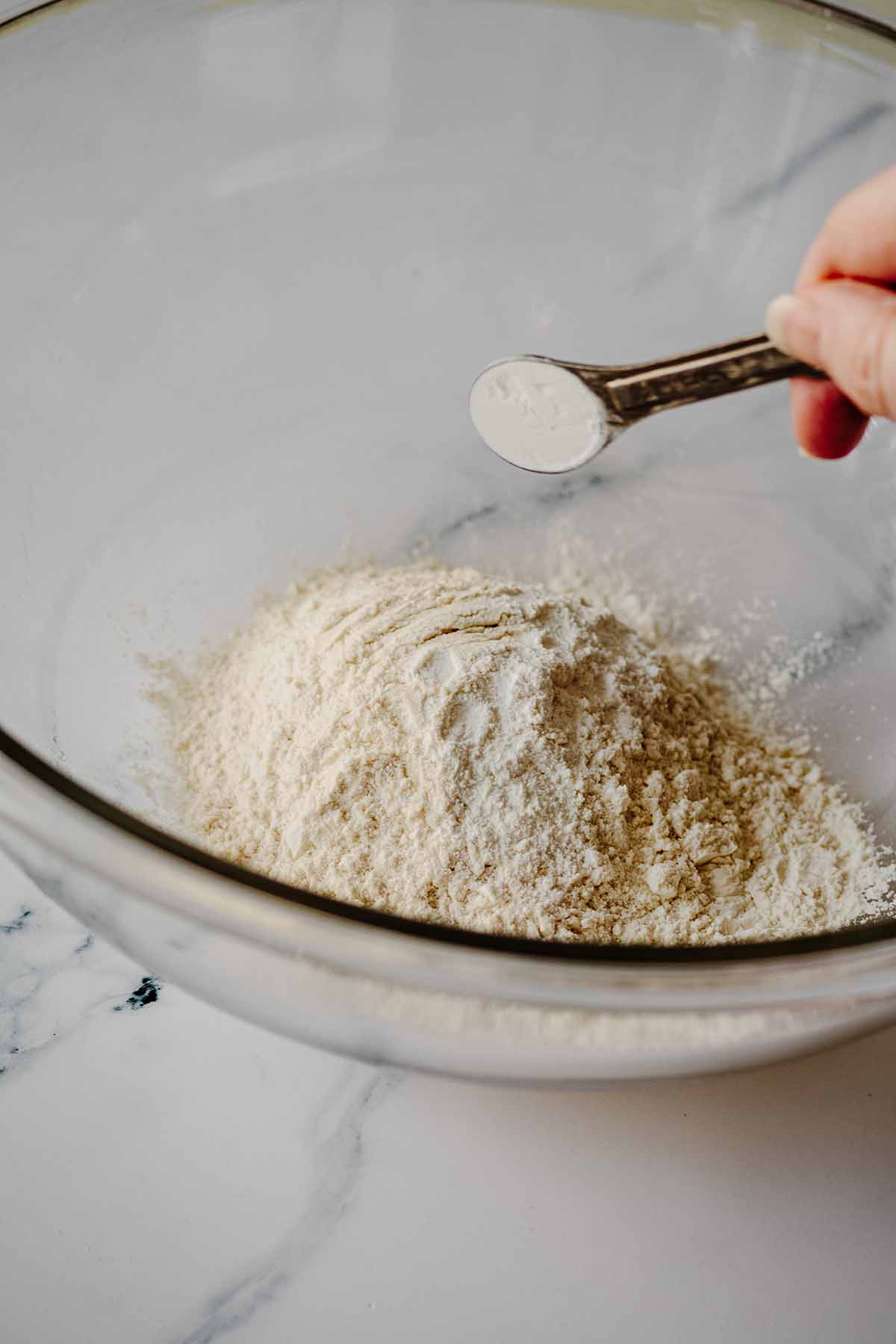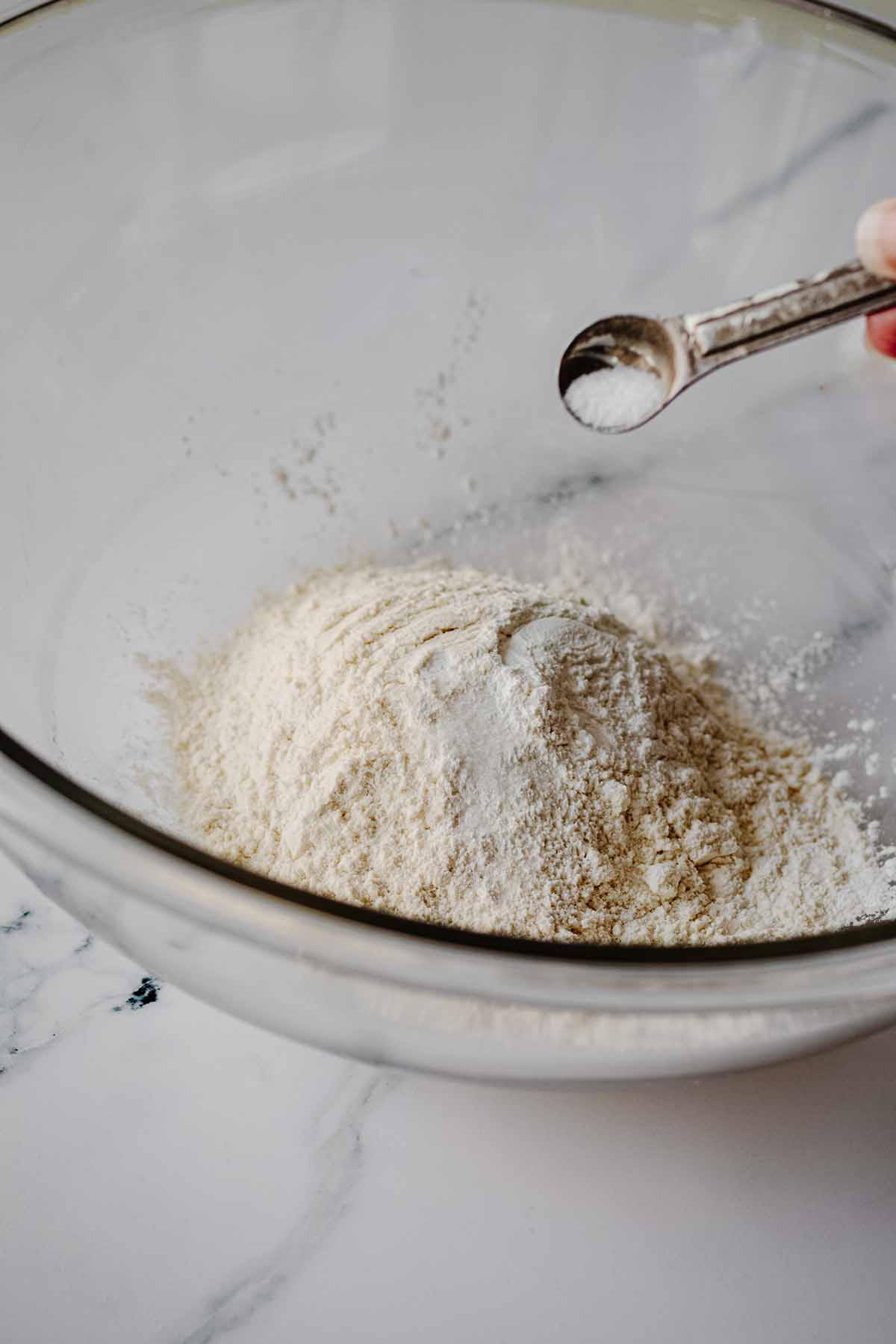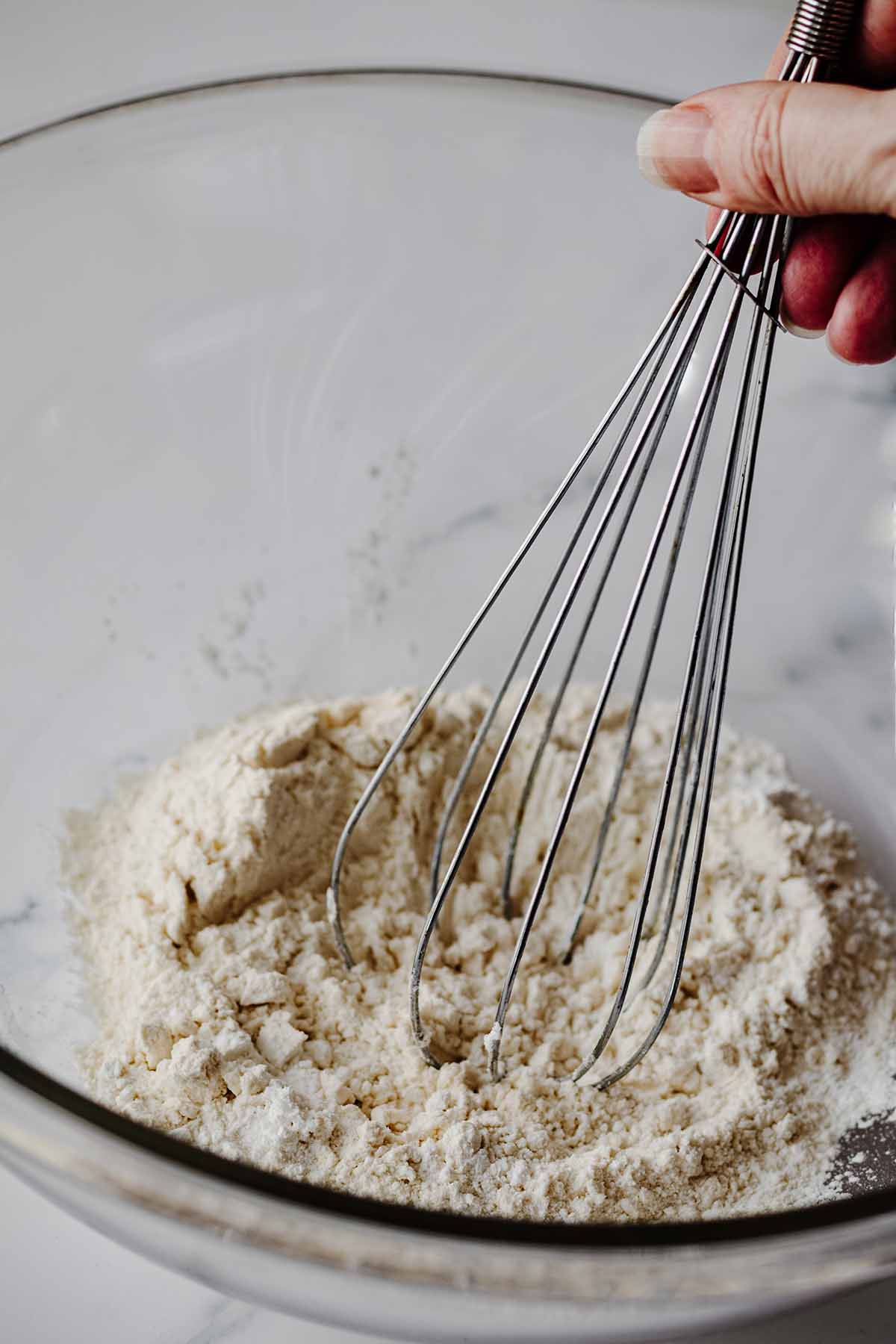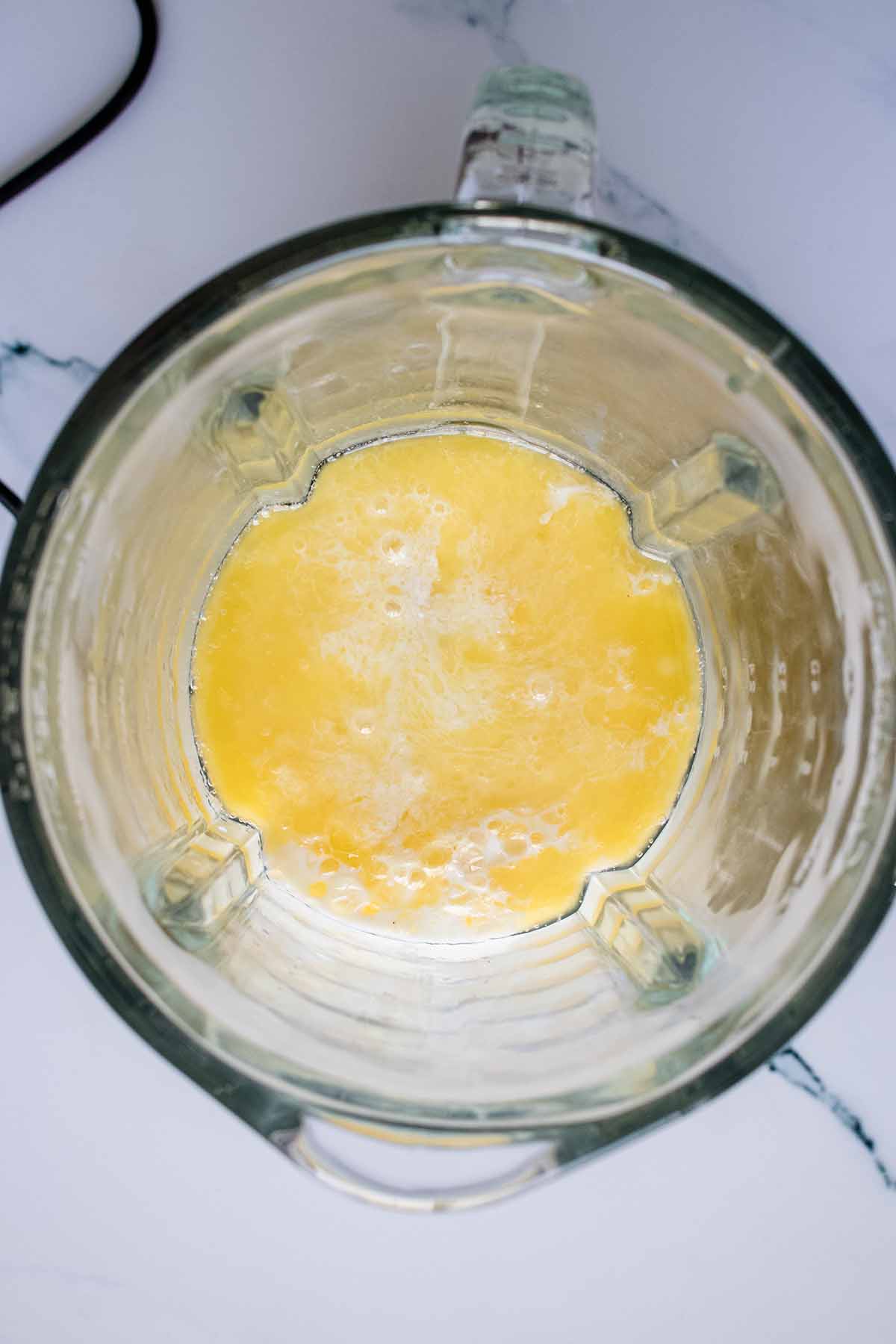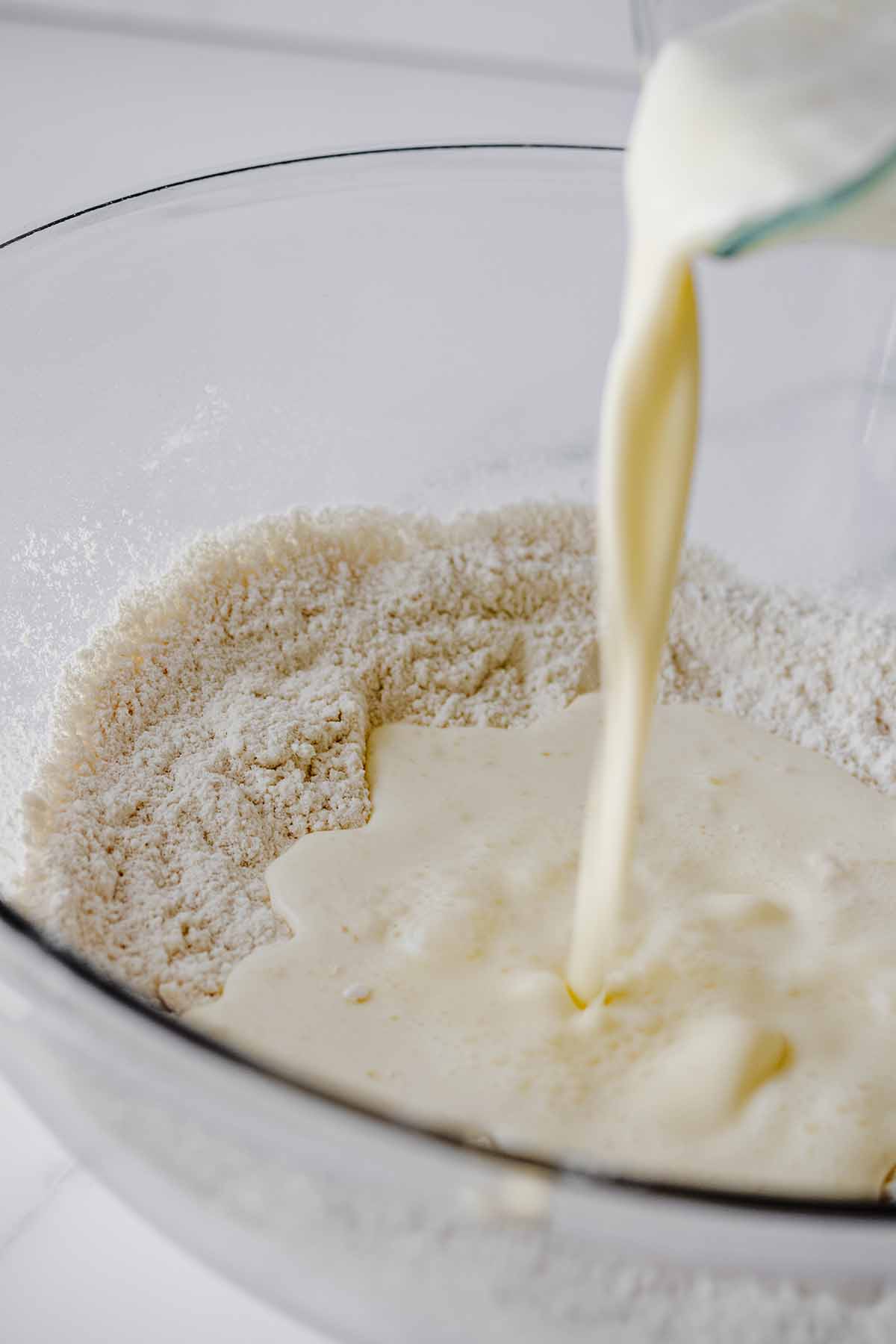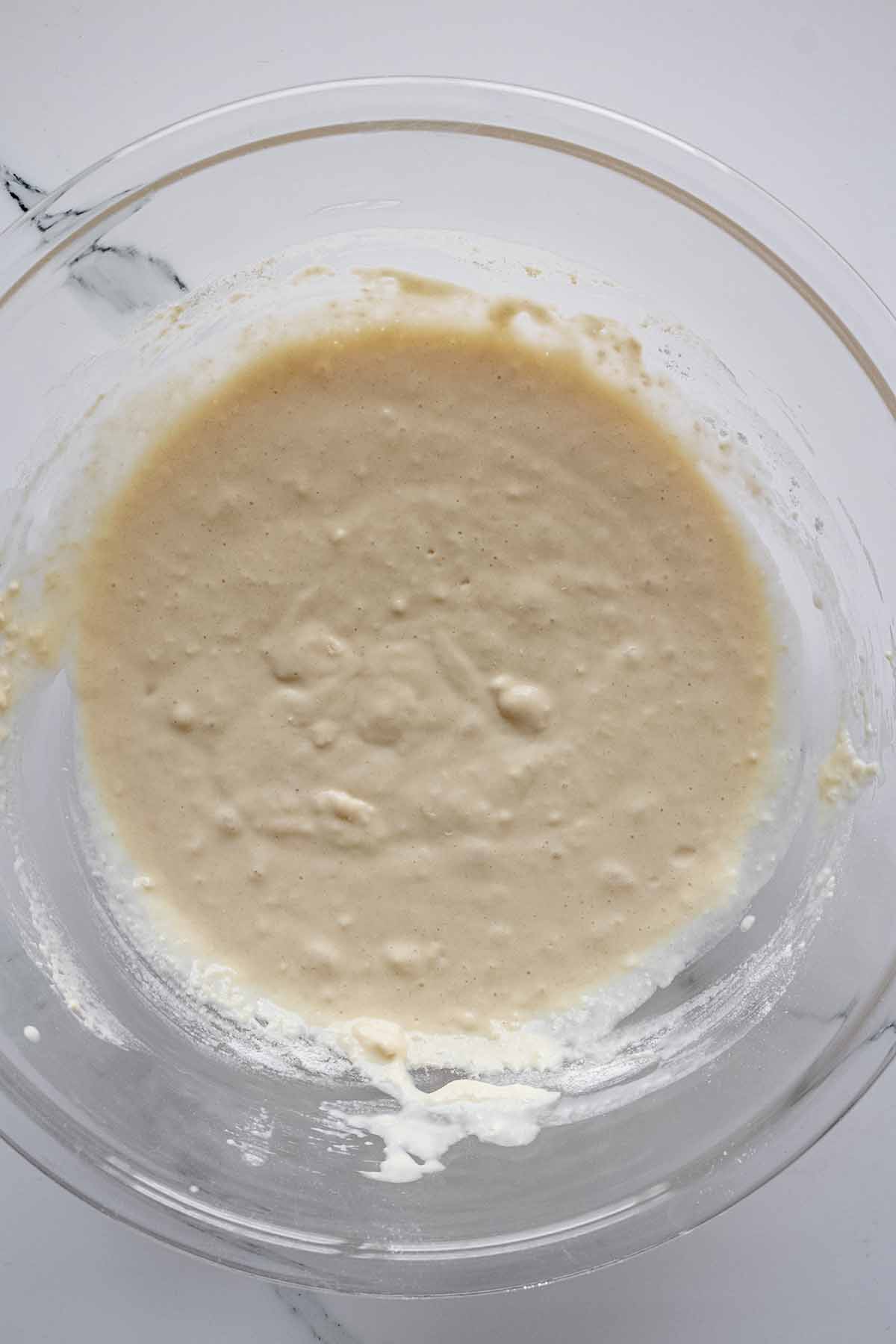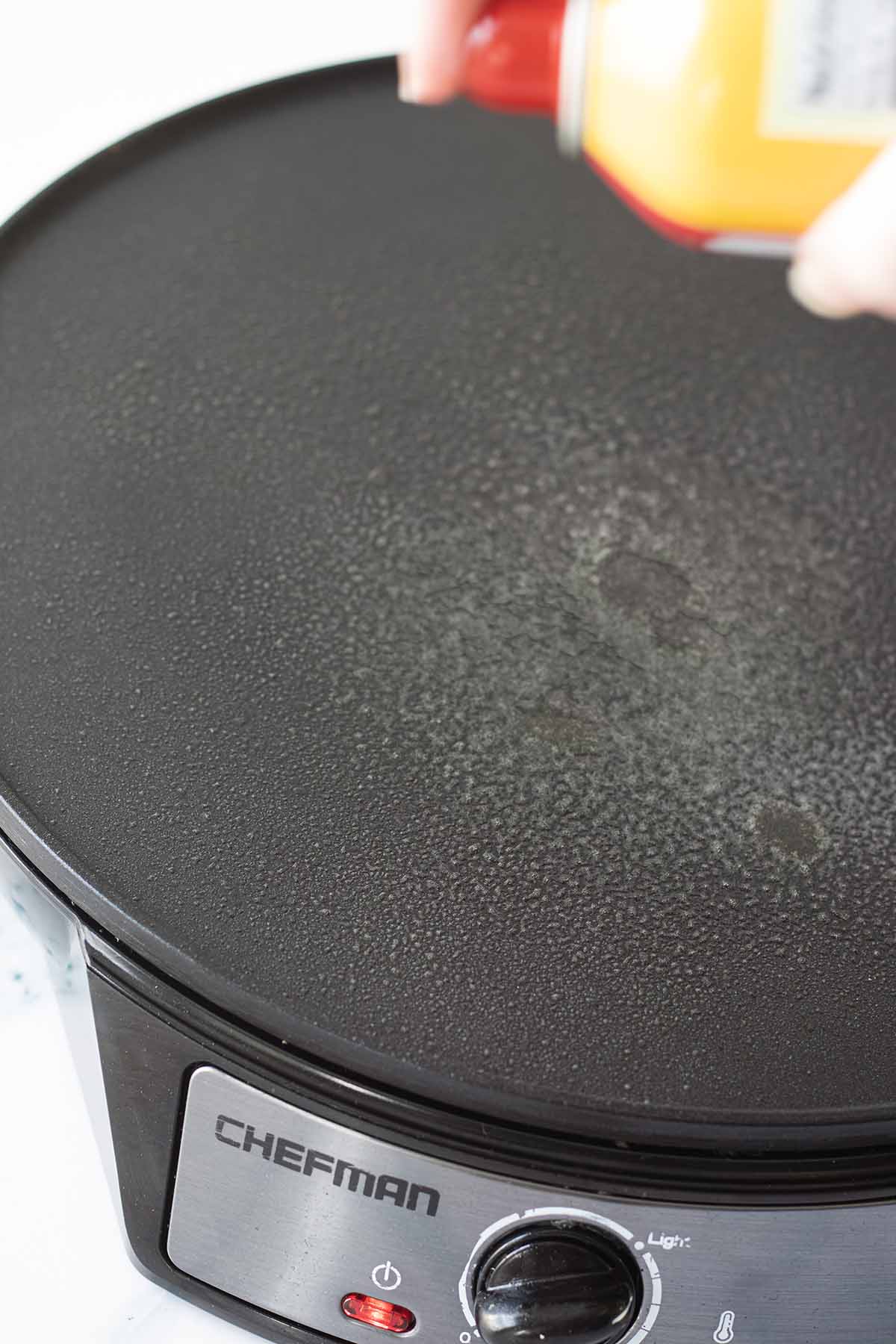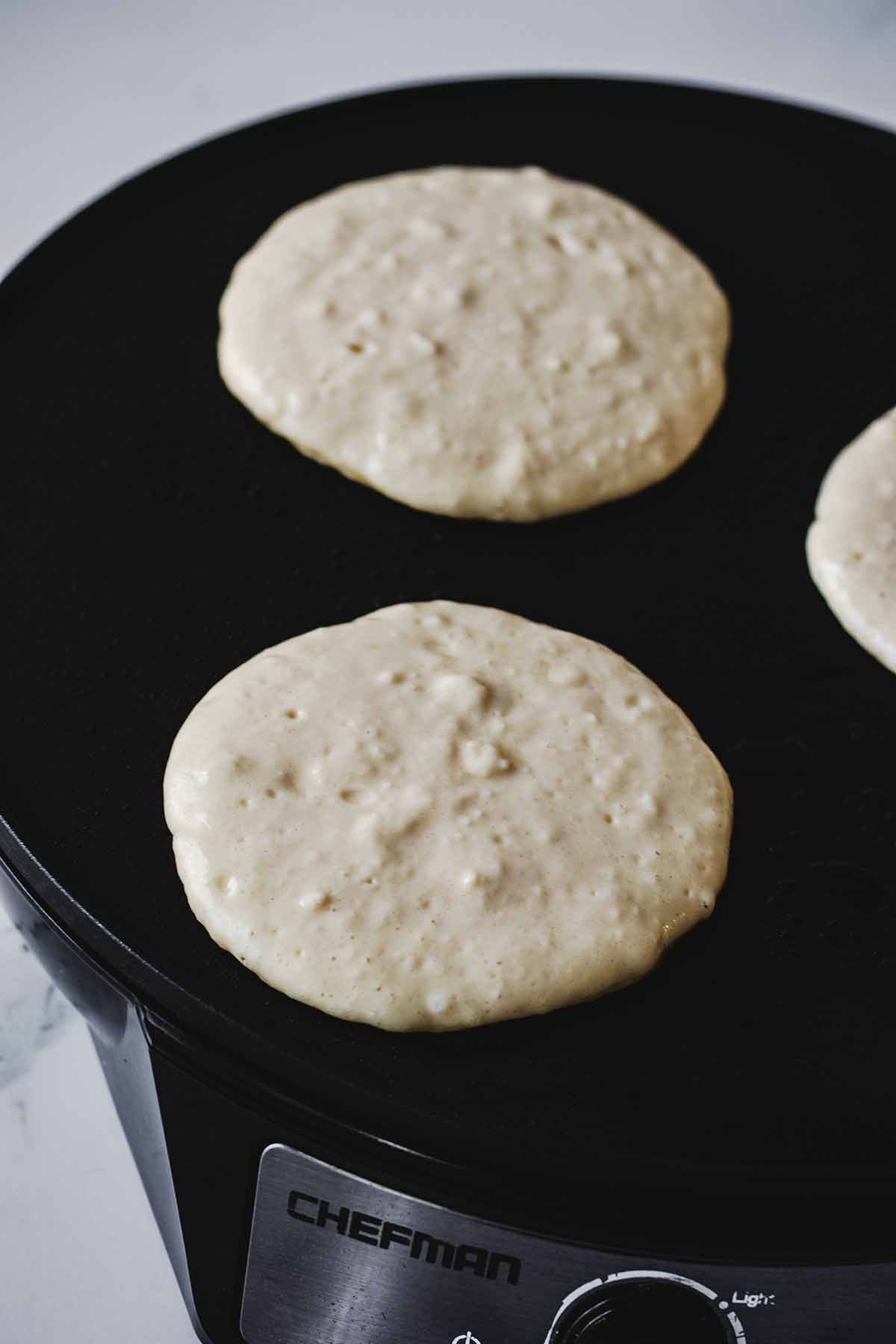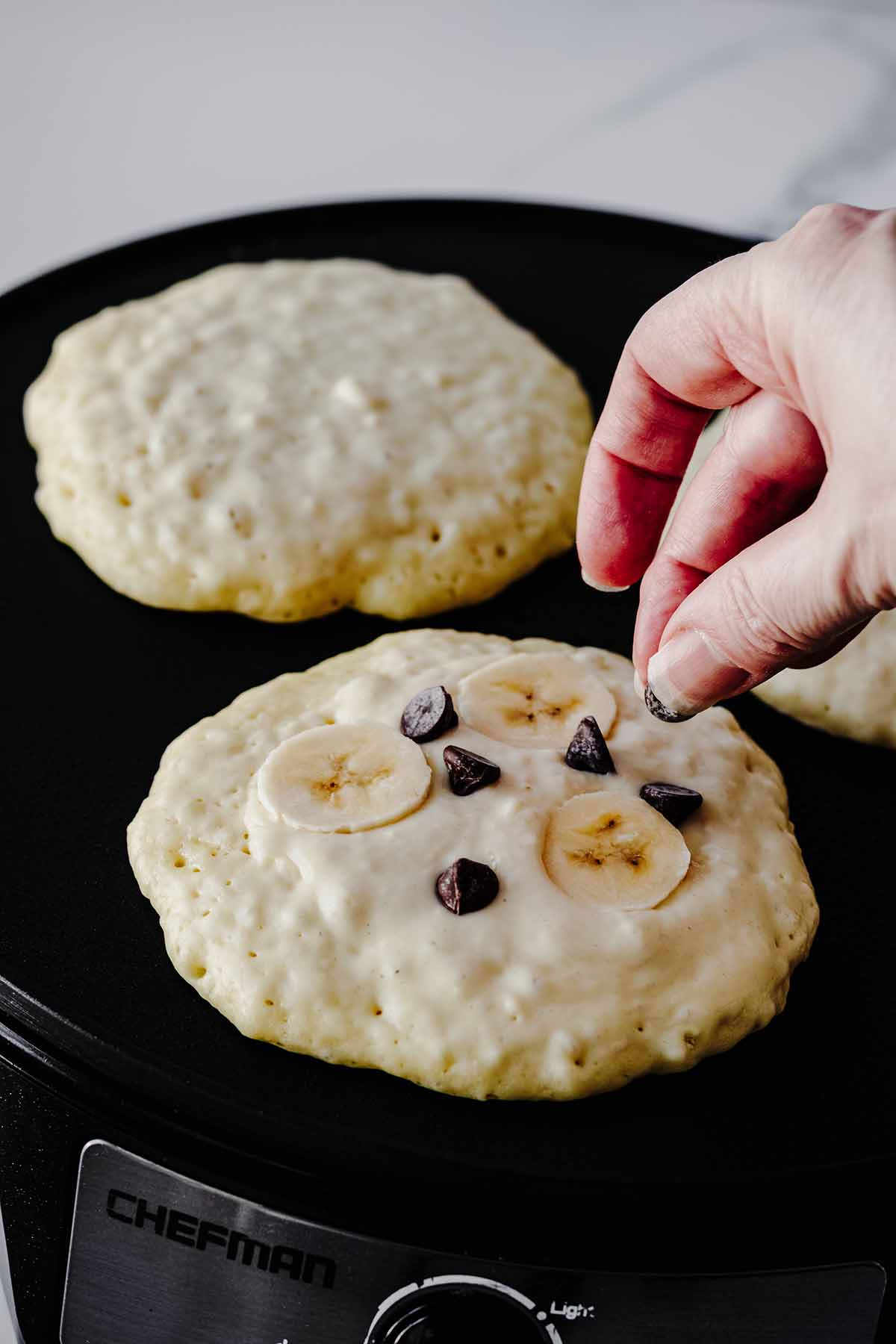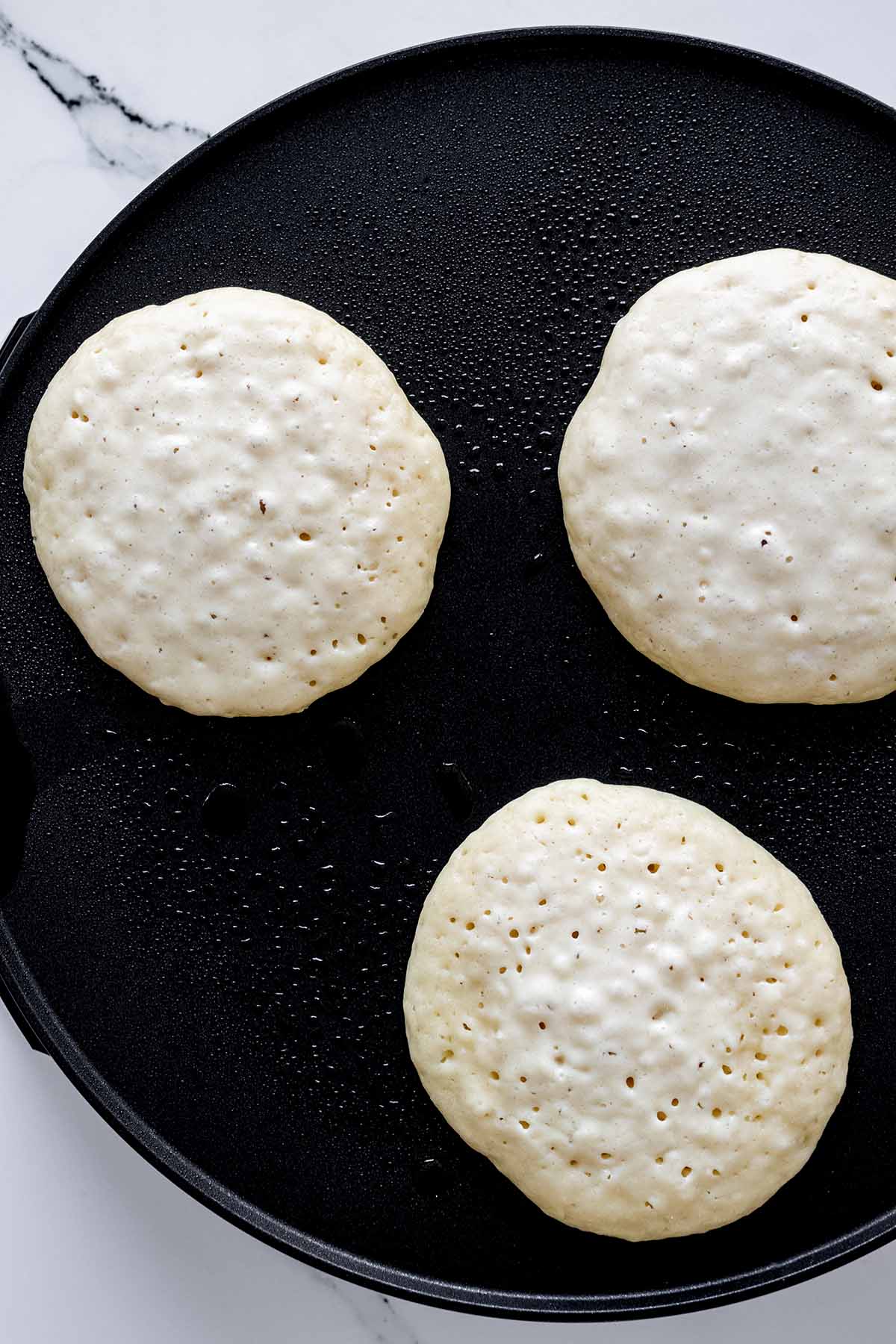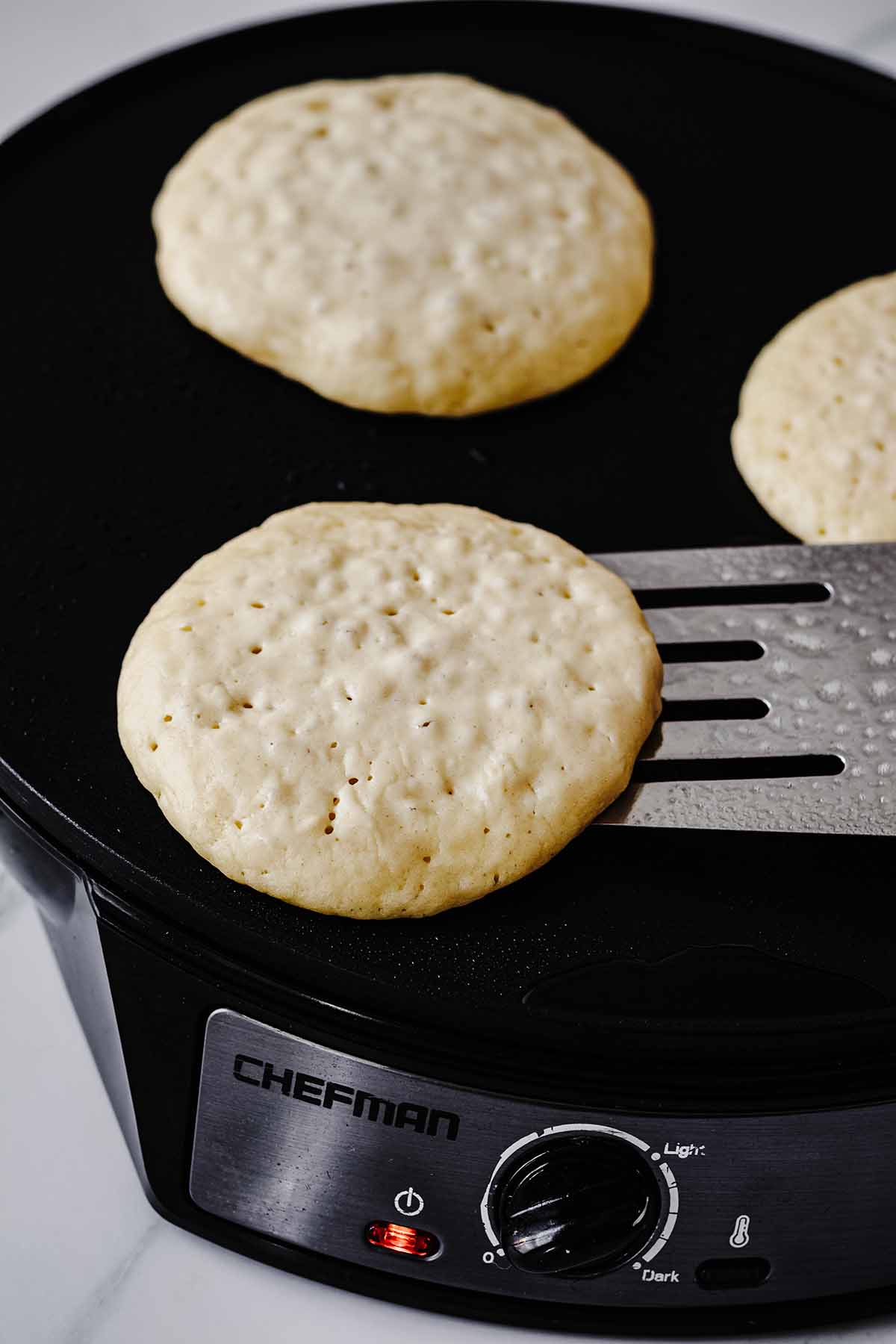 Click here to learn how to make homemade pancakes in a visual story.
🍓 Optional Add-In Suggestions
See below for some suggested optional add-ins. With the exception of citrus zest, add these to the uncooked tops of the pancakes while they are cooking. You may need to press them into the batter. Then flip the pancakes and continue cooking on the other side.
Chocolate chips.
Chopped nuts. Peanut, macadamia, pecan, walnut.
Seeds. Sunflower, poppy, pumpkin.
Chopped fruit. Bananas, blueberries, cherries, pineapple, strawberries, boysenberries, raspberries.
Dried fruit. Raisins, Craisins, dried blueberries or cherries.
Sprinkles. Adds a festive touch.
Shredded coconut.
Citrus zest. Lemon, orange or lime. Stir into the dry ingredients before adding wet.
Cooked bacon crumbles. Adds a wonderful saltiness that pairs well with maple syrup.
Chocolate covered coffee beans. For the coffee lovers.
Chopped candy bars. Toffee bars, peanut butter patties, peppermint patties, peanut butter chocolate bars, etc.
🥣 Equipment
We have listed below some equipment that you may need to make homemade pancakes.
🍁 Syrup and Topping Ideas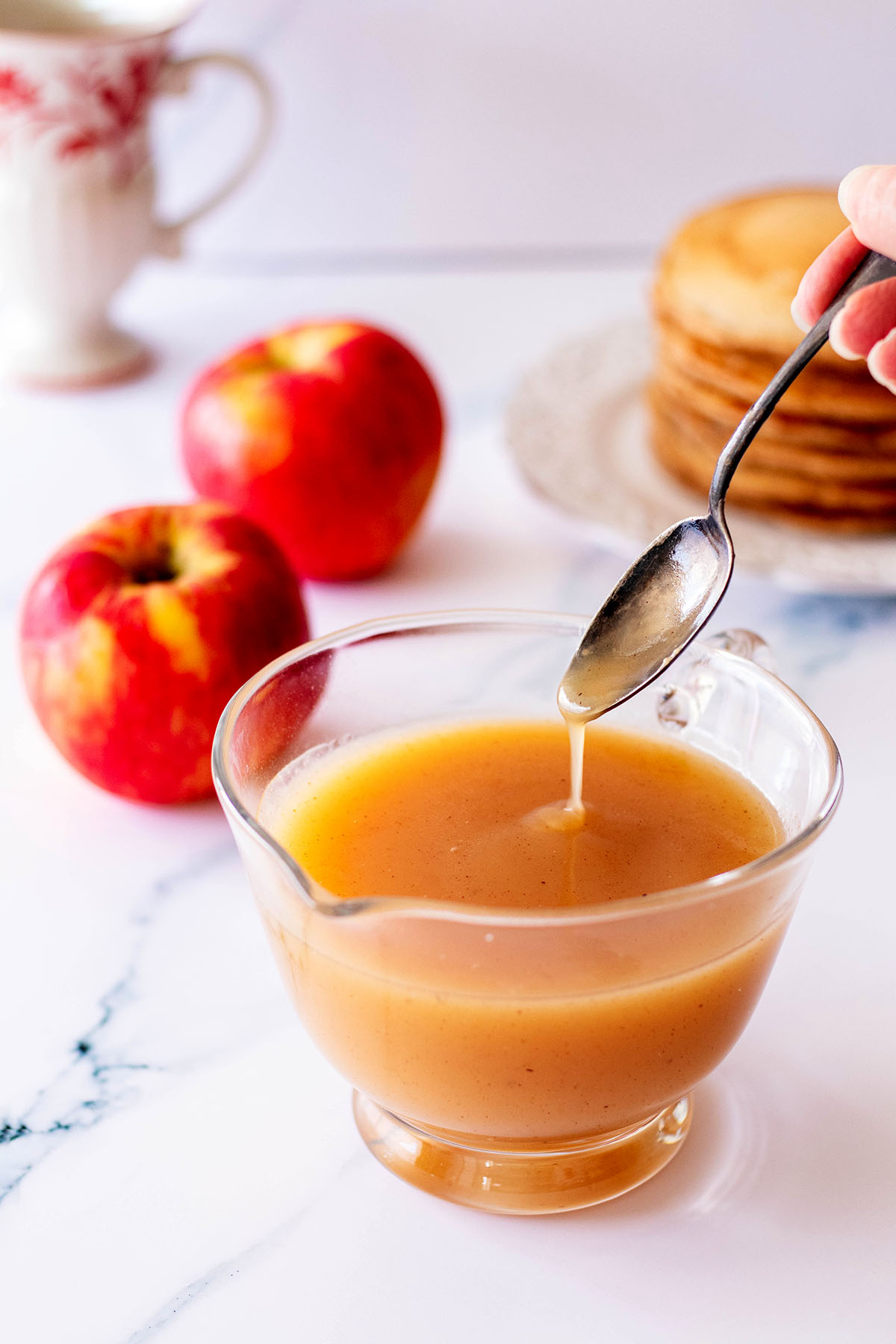 Pure maple syrup.
Honey.
Fresh fruit.
Chopped nuts.
🥞 More Pancake Recipes
We have many more pancake recipes for you to enjoy!
🌡️ How to Store Leftover Pancakes
Pancakes freeze very well. We recommend placing a sheet of wax paper between each pancake, then seal the stack in a freezer bag marked with the date. They will keep in your freezer for up to 2 months. Pop them in the toaster to reheat from frozen.
❓ Frequently Asked Questions
Will pancake batter keep in the fridge?
Yes, the batter will keep in the fridge for 2-3 days. Be sure to store it in an airtight container.
Why did my pancakes turn out tough and chewy?
Overmixing the batter is the likely culprit. Stirring the batter, releases the gluten in the flour. Gluten gives bread dough elasticity, but we don't want that in pancakes! When combining the wet ingredients with the dry, it's important to stir only long enough to combine the ingredients and remove any visible flour. Give the batter no more than 10-15 good stirs. To help prevent tough and chewy pancakes, let the batter rest at least 5 minutes before cooking them. This will help the gluten to relax in case you did overmix.
Why does this recipe not include sugar or flavorings?
This pancake recipe is meant to be a base recipe that you can customize, if desired, with your own add-ins and toppings. We wanted to keep the flavor neutral so that the pancakes would go with any add-in or topping that you desire. Syrup is sweet enough, so the pancake batter does not need additional sugar.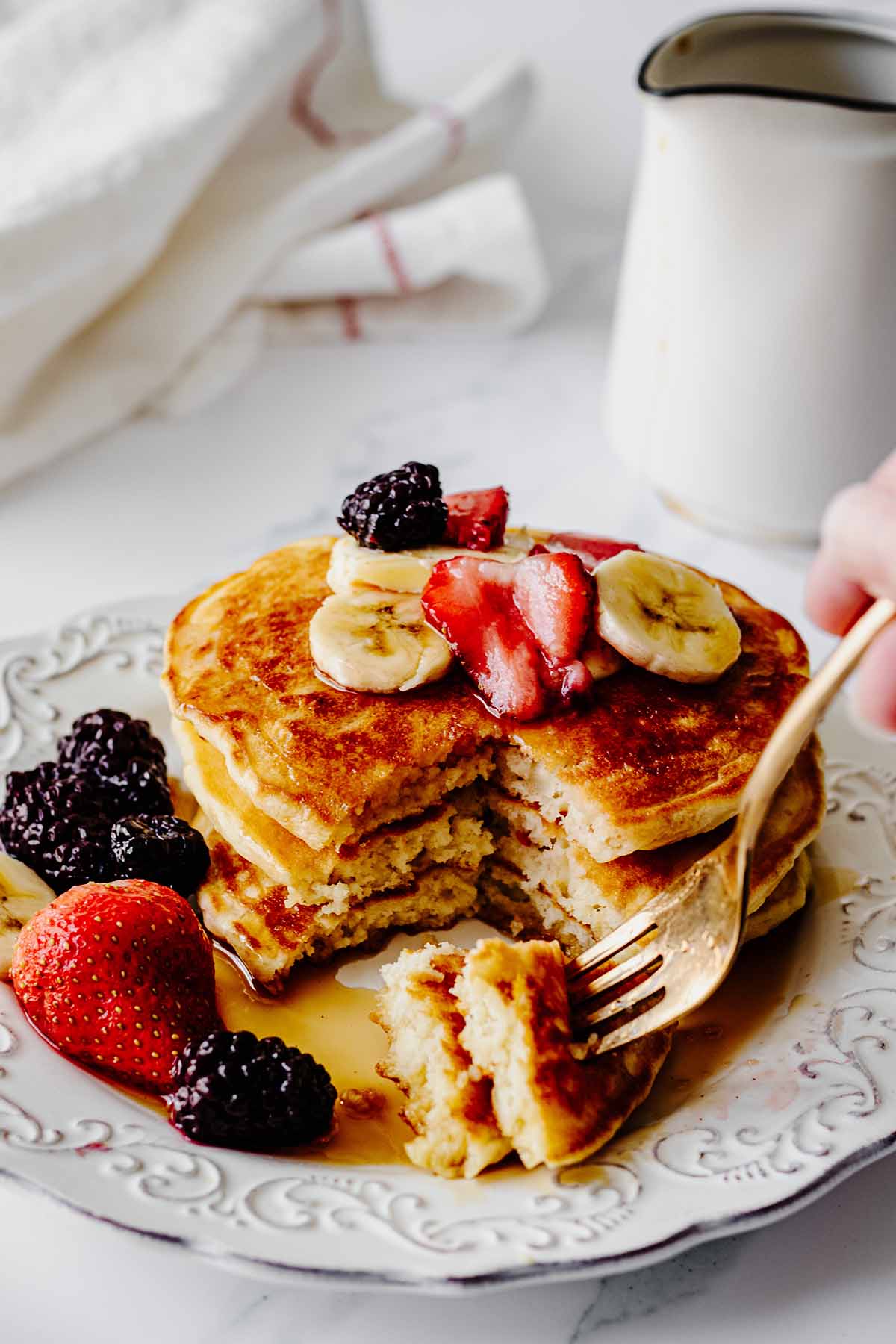 Made this recipe? We would love it if you could leave a rating. Either tap or click the stars in the recipe card or leave a comment below. Don't forget to subscribe to our newsletter to receive a free e-cookbook of quick and easy breakfast recipes. Thanks!
Recipe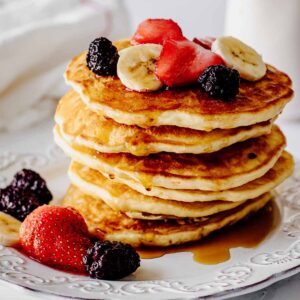 How to Make Homemade Pancakes
This wonderful basic homemade pancake recipe makes the perfect base for getting creative with add-ins and syrups. This is our ultimate guide to making perfect homemade pancakes, including step-by-step instructions, ingredient information, mix-in suggestions, answers to frequently asked questions, plus additional tasty pancake recipes!
Ingredients
1½

cup

sifted white all-purpose flour

It's important to sift the flour before measuring it. Sift it twice for good measure.

2

teaspoons

baking powder

Double acting

¼

teaspoon

salt

1

large

egg

At room temperature.

1¼

cup

milk

At room temperature.

3

tablespoons

unsalted butter

Melted and cooled.
Instructions
Add flour, baking powder and salt to a large bowl. Mix thoroughly with a wire whisk. Set aside.

Add milk, egg and melted butter to a blender and blend for about a minute. Alternatively, you can add wet ingredients to a medium bowl and beat with an electric mixer or vigorously with a wire whisk for a minute.

Pour wet ingredients into dry and stir until just combined. Do not overmix. It's okay if a few lumps remain. Set batter aside to rest for 5 minutes.

Meanwhile, lightly spray a griddle or non-stick skillet with cooking spray and heat on medium heat. If using a griddle, you can adjust the temperature depending on how dark you want the pancakes.

Add about ¼ cup of batter to the hot surface. Repeat until there is no more room on the surface.

Cook until bubbles form and pop on the surface of the batter, about 3-4 minutes.

Spray a wide spatula lightly with cooking spray and slide it under one of the pancakes. With a swift motion, flip the pancake. Repeat with remaining pancakes. Cook for about 5 minutes longer.

Remove cooked pancakes to a plate and tent with aluminum foil to keep them warm. Repeat steps 4-7 with remaining batter.
Nutrition
Calories:
208
kcal
|
Carbohydrates:
27
g
|
Protein:
6
g
|
Fat:
8
g
|
Saturated Fat:
5
g
|
Trans Fat:
1
g
|
Cholesterol:
51
mg
|
Sodium:
273
mg
|
Potassium:
114
mg
|
Fiber:
1
g
|
Sugar:
3
g
|
Vitamin A:
302
IU
|
Calcium:
147
mg
|
Iron:
2
mg
📚 References and Further Reading
"Top 12 BEST Proven Egg Substitutes in Baking/Cooking Recipes" by Madhuram's Eggless Cooking.
"How to Make Pancakes with What You Have on Hand," Taste of Home.