Whip up our sweet potato black bean soup in 30 minutes or less! It's a nutrition-packed, easy-to-make delight, featuring tender sweet potatoes, protein-rich black beans, and zesty spices in a hearty vegetable broth - a quick, healthy, and utterly delicious meal in no time.
Jump to Recipe
Print Recipe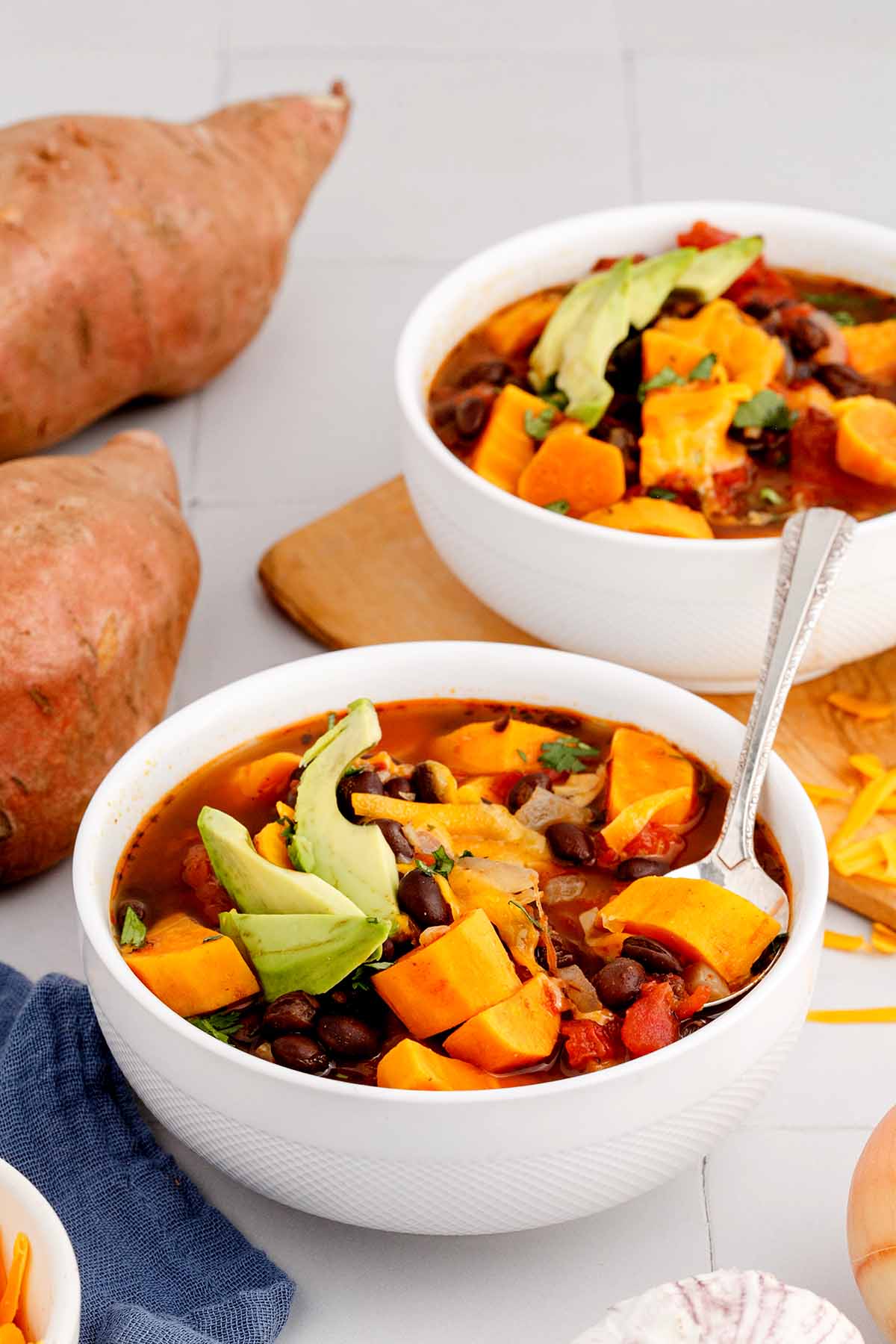 Today I have this sweet potato black bean soup recipe to share with you. It's one of those dishes that's just as delicious as it is easy to make. If you've had a long day, and all you want is a hearty, comforting meal that doesn't take forever to cook. Well, this soup is your answer.
It has sweet potatoes that become all creamy and amazing, and the black beans add this awesome protein punch. But here's the best part: it's ready in just about 30 minutes! Just toss everything in a pot, let it simmer, and voila – a bowl of pure, soul-warming goodness. You're gonna love it!
Table of Contents
Why You'll Love This Recipe
❤️ Comfort food with a healthy twist. Indulge in the warmth and comfort of a hearty soup while knowing you're making a healthy choice with fresh, wholesome ingredients.
❤️ Speedy preparation. This recipe is perfect for busy days, ready to be enjoyed in 30 minutes or less, making it a convenient choice for a quick, wholesome meal.
❤️ Nutrient-Rich. Packed with sweet potatoes and black beans, this soup is a powerhouse of vitamins, fiber, and plant-based protein, ensuring you're nourishing your body with every spoonful.
❤️ Budget-friendly: With common pantry staples like black beans, canned tomatoes, and spices, this recipe is an affordable way to create a satisfying, restaurant-quality dish at home.
Detailed Ingredient Notes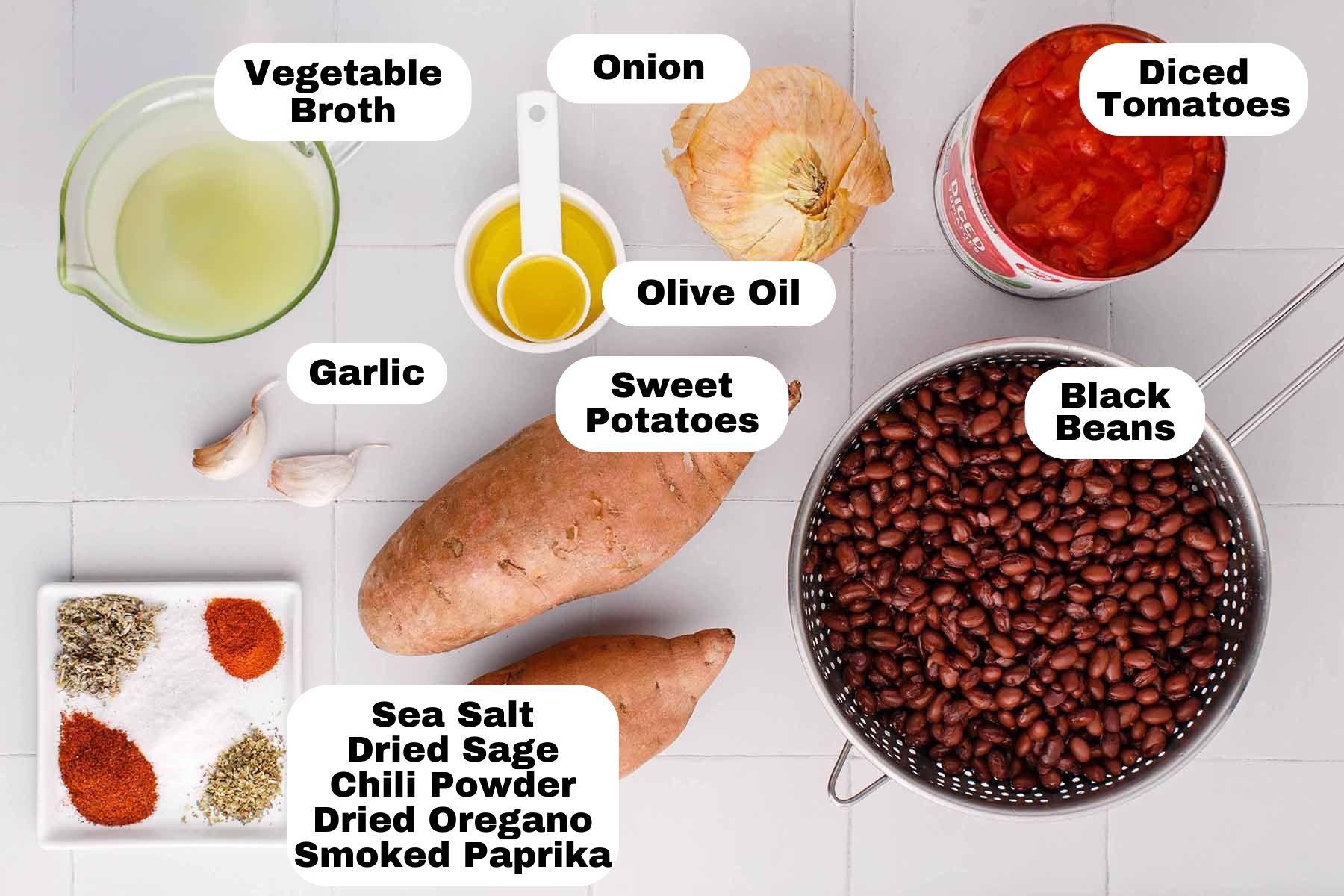 Olive oil. Olive oil adds a rich, fruity flavor to your soup and helps sauté the onions, garlic, and sweet potatoes. It's a healthier alternative to butter or other cooking oils.
Onion. Chopped onions provide a savory base and depth of flavor to the soup. They also contribute natural sweetness as they cook down.
Sweet potatoes. These vibrant, orange-fleshed tubers are a nutritional powerhouse, loaded with vitamins, fiber, and natural sweetness. They add a delightful creamy texture and a hint of natural sweetness to the soup.
Garlic. Minced garlic offers a pungent and aromatic quality to the soup. It's a classic ingredient that enhances the overall flavor profile.
Black beans. Canned black beans are a convenient and excellent source of plant-based protein and fiber. They also absorb the flavors of the soup beautifully.
Canned tomatoes. Canned diced or crushed tomatoes provide a rich tomato base for the soup. They're an excellent time-saving option and offer consistent flavor.
Sea salt. Sea salt enhances the natural flavors of the ingredients and helps to balance the overall taste. You can adjust the amount to suit your preferred level of saltiness.
Sage. Dried sage adds earthy, herby notes to the soup, complementing the sweetness of the sweet potatoes.
Chili powder. This spice provides a mild heat and smoky flavor, contributing to the soup's complexity.
Dried oregano. Oregano brings a touch of Mediterranean-inspired flavor to the soup.
Smoked paprika. Smoked paprika imparts a delightful smoky depth to the dish. Make sure it's smoked paprika for that special flavor.
Vegetable broth. Vegetable broth is the liquid base of the soup, infusing it with savory, umami notes. You can use store-bought or homemade broth, and if you want to control the soup's thickness, you can adjust the amount of broth used.
Step-By-Step Instructions With Photos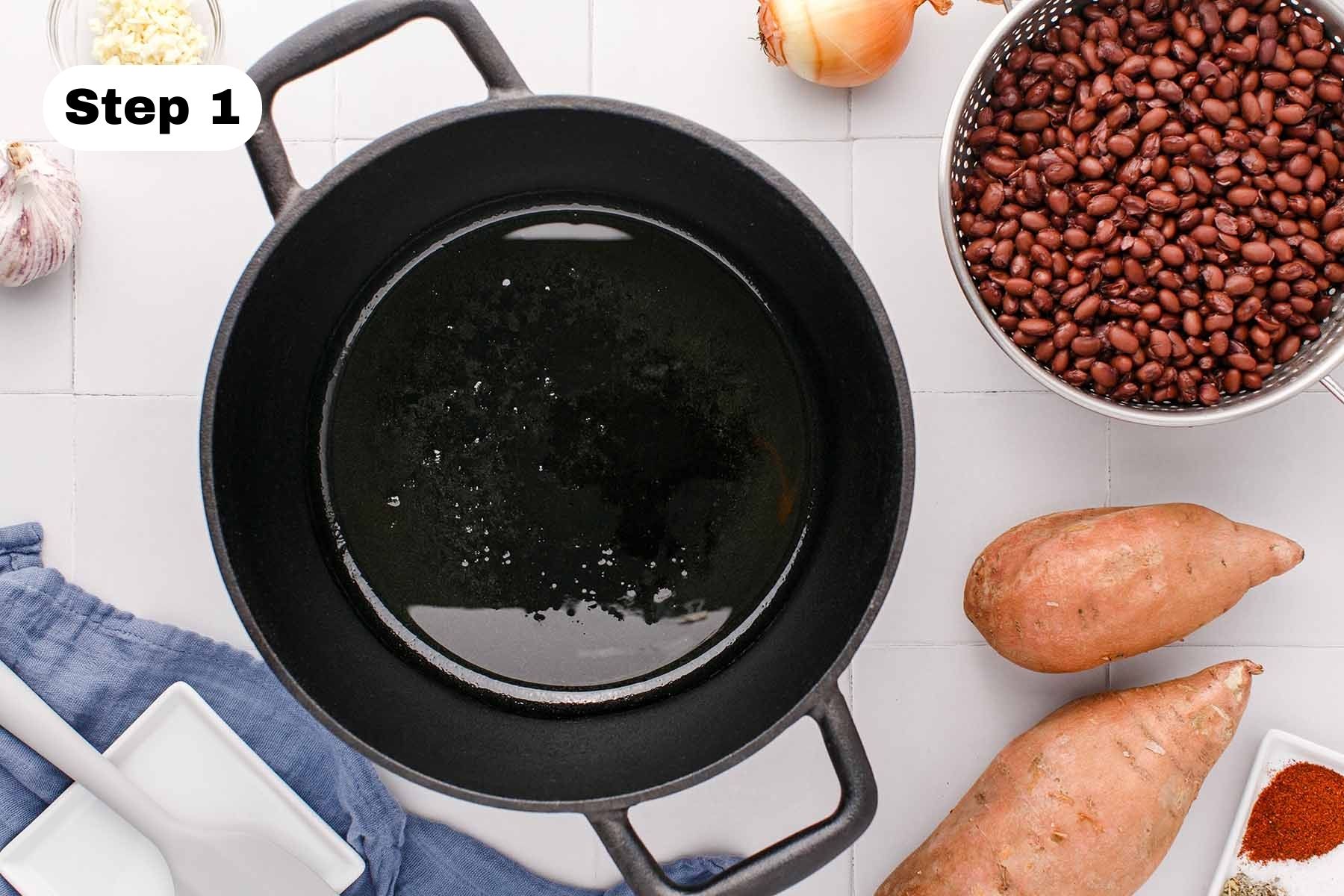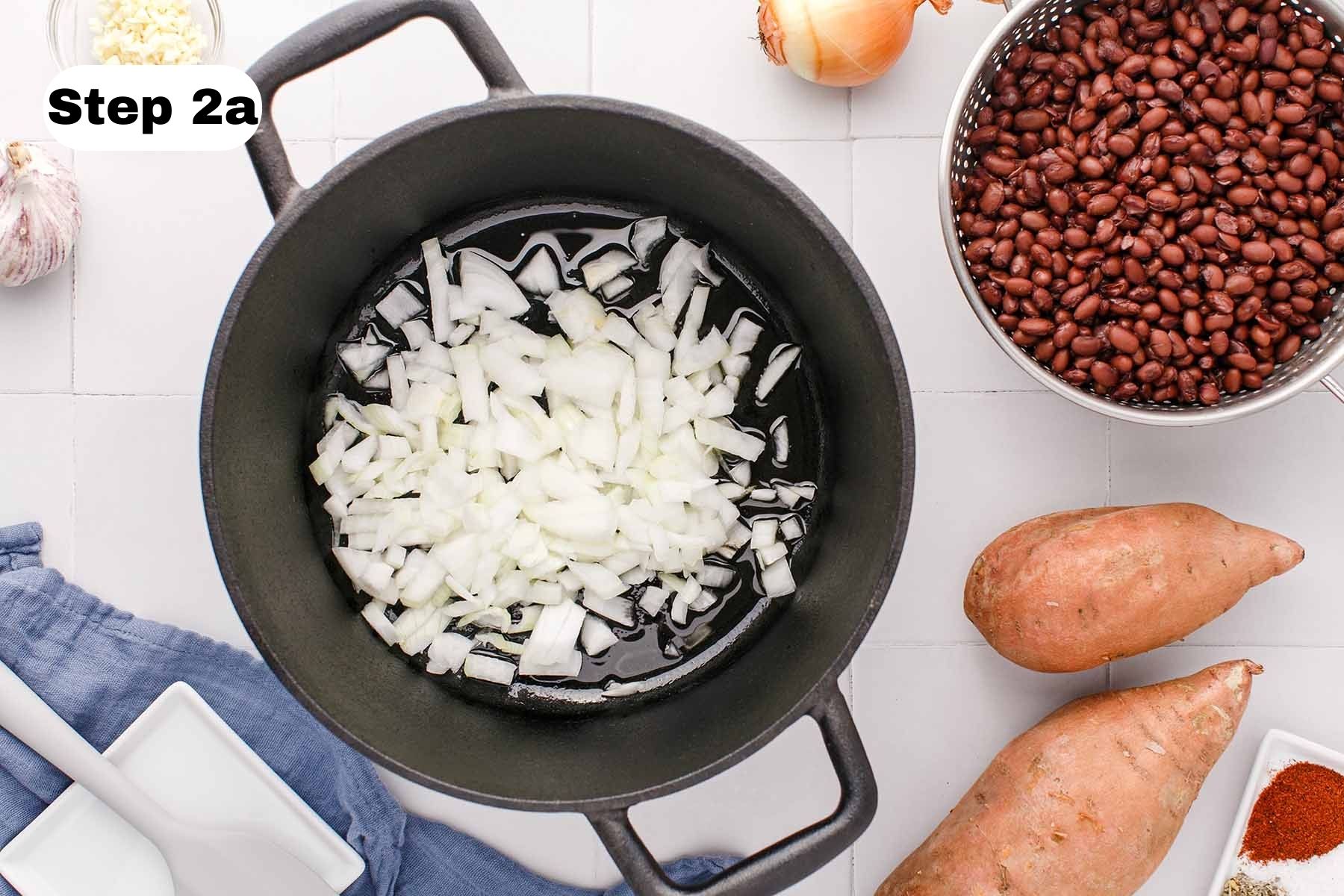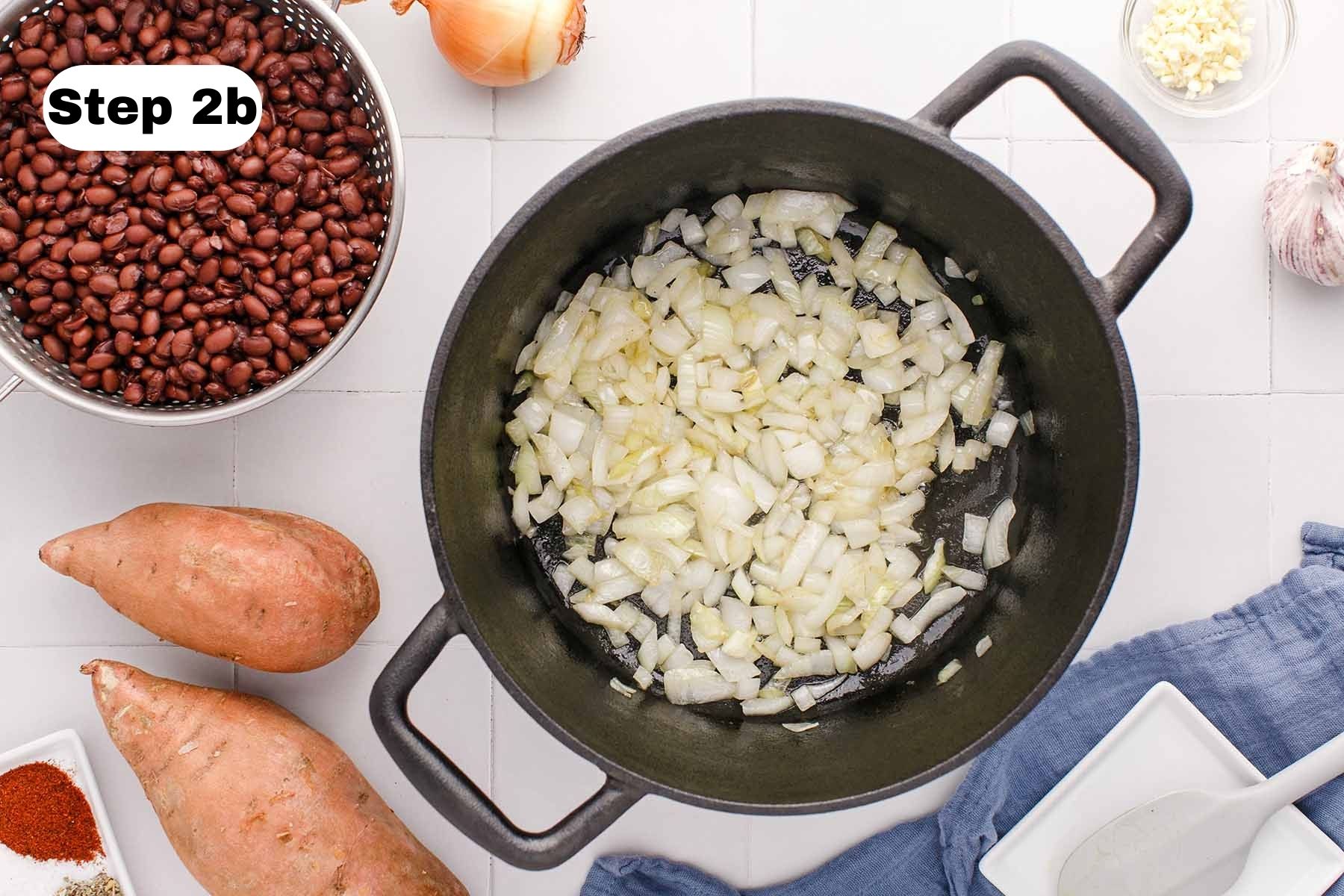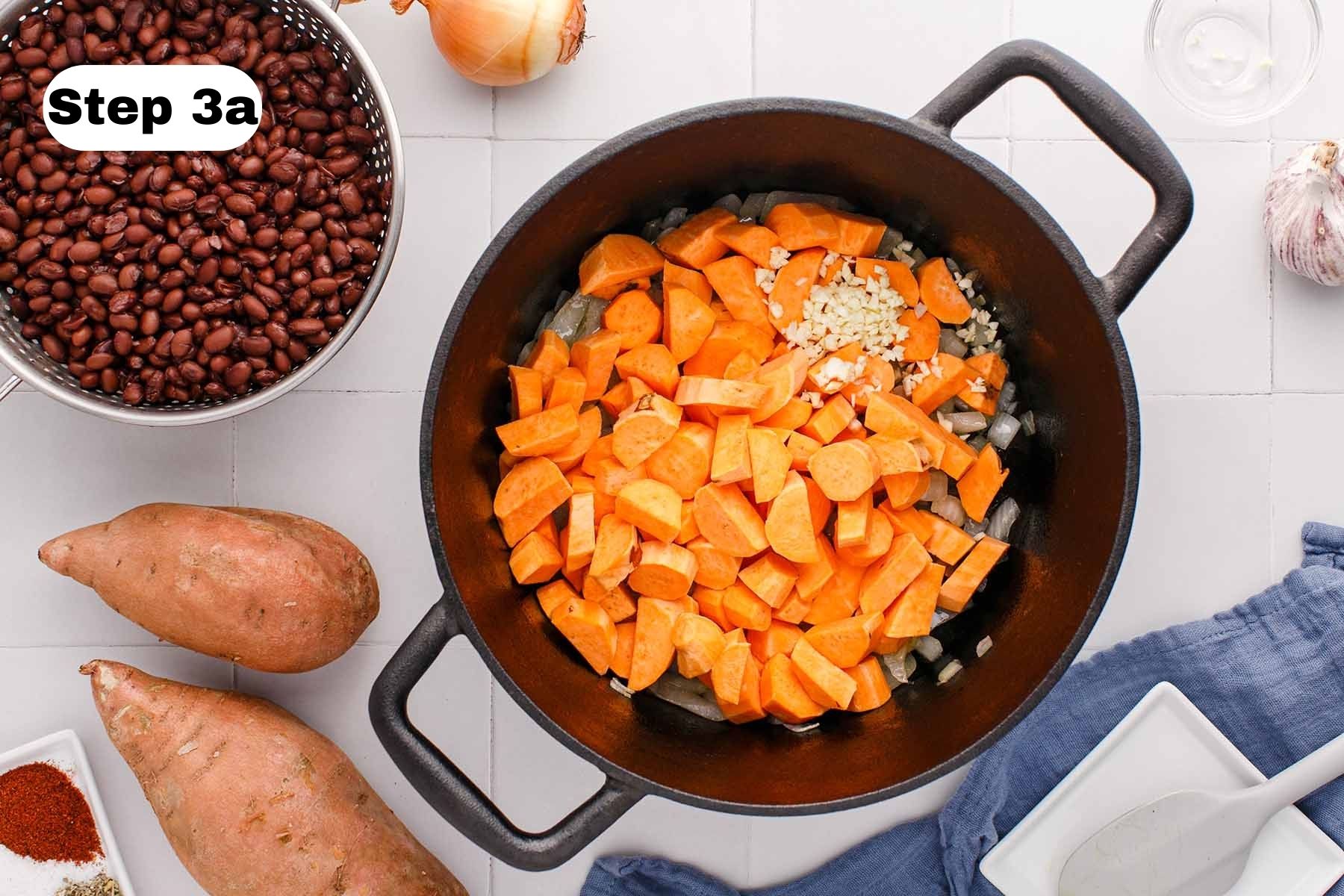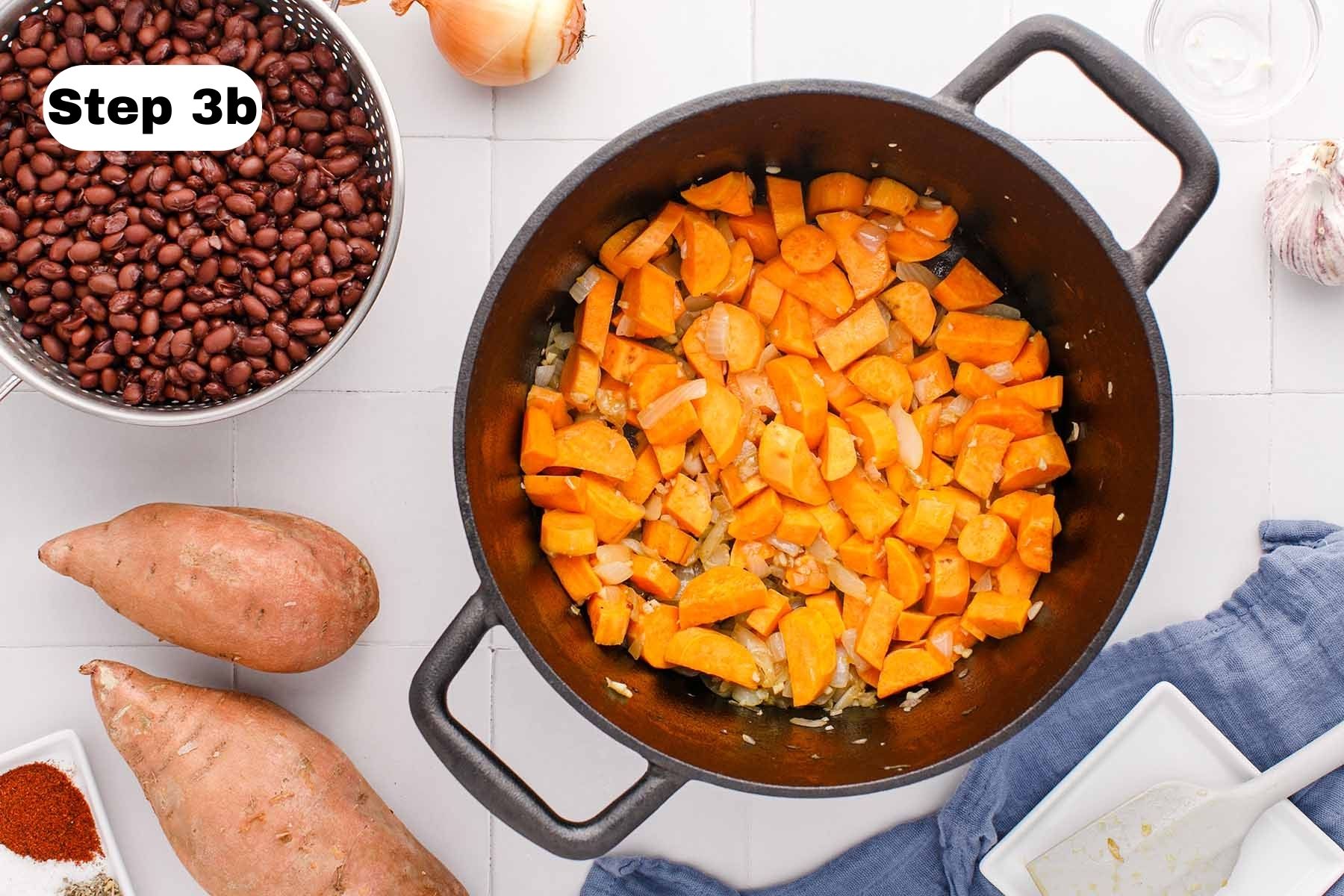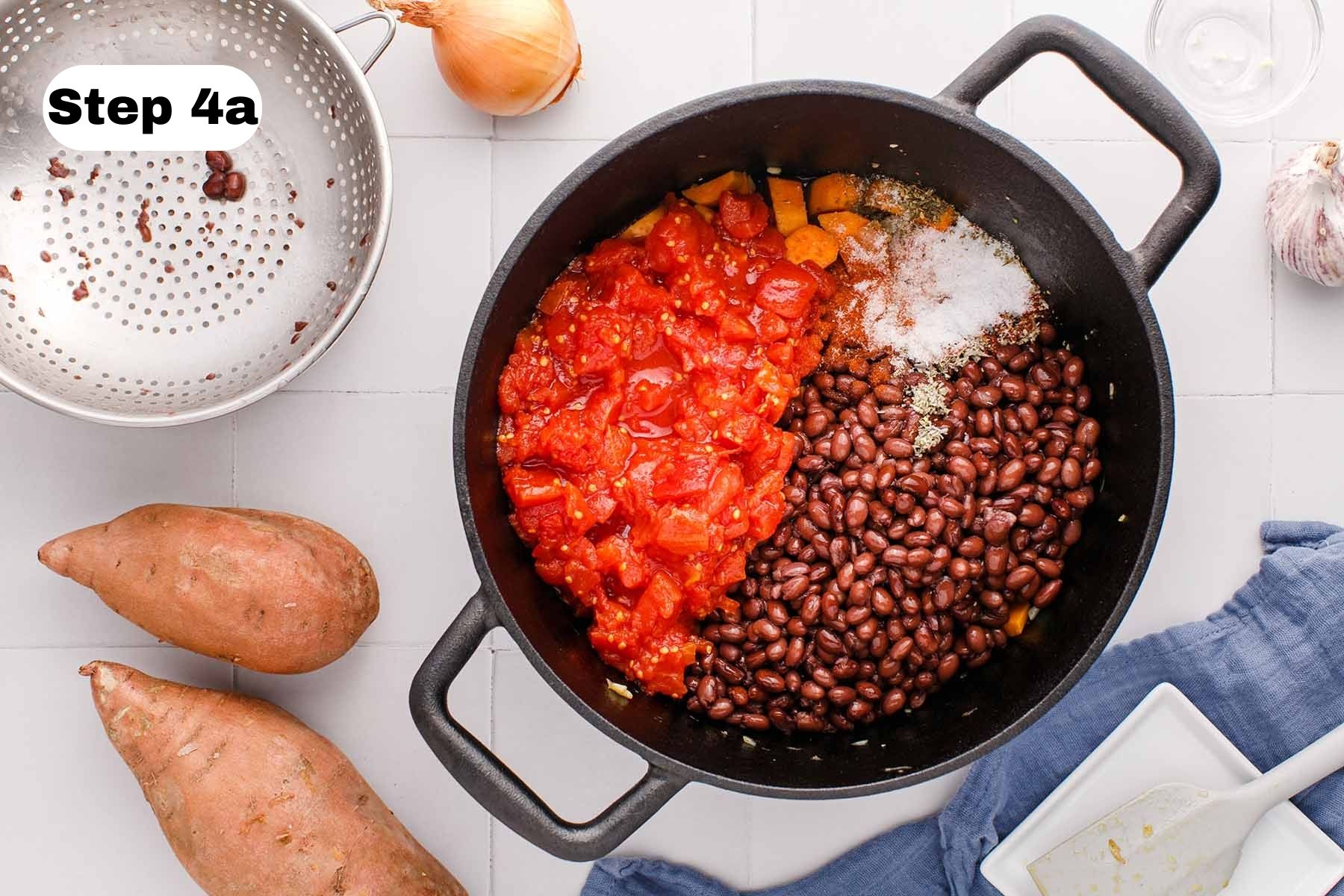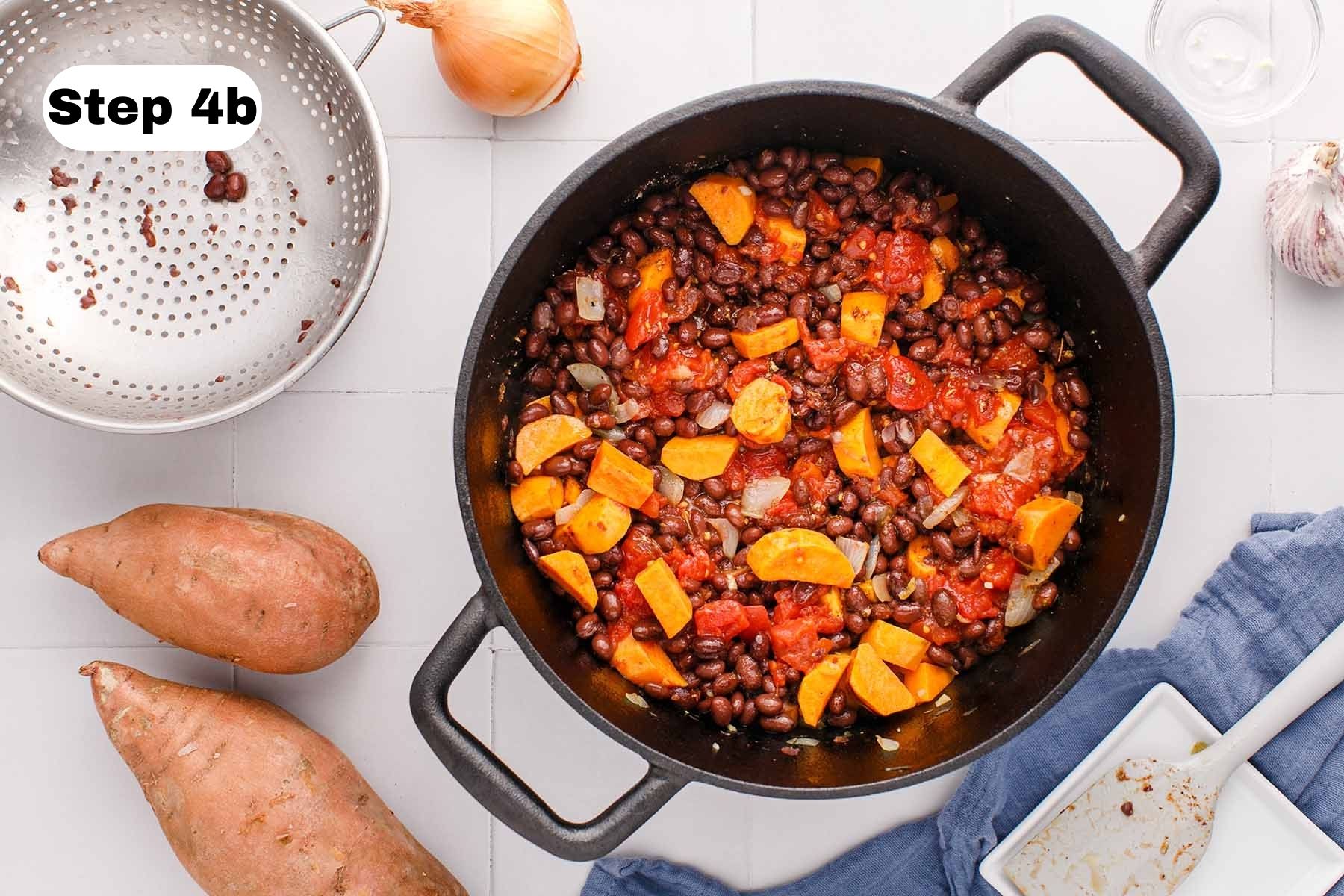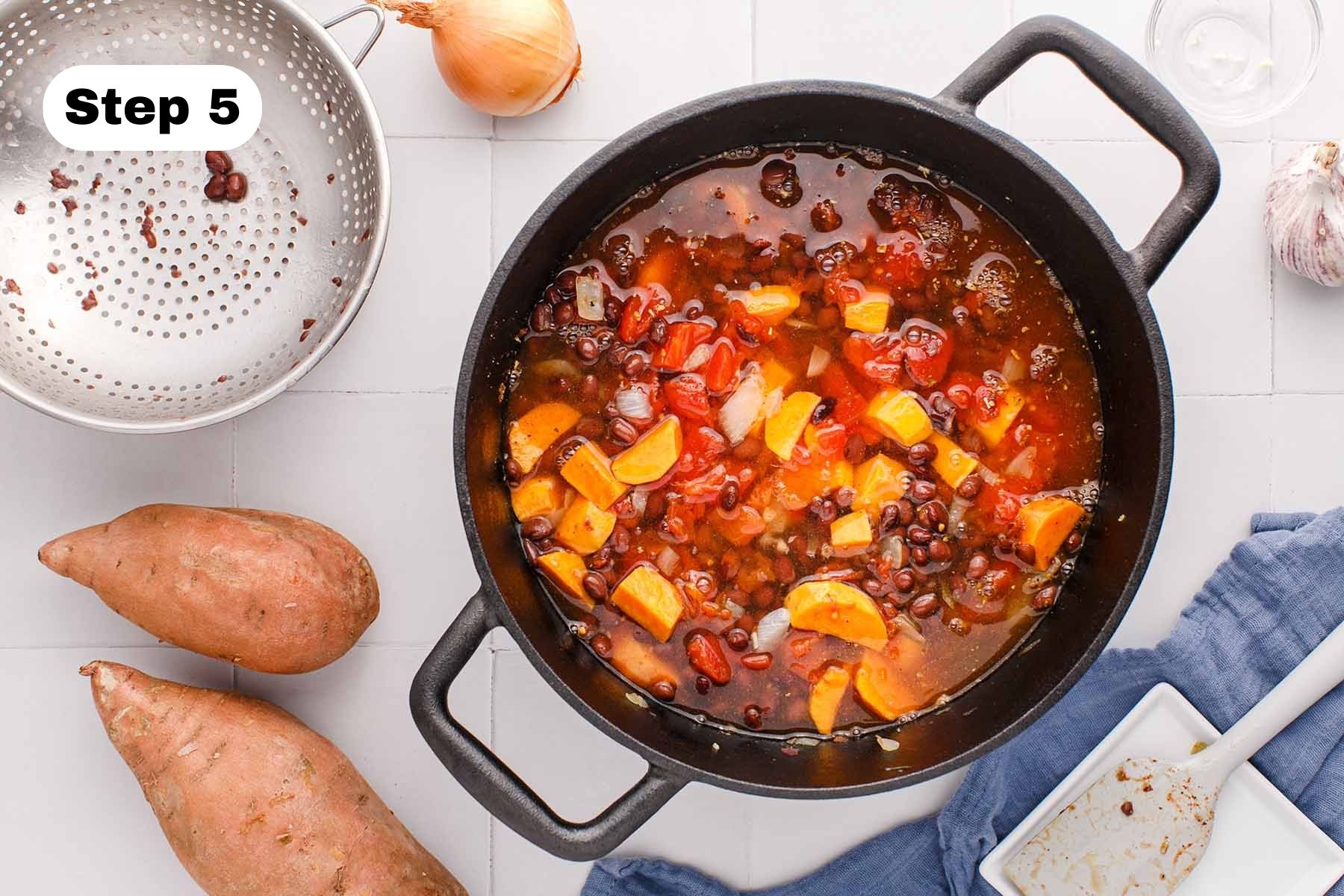 Substitutions
Olive oil. You can substitute vegetable oil, canola oil, or avocado oil. Any neutral cooking oil can be used as a substitute for olive oil. The choice of oil may slightly affect the flavor but will not significantly alter the recipe.
Sweet potatoes. While sweet potatoes is one of the main ingredients in this soup, you can substitute butternut squash, pumpkin, or carrots and make it your own. These vegetables offer a similar sweet and earthy flavor profile to sweet potatoes. You can use them as a 1:1 replacement.
Black beans. You can substitute kidney beans, pinto beans, or navy beans. They'll work well in this recipe and add a different flavor dimension.
Canned tomatoes. You can substitute fresh tomatoes or tomato sauce. If using fresh tomatoes, peel and chop them. You may need a bit more salt and spices since canned tomatoes usually have some added salt. Tomato sauce can be used in place of canned tomatoes for a smoother consistency.
Sea salt. You can substitute regular table salt or kosher salt. Be sure to adjust the amount to taste, as the saltiness may vary slightly. Table salt tends to be saltier than sea salt.
Sage. Rosemary, thyme, or marjoram can work as substitutes for sage.
Chili powder. You can substitute cayenne pepper, paprika, or red pepper flakes for the chili powder. Be sure to adjust the amount to your taste preference.
Dried oregano. You can substitute dried basil or Italian seasoning.
Smoked paprika. Regular paprika or ground cumin can work. The flavor will vary but still be good.
Vegetable broth. If you're not strictly vegetarian, you can use chicken or beef broth for a slightly different flavor profile. Make sure to choose a low-sodium version if you want to control the soup's salt content. You can also substitute plain water. The vegetables and spices will infuse the water with flavor.
Variations
Add greens. Stir in a handful of chopped kale, spinach, or Swiss chard during the last few minutes of cooking. This will add a pop of color, nutrition, and a fresh flavor to your soup.
Creamy texture. For a creamier soup, blend a portion of the soup (using an immersion blender or regular blender) before serving. You can leave some chunks for texture.
Protein boost. Enhance the protein content by adding cooked quinoa, diced tofu, or shredded chicken to the soup. This can turn it into a heartier meal.
Roasted vegetables. Roast the sweet potatoes in the oven before adding them to the soup for a richer, caramelized flavor.
Toppings and garnishes. Elevate the soup with toppings like chopped fresh cilantro, grated cheese, sour cream, or sliced avocado for extra texture and flavor.
Coconut milk. For a tropical twist, stir in some full fat canned coconut milk. This adds a creamy, slightly sweet note to the soup.
Salsa fresca. Top your individual servings with a spoonful of fresh salsa for a zesty, vibrant kick.
Feel free to mix and match these variations to suit your taste and experiment with different combinations to keep this soup fresh and exciting each time you make it.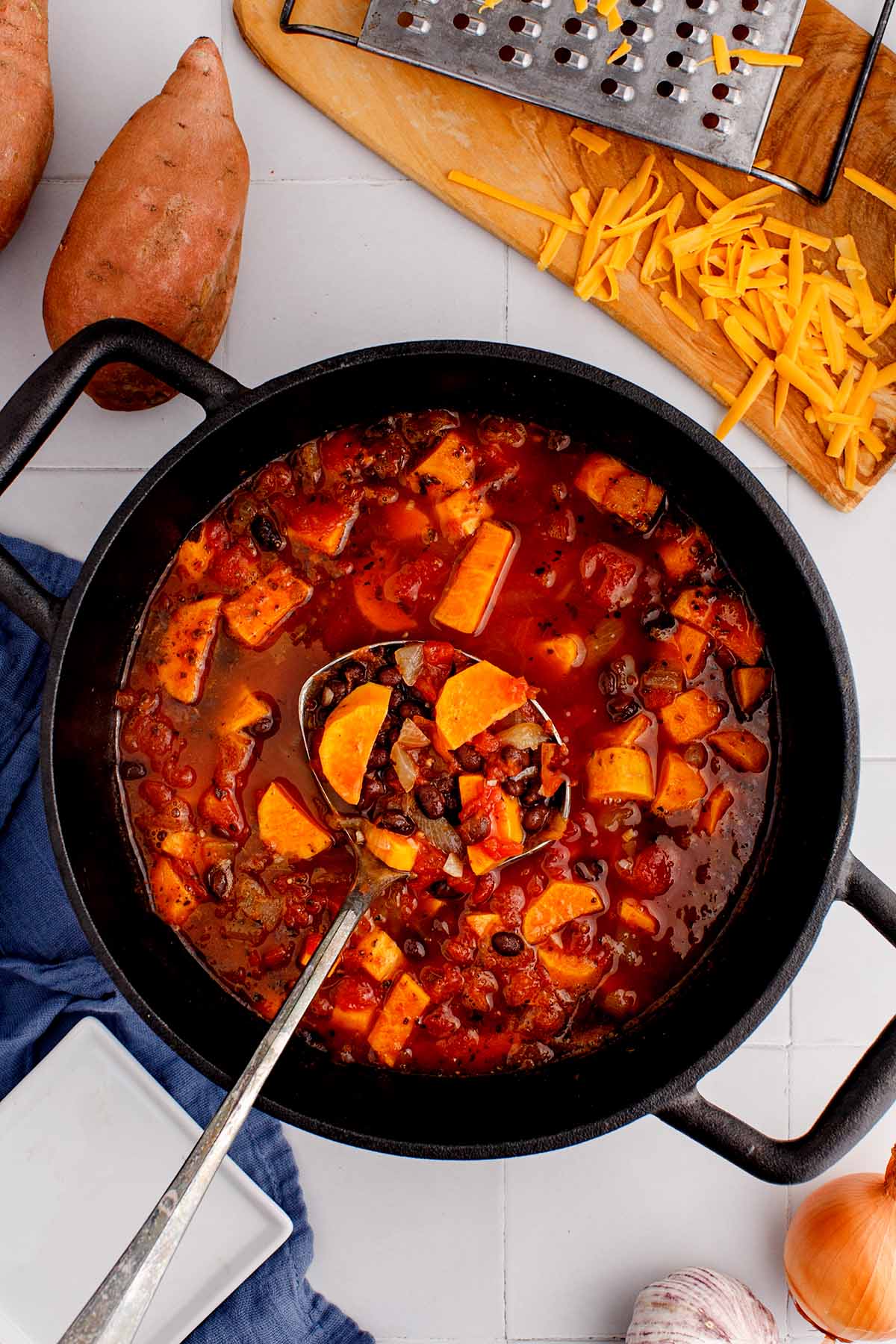 Storage
Storing your leftover sweet potato black bean soup is a breeze. Just wait for it to cool down to room temperature, then place it into an airtight container. If you have a date label handy, place it on the container so you know when you made it. Stick the container in the fridge – it will stay good for around 3-4 days.
If you have a lot of soup left and you want to keep it longer, consider freezing it. Make sure there is some space at the top of the container to allow for expansion, or use a freezer-safe bag. You can freeze it for 2-3 months.
When you're ready to dig in again, just thaw it in the fridge (if it's been frozen) and heat it up on the stove or in the microwave. If it's gotten thicker, add a little water or veggie broth to get that perfect consistency.
Top Tips
Prep ahead. To save time, you can peel and dice the sweet potatoes in advance and store them in a bowl of water in the fridge. This way, they'll be ready to go when you're ready to cook.
Customize the spice level. Adjust the amount of chili powder or other spices to your preferred level of heat. Feel free to make it milder or spicier to suit your taste.
Texture control. If you like a chunkier soup, don't cook the sweet potatoes until they're too soft. If you prefer a smoother consistency, cook them a bit longer until they start breaking down.
Serve with toppings. Jazz up your bowl with garnishes like a dollop of Greek yogurt, sour cream, grated cheese, chopped cilantro, or sliced avocado for added flavor and texture.
Pair with a side. This soup pairs wonderfully with a side of crusty bread, these rosemary biscuits, a simple green salad, a skillet chicken dish, a slice of vegetarian quiche, or a vegetarian sandwich for a well-rounded meal.
Freeze in portions. If you plan to freeze the soup, consider portioning it out into smaller containers or freezer bags for easy, single-serving reheats.
Experiment with herbs. Try different herbs like rosemary, basil, or even cilantro to give the soup a unique twist.
Make it creamier. For a creamy version, add a touch of coconut milk or cream to the soup, or blend a portion until smooth.
These tips will help you make the most of your sweet potato black bean soup and add your personal touch to this delicious dish.
FAQ
Can I use canned sweet potatoes instead of fresh ones?
While fresh sweet potatoes are recommended for the best texture and flavor, you can use canned sweet potatoes in a pinch. Just be sure to adjust the cooking time since canned sweet potatoes are already cooked.
Can I use other types of beans in this recipe?
Yes, you can experiment with other beans like kidney beans, pinto beans, or navy beans. They'll work well in this recipe and add a different flavor dimension.
Can I make this soup in a slow cooker or Instant Pot?
Yes, you can adapt this recipe for a slow cooker or Instant Pot. For a slow cooker, cook on low for 6-8 hours or on high for 3-4 hours. For an Instant Pot, set it to "Soup" mode and cook for about 15-20 minutes.
Related Recipes
Try these next:
Pairing Ideas
These recipes pair well with this soup:
Recipe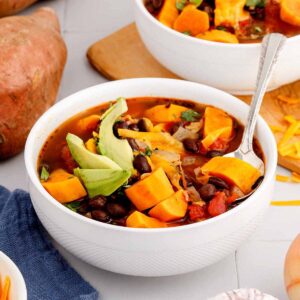 Sweet Potato Black Bean Soup
Whip up our sweet potato black bean soup in 30 minutes or less! It's a nutrition-packed, easy-to-make delight, featuring tender sweet potatoes, protein-rich black beans, and zesty spices in a hearty vegetable broth - a quick, healthy, and utterly delicious meal in no time.
Ingredients
2

tablespoons

olive oil

1

large

onion

Chopped (approximately. See Note 1.

2

large

sweet potatoes

Peeled and diced (approximately 4 cups)

2

teaspoons

garlic

Minced. Note 2.

2

19-ounce cans

black beans

Approximately 4 cups total. Note 3.

1

28-ounce can

diced tomatoes

1

tablespoon

sea salt

2

teaspoons

dried sage

2

teaspoons

chili powder

1

teaspoon

dried oregano

1

teaspoon

smoked paprika

4

cups

vegetable broth

Low sodium. Note 4.
Instructions
Drizzle olive oil into a warmed large soup pot over medium heat.

Add chopped onions and sauté for about 5 minutes.

Add sweet potatoes and garlic and sauté for another 3 minutes to just brown the sides.

2 large sweet potatoes,

2 teaspoons garlic

Add black beans, tomatoes, sea salt, dried sage, chili powder, oregano, and smoked paprika. Stir to combine.

2 19-ounce cans black beans,

1 28-ounce can diced tomatoes,

1 tablespoon sea salt,

2 teaspoons dried sage,

2 teaspoons chili powder,

1 teaspoon dried oregano,

1 teaspoon smoked paprika

Pour in vegetable broth and bring to boil, before reducing to low. Simmer for 20-25 minutes or until your desired tenderness of sweet potato.
Notes
You can use a yellow or white onion for this soup. I used yellow.
Two teaspoons of minced garlic is about two cloves of garlic. Go ahead and mince one large clove or two medium cloves and measure it out until you get 2 teaspoons.
Two 19-ounce cans is approximately 4 cups. If you don't have black beans, you can substitute kidney beans, pinto beans, or navy beans. They'll work well in this recipe and add a different flavor dimension.
For the best results, use low sodium vegetable broth. This will allow you to have better control over the salt content.
Be sure to simmer the soup covered so that the broth does not evaporate. If you want a thicker soup, go ahead and simmer it uncovered for the last 10 minutes of cooking.
Nutrition
Calories:
41
kcal
|
Fat:
5
g
|
Saturated Fat:
1
g
|
Polyunsaturated Fat:
0.5
g
|
Monounsaturated Fat:
3
g
|
Sodium:
0.1
mg
|
Potassium:
0.05
mg
|
Calcium:
0.05
mg
|
Iron:
0.03
mg