Delight in the perfect balance of comfort and sophistication with our truffle mashed potatoes. Simple to make, yet bursting with flavor, this recipe elevates classic mashed potatoes by infusing them with the earthy, aromatic essence of truffles. Experience the joy of a gourmet side dish that's easy to prepare and hard to forget.
Jump to Recipe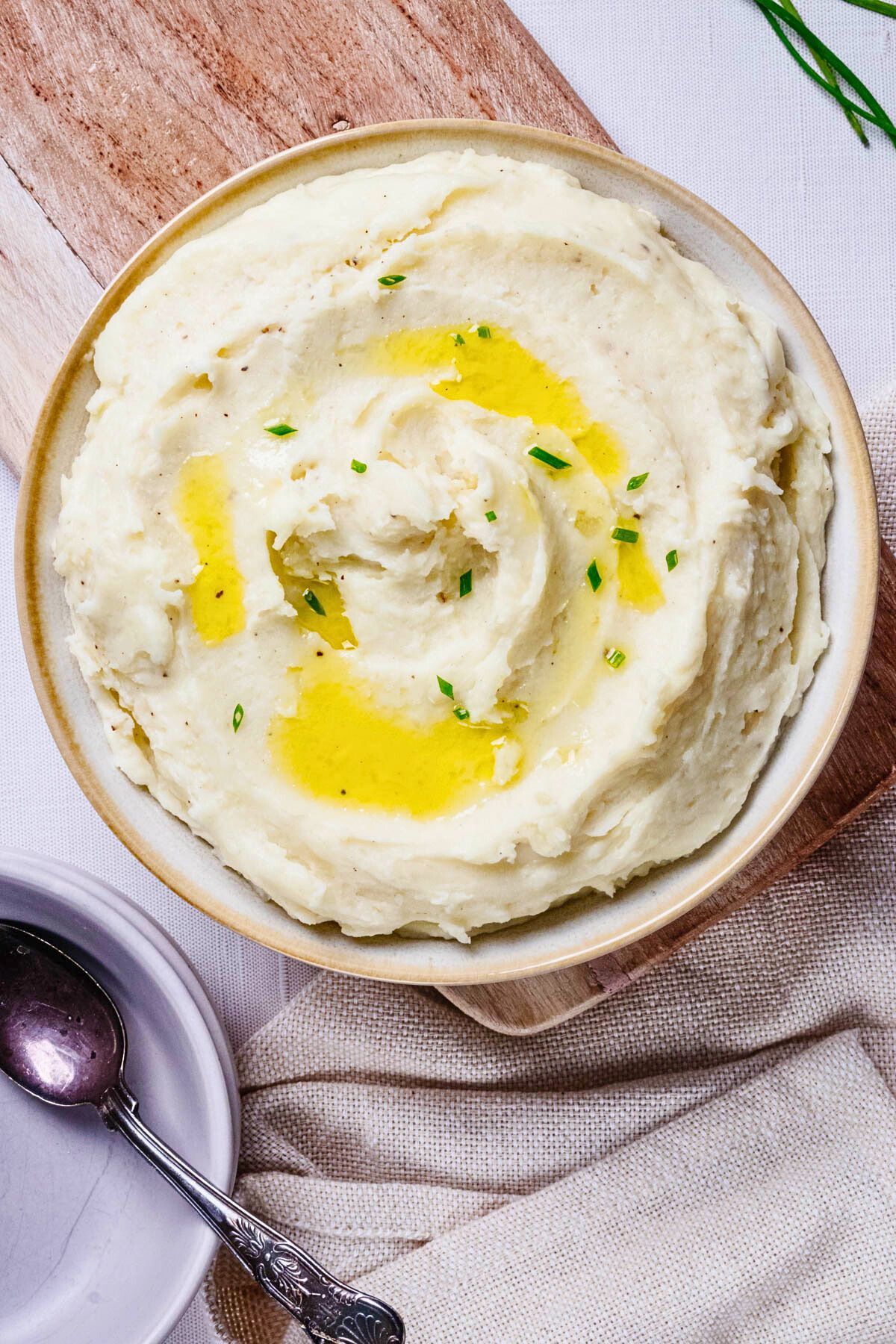 Indulgence meets simplicity in our truffle mashed potatoes recipe—a culinary experience that promises to elevate your home-cooked meals to a whole new level.
Imagine velvety, buttery mashed potatoes infused with the exquisite aroma and flavor of truffles. These mashed potatoes are not just a side dish; they're a luxurious experience. And the best part? You don't need to be a gourmet chef to make them.
With just a few basic ingredients and straightforward steps, you can bring the taste of a high-end restaurant right to your dining table. So, if you're ready to impress your guests or simply treat yourself to a dish that's both comforting and elegant, read on and prepare to fall in love with truffle mashed potatoes!
Why You'll Love This Recipe
❤️ Minimal Ingredients, Maximum Flavor. This recipe achieves extraordinary flavor with just a handful of simple ingredients.
❤️ Simple Preparation. Despite its gourmet appeal, this recipe is simple to prepare. You don't need extensive cooking skills or special equipment to create a dish that impresses with its flavor and presentation.
❤️ Deliciously Creamy. The addition of heavy cream and butter gives these mashed potatoes an incredibly creamy and velvety texture that's both comforting and satisfying.
❤️ Gourmet Indulgence. This recipe allows you to indulge in the luxurious and exquisite flavor of truffles, transforming ordinary mashed potatoes into a gourmet delicacy that's perfect for special occasions or when you want to treat yourself.
❤️ Versatile Elegance. Truffle mashed potatoes can be served as an elegant side dish at holiday dinners, romantic meals, or upscale gatherings. They complement a wide range of main courses, from roasted meats to seafood.
Table of Contents
What are Truffles?
In the culinary world, truffles refer to a highly prized and aromatic type of fungus that grows underground, usually in the root systems of certain trees.
Truffles are celebrated for their unique and intense flavor, which can range from earthy to nutty to garlicky, depending on the variety. They are often considered a delicacy and are used sparingly in gourmet cuisine to impart a rich and luxurious aroma and flavor to dishes.
Truffles are especially renowned for their role in enhancing the flavor of dishes like pasta, risotto, and mashed potatoes when shaved or used to infuse oils, sauces, or butters.
These culinary truffles are different from the chocolate truffles you may be familiar with and are highly sought after by chefs and food enthusiasts around the world.
Ingredients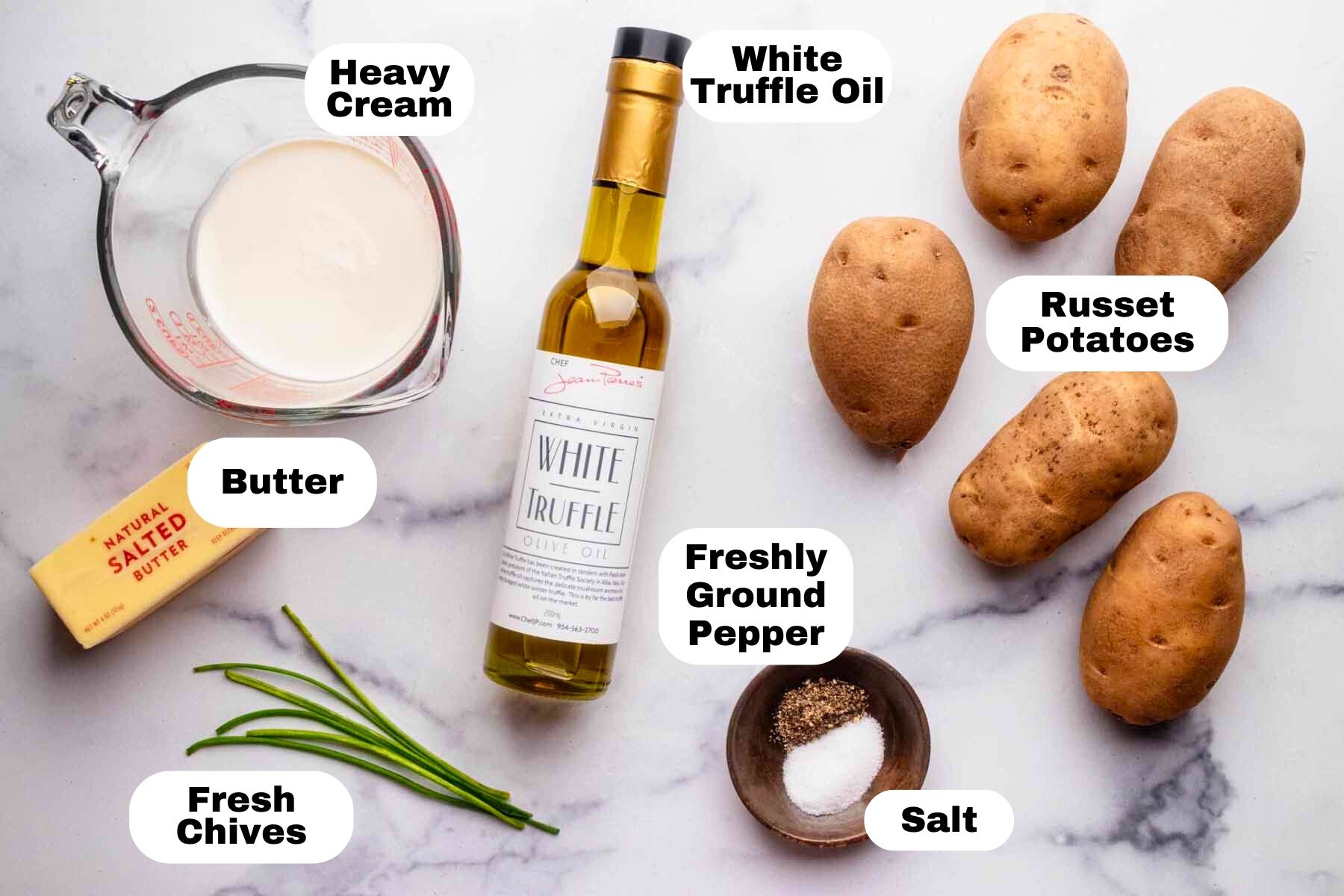 Russet potatoes. Russet potatoes are known for their starchy nature, making them the go-to choice for achieving that wonderfully fluffy texture in mashed potatoes. If russets are not on hand, consider gold potatoes as a good alternative. They offer a creamy texture with a subtle buttery flavor.
Varieties such as Katahdin, white, purple, and Yellow Finn potatoes can also step in gracefully.
Steer clear of red or fingerling potatoes, as their lower starch content may not provide the desired mashed potato consistency.
Salted butter. I incorporated salted butter, along with an additional teaspoon of salt. Should you choose unsalted butter, you can fine-tune the salt quantity to match your personal taste.
If you have a preferred plant-based substitute that you trust for mashed potatoes, go ahead and use it. However, it's important to note that I used traditional butter exclusively when I tested this recipe.
I recommend using room temperature butter for the best results.
Heavy cream. Heavy cream is the secret to achieving that luxuriously creamy texture in these mashed potatoes. But if you're looking for a lighter option, go ahead and use milk instead. I should mention that I haven't given plant-based milks a try in this recipe, so if you do and it works out, don't hesitate to share your experience in the comments!
One helpful tip: To keep your mashed potatoes warm, consider letting the heavy cream come to room temperature before mixing it in. While I didn't notice a significant difference when adding it straight from the fridge, this small extra step can help to maintain the warm temperature.
White truffle oil. I went with white truffle oil for this recipe, but there are a couple of other options out there: black and summer truffle oil. The reason I picked white truffle oil is because it brings this subtle, earthy flavor that doesn't take over the dish, making it a perfect match for mashed potatoes.
Now, when it comes to truffle oil, it can have different levels of oomph. I used Chef Jean Pierre's white truffle oil, and let me tell you, just 1 teaspoon did the trick – it was absolutely delicious! This stuff is pretty potent, especially if you're using this brand, so you won't need much. But if you feel like you want a bit more truffle kick, go ahead and carefully adjust the amount. Trust me, a little goes a looong way.
Salt.
Freshly ground pepper.
Fresh chopped chives.
Olive oil.
See recipe card for quantities.
Instructions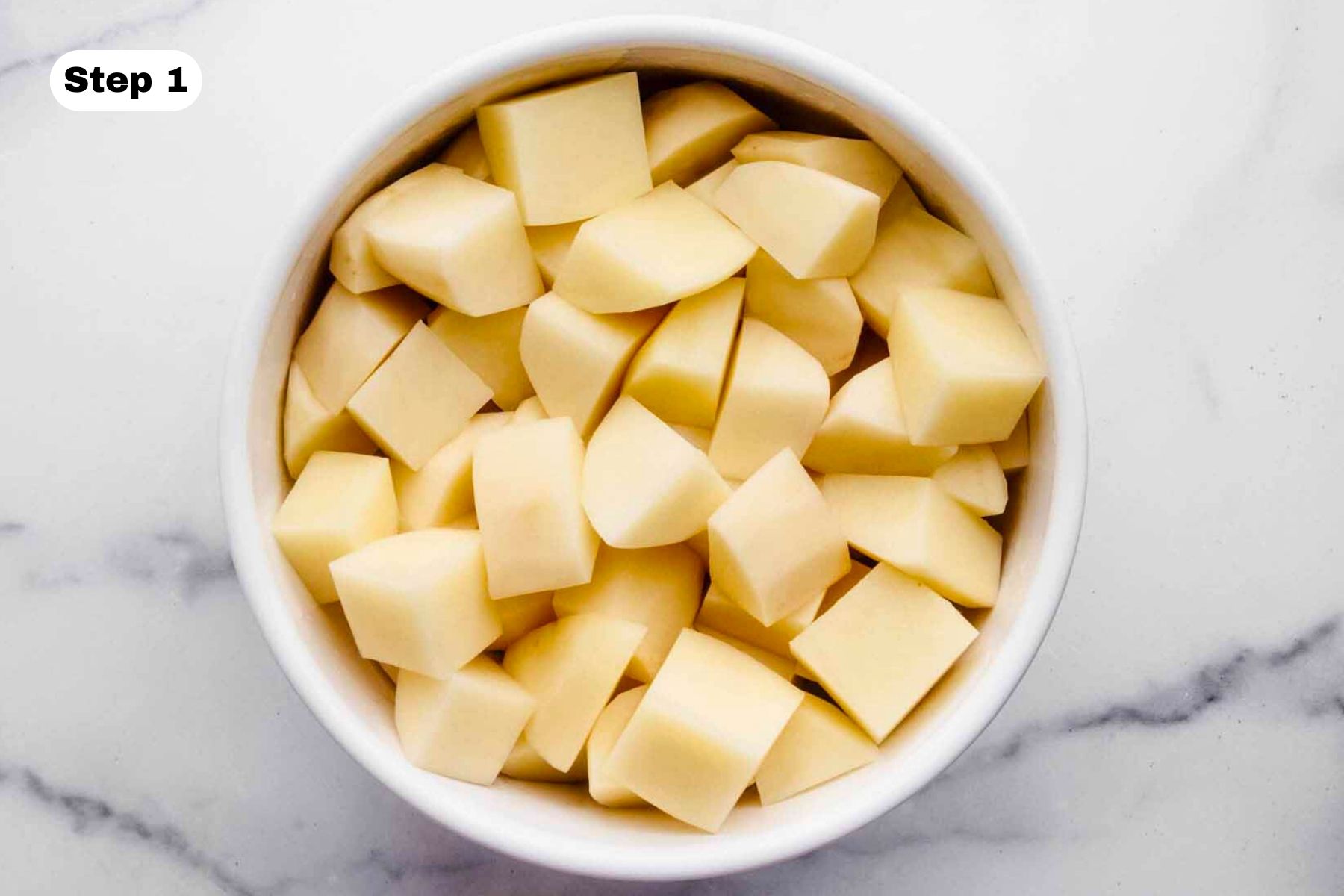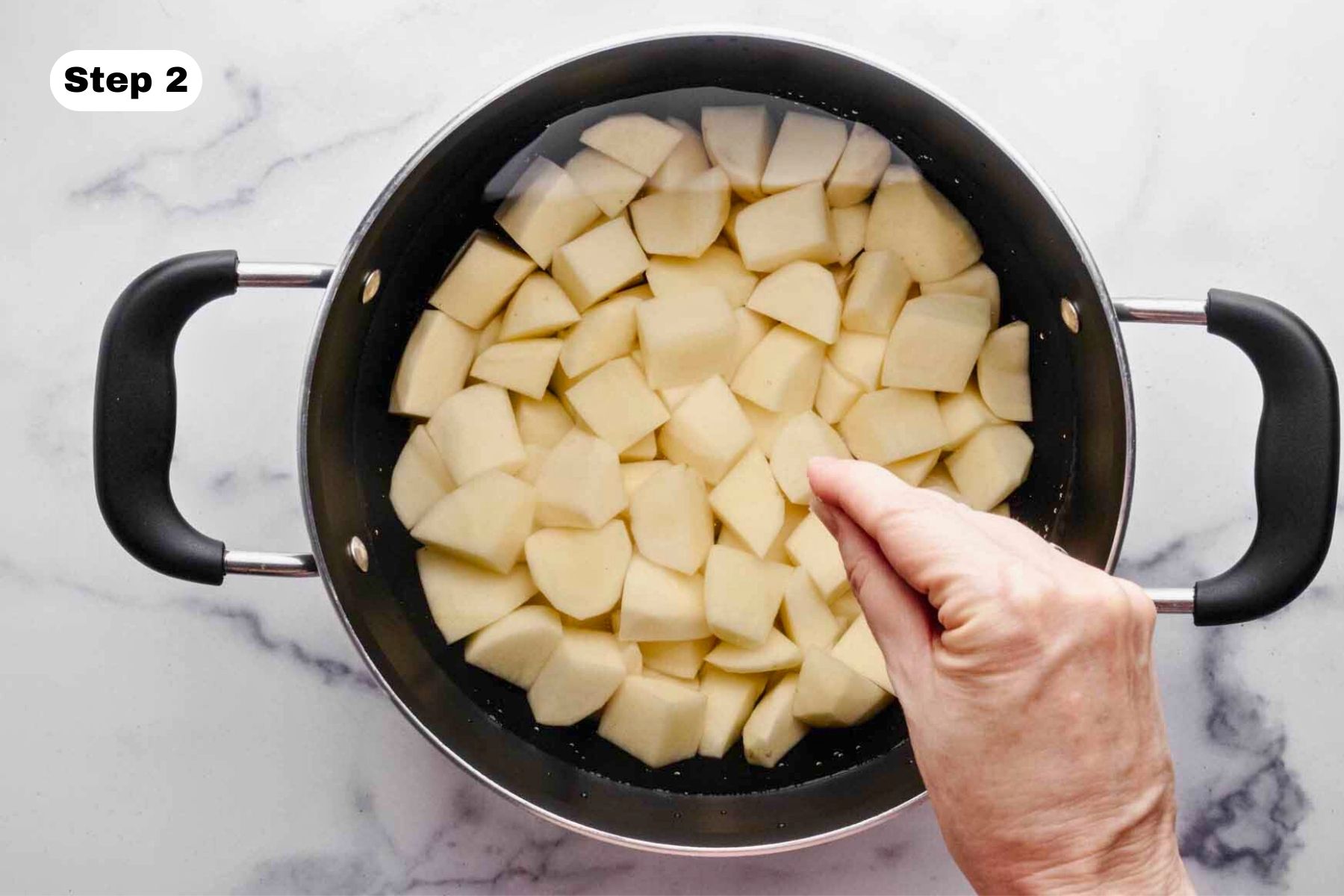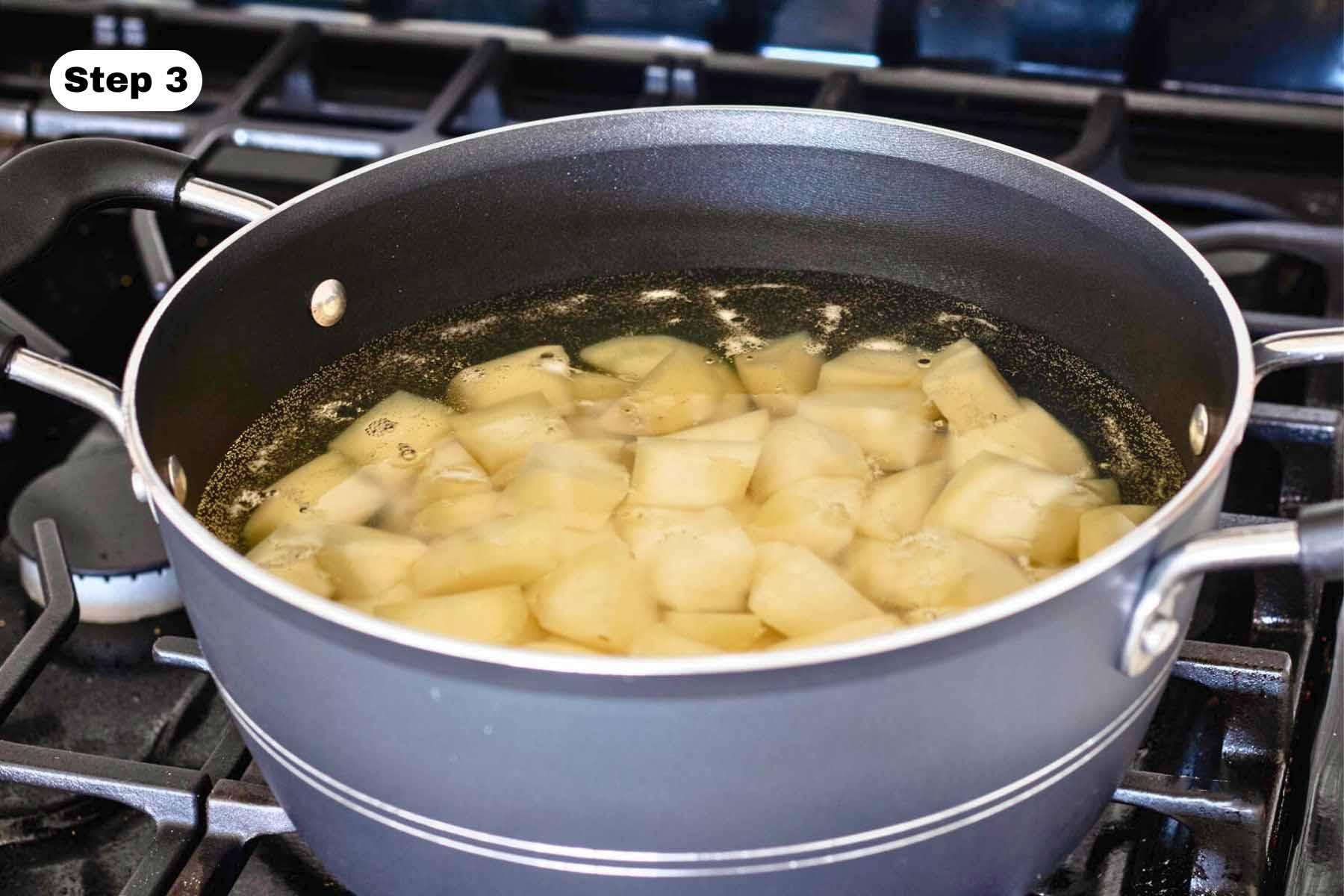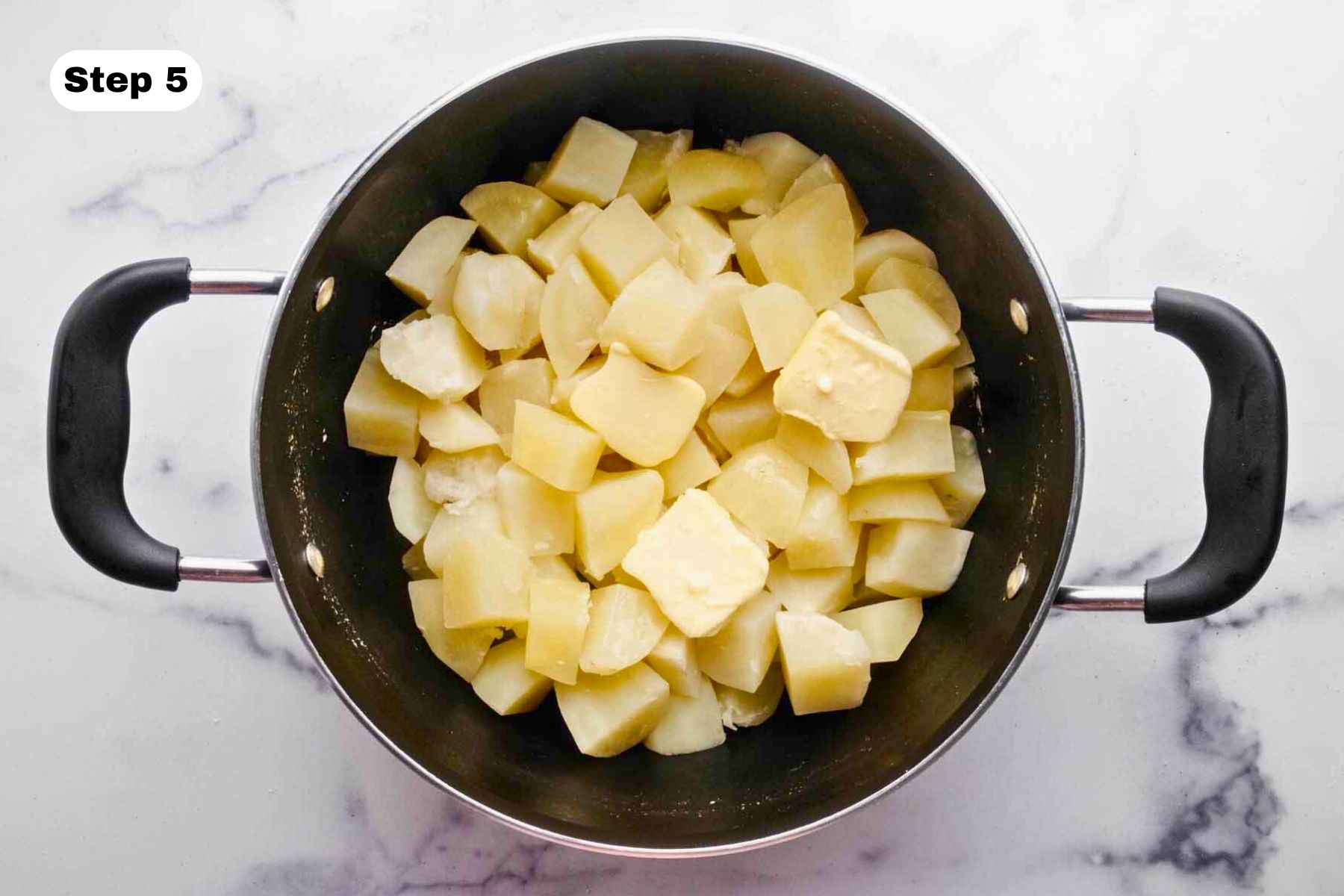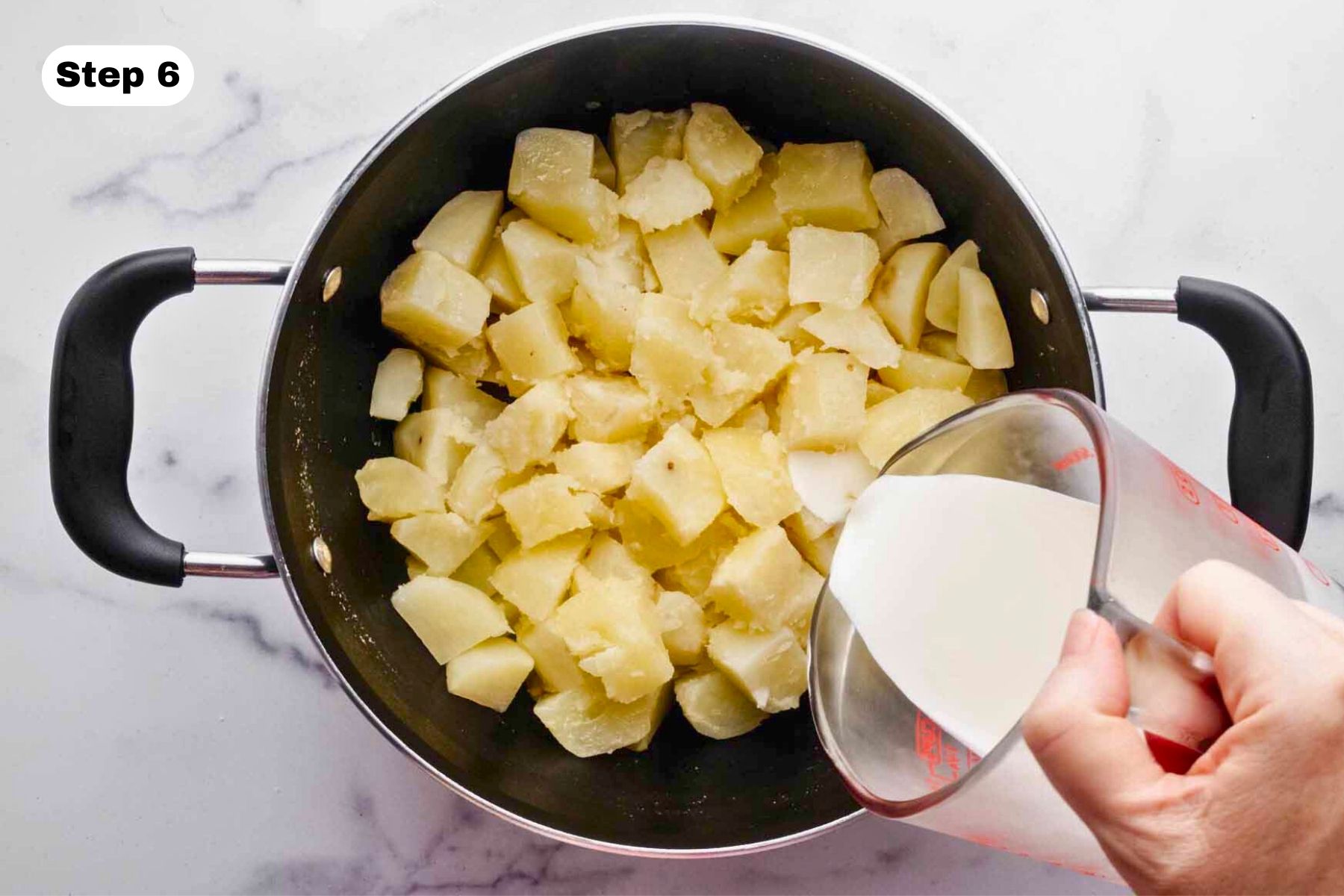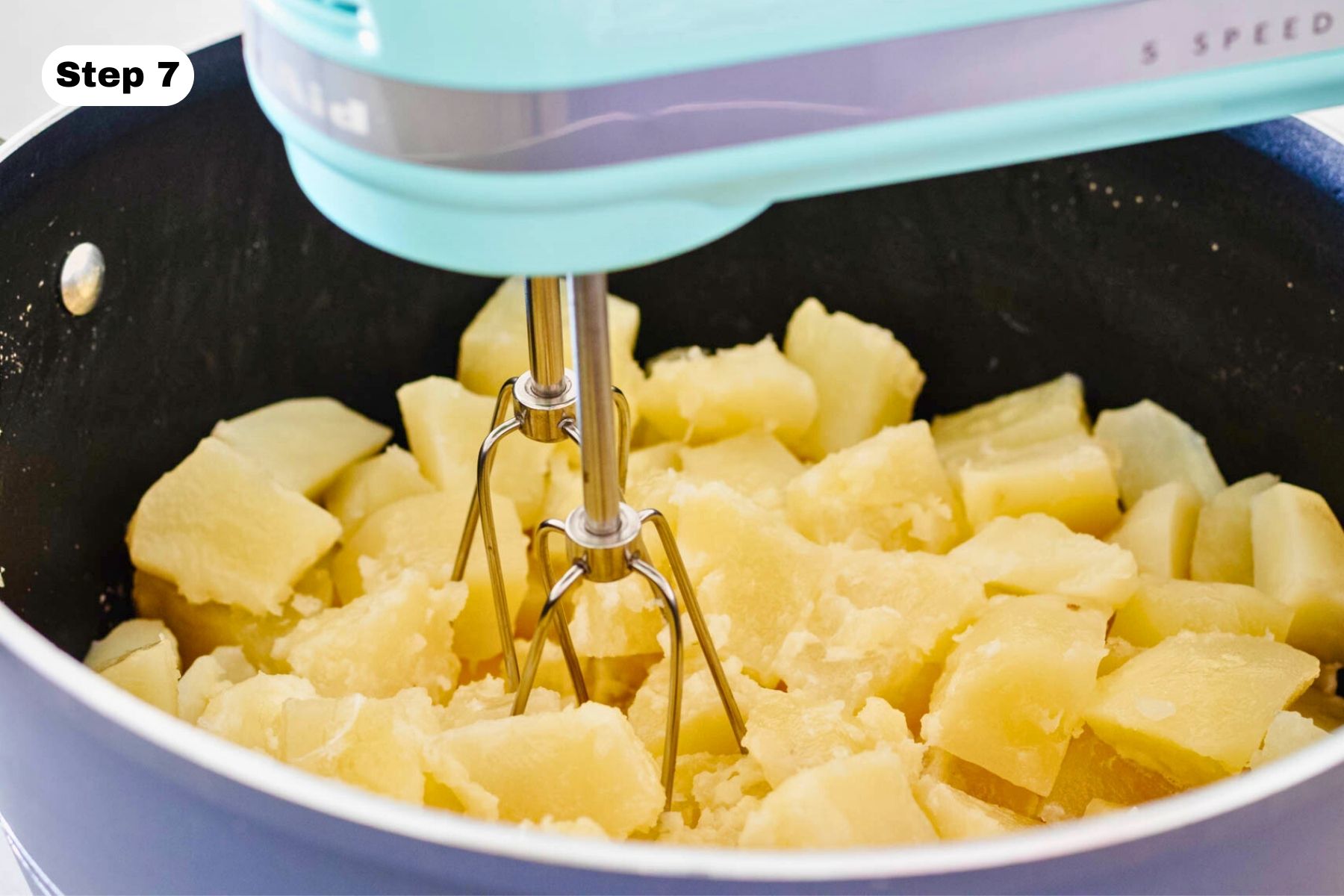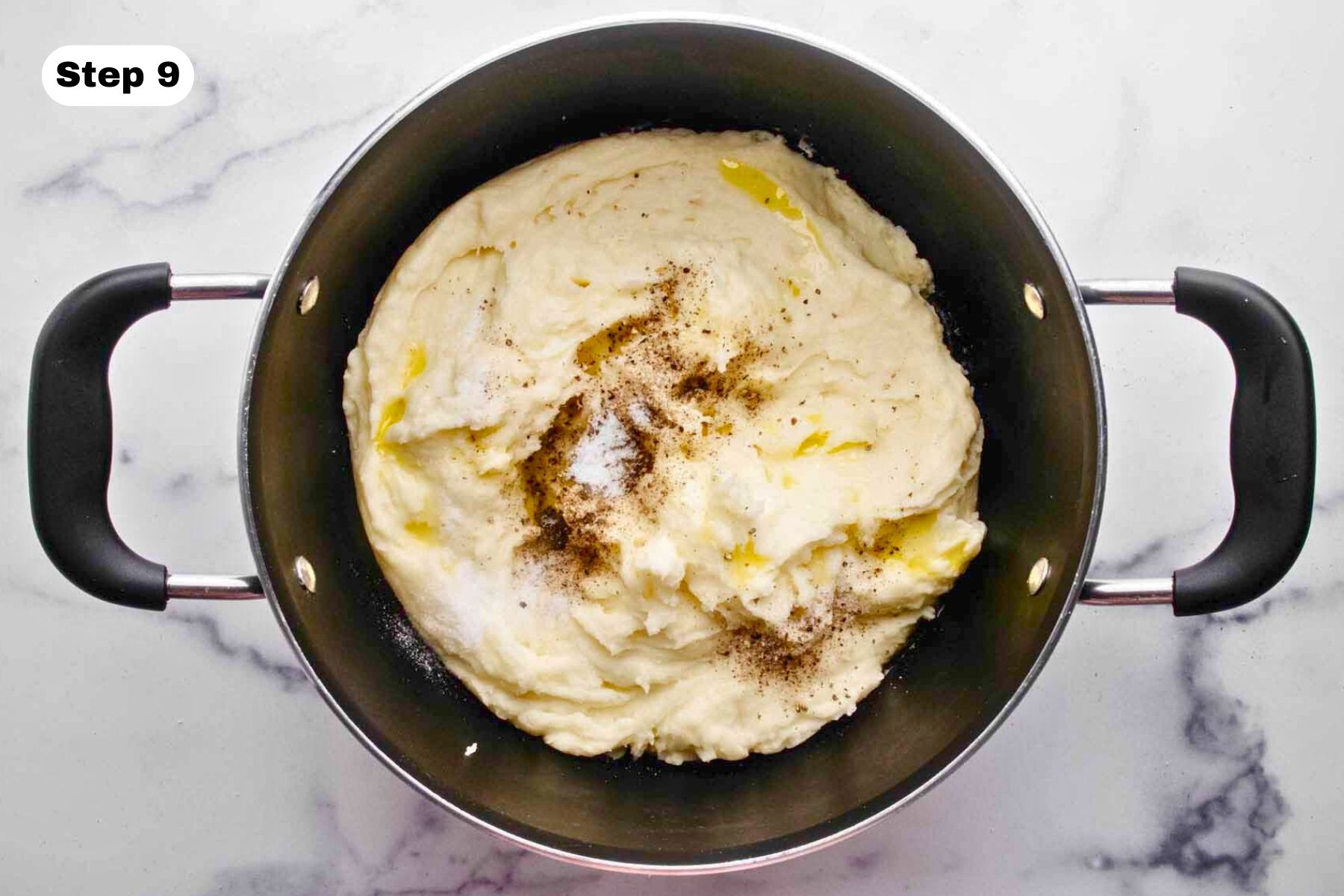 Substitutions
The following are some suggestions for substitutions you can try if you are following a specific diet. Please bear in mind that I did not test these substitution suggestions for this particular recipe. These are suggestions only and are provided for your information.
Dairy-Free. Instead of butter and heavy cream, use dairy-free alternatives such as vegan butter, cashew cream, almond milk, or oat milk. Be sure to choose unsweetened and unflavored options for a more neutral taste.
Vegan/Vegetarian. To make the recipe entirely vegan, use the dairy-free substitutes mentioned above. Ensure that the truffle oil you use is also vegan-friendly (some may contain dairy-derived products).
Low-Fat. Reduce the amount of butter or use a lower-fat butter substitute. Opt for a low-fat milk instead of heavy cream.
Gluten-Free. Potatoes are naturally gluten-free, but be cautious with the truffle oil and any other flavorings you add, as some may contain gluten. Check labels for gluten-free certification. Ensure that any additional seasonings or garnishes are also gluten-free.
Low-Carb/Keto. Substitute the russet potatoes with cauliflower to make a low-carb mashed cauliflower dish. Wholesome Yum has an easy, creamy mashed cauliflower recipe that is keto friendly.
Be sure to check that your truffle oil is low-carb and keto-friendly, as some may contain added sugars.
Reduced Sodium. Use unsalted butter or a low-sodium butter substitute. Season the mashed potatoes with less salt or consider using a salt alternative like potassium chloride.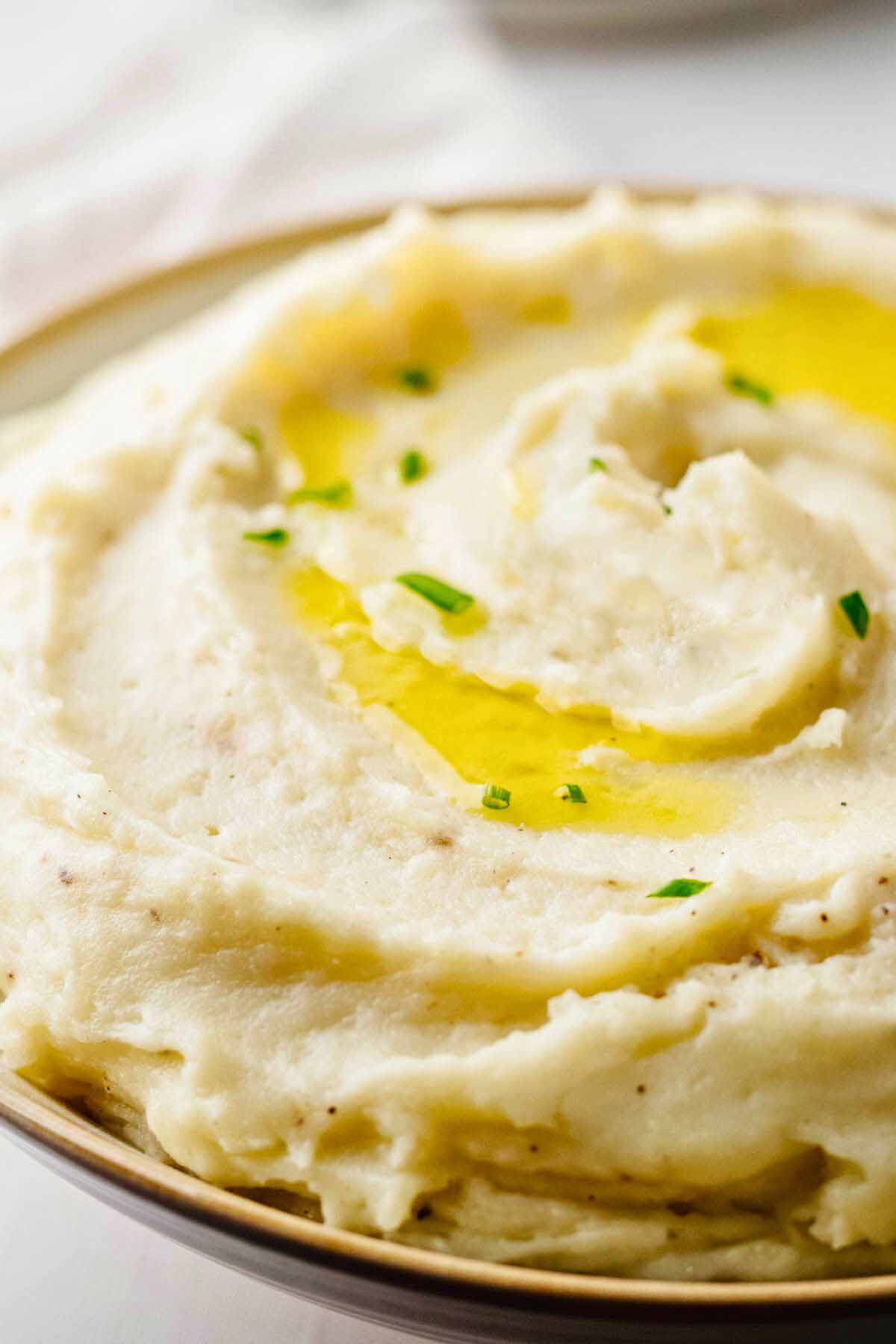 Storage
To store your leftover potatoes properly to maintain their quality, follow these steps:
Allow them to cool to room temperature. Allow the mashed potatoes to cool to room temperature then refrigerate. Do not leave them at room temperature for an extended period.
Place them in an airtight container. Transfer the cooled mashed potatoes to an airtight container. Make sure the container is clean and seals tightly to prevent air from entering.
To prevent a skin from forming on the surface of the mashed potatoes, press a piece of plastic wrap or parchment paper directly onto the surface before sealing the container.
Label and Date: It's a good practice to label the container with the date when you made the mashed potatoes. This helps you keep track of freshness.
Refrigerate. Place the container in the refrigerator. Mashed potatoes can be safely stored in the fridge for up to 3-4 days.
Reheat. When you're ready to enjoy your leftover mashed potatoes, reheat them gently on the stovetop or in the microwave.
You may need to add a small amount of additional liquid (such as milk or broth) to restore the desired creamy consistency.
Adjust Seasoning. Taste the reheated mashed potatoes and adjust the seasoning, including salt, pepper, and truffle oil, as needed to refresh the flavor.
Freezer instructions:
While freezing mashed potatoes is an option, keep in mind that the texture can change slightly upon thawing, often becoming slightly grainy or less creamy compared to fresh mashed potatoes.
To freeze, follow the steps above with these modifications:
Portion Control. Divide the mashed potatoes into individual or family-sized portions, depending on your needs. Smaller portions tend to freeze and reheat more evenly.
Air-Tight Containers. Use airtight containers (no need to top the potatoes with plastic wrap) or heavy-duty freezer bags to package the mashed potatoes. Remove as much air as possible from the containers or bags to minimize the risk of freezer burn.
Freeze Quickly. To preserve quality and to prevent the growth of harmful bacteria, place the containers or bags in the freezer as soon as possible.
Freezer Shelf Life. Truffle mashed potatoes can be stored in the freezer for up to 2-3 months for the best quality. They may remain safe to eat beyond this time, but the texture and flavor could deteriorate.
Thaw. Thaw your potatoes in the refrigerator overnight. Avoid thawing at room temperature to prevent bacterial growth.
Remember that truffle oil has a potent aroma and flavor, so even when reheating, a little goes a long way. Properly stored and reheated, your leftover mashed potatoes can still be a delicious side dish for your next meal.
Top Tips
I didn't fuss too much about making the potato chunks perfectly uniform because they're going to be boiled anyway. But it's a good habit to aim for roughly consistent sizes.
When it comes to boiling these potatoes, start with cold water and add a pinch of salt. That salt really brings out their flavor.
Now, here's a heads-up: don't let those potatoes boil for too long. I cooked mine on a gas stove over medium-high heat, and they were just right in about 15 minutes. You want them to be fork-tender, not mushy, so keep an eye on them.
If your butter's at room temperature, it will melt faster, which is handy.
For super-smooth mashed potatoes, I recommend using a hand mixer. But if you prefer a more rustic texture, a good old potato masher or a potato ricer will do the trick. If you're worried about scratching your pot, just transfer the potatoes to a glass or ceramic bowl and mash them up in there. Easy peasy!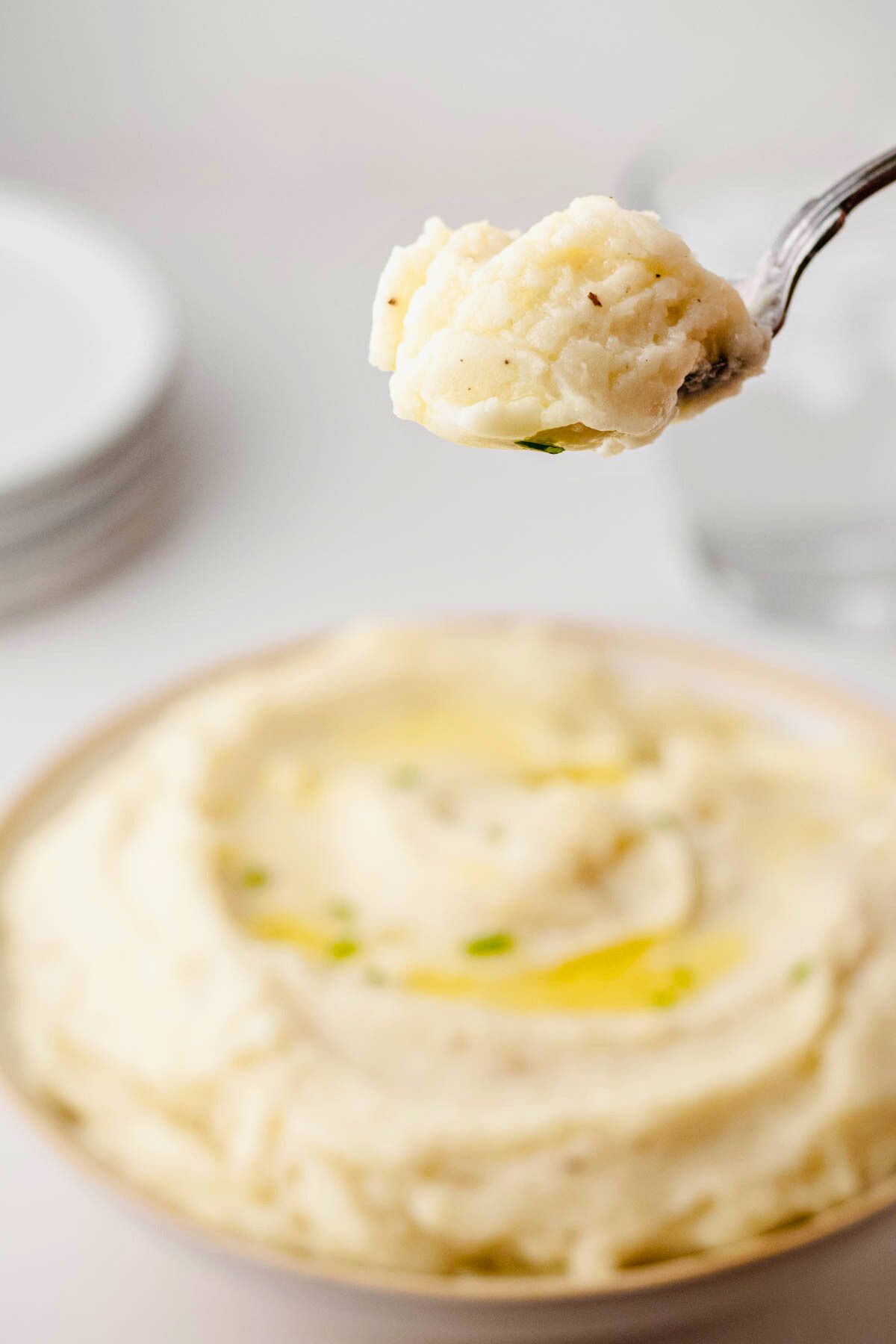 FAQ
How should I store my white truffle oil?
Cool and dark place. To protect your investment, store your white truffle oil in a cool, dark place, away from direct sunlight and heat sources. Truffle oil is sensitive to light and heat, which can cause it to deteriorate more quicky.
Seal tightly. Ensure the bottle is tightly sealed after each use. Truffle oil can be sensitive to air and oxidation, so a secure seal helps maintain its freshness.
Refrigeration. While some sources suggest refrigerating truffle oil to prolong its shelf life, it's not always necessary. If you use truffle oil frequently and go through it relatively quickly, storing it in a cool, dark pantry should suffice. However, if you live in a particularly warm climate or don't plan to use it often, refrigeration can help extend its life.
Check the Expiry Date. Truffle oil typically has a shelf life of 6-12 months, so check the bottle for an expiry date or use-by date and follow it.
Smell and Taste Test. Before using truffle oil, give it a quick sniff and taste. If it has developed an off or rancid smell or taste, it's best to discard it and replace it with a fresh bottle.

Can I prepare truffle mashed potatoes in advance for a special occasion?
Yes. To do this, follow the recipe and make the mashed potatoes as usual. Then, let them cool down to room temperature. Once cooled, store them in an airtight container in the refrigerator for up to 2-3 days. When you're ready to serve, reheat them gently on the stovetop or in the microwave, adding a little extra cream or milk if needed to restore the desired consistency. Truffle flavor tends to mellow when refrigerated, so you may want to add a touch of fresh truffle oil just before serving to enhance the aroma.
Can I use fresh truffles instead of truffle oil in the mashed potatoes?
Yes, you can use fresh truffles to infuse your mashed potatoes with their exquisite flavor and aroma. Shave or finely chop fresh truffles and mix them into the mashed potatoes during the final stages of preparation. Keep in mind that fresh truffles can be quite expensive and may have a stronger, earthier flavor than truffle oil, so use them sparingly to achieve the desired truffle essence. You can adjust the amount to suit your taste preferences. Fresh truffles can elevate your dish to an even higher level of gourmet excellence!
Related
Looking for more potato recipes? Try these:
Recipe
Truffle Mashed Potatoes
Delight in the perfect balance of comfort and sophistication with our truffle mashed potatoes. Simple to make, yet bursting with flavor, this recipe elevates classic mashed potatoes by infusing them with the earthy, aromatic essence of truffles. Experience the joy of a gourmet side dish that's easy to prepare and hard to forget.
Print
Rate
Ingredients
2

pounds

russet potatoes

See Note 1.

4

tablespoons

butter

Salted. Note 2.

½

cup

heavy cream

Note 3.

1

teaspoon

white truffle oil

Note 4.

1

teaspoon

salt

½

teaspoon

pepper

Freshly ground.

chives

Chopped. Optional for garnish

olive oil

Optional for garnish
Instructions
Peel the potatoes and cut them into chunks. Rinse them under cold water to remove excess starch. Note 5.

Place the potato chunks in a large pot and cover them with cold water. Add a pinch of salt to the water. Note 6.

Bring the water to a boil over medium-high heat and cook the potatoes until they are fork-tender, about 15-20 minutes. Note 7.

Drain the potatoes and return them to the pot.

Add the butter to the pot and let it melt.

Whip the potatoes using a hand mixer. Note 9.

1 teaspoon white truffle oil

Season with salt and pepper. If desired, garnish with a little bit of olive oil and chopped fresh chives.

1 teaspoon salt,

½ teaspoon pepper,

chives,

olive oil
Notes
Russet potatoes are a starchy bariety, which makes them ideal for fluffy mashed potatoes. If you don't have russet potatoes available, gold potatoes make a good substitute. They have a creamy texture and slightly buttery flavor. Other potato varieties that can work are Katahdin, white, purple, or Yellow Finn potatoes. I would avoid red or fingerling potatoes as they are not starchy enough.
I used salted butter and added 1 teaspoon of salt. You can substitute unsalted butter and adjust the amount of salt you add according to your preference.
If you have a favorite plant-based alternative that you know works well with mashed potatoes, feel free to substitute it. Please bear in mind that I only tested this recipe with real butter.
Room temperature butter works best.
Heavy cream gives these mashed potatoes a decadent creamy texture. For a lower fat version, feel free to substitute milk.
I did not test this recipe with any plant-based milks. If you do, and it works out well, please let us know in the comments!
I added my heavy cream soon after pulling it from the refrigerator with very little effect. However, to keep your potatoes hot, I recommend bringing the heavy cream to room temperature before stirring it in.
I used white truffle oil for this dish. Other truffle oil options include: black and summer. I chose white truffle oil because it has a delicate, earthy flavor. It is subtle and not overpowering - perfect for mashed potatoes.
Truffle oil varies in strength. I used Chef Jean Pierre's white truffle oil and added just 1 teaspoon, which is perfect. So delicious!! This truffle oil is quite concentrated. If you go with this brand, 1 teaspoon is all you will need. If you find that is not enough, feel free to carefully adjust the amount. A little really does go a long way.
I didn't worry too much about cutting the chunks into even sizes because you will be boiling them anyhow. However, it's good practice to keep them somewhat consistent.
Start with cold, salted water when boiling the potatoes. Adding salt to the water enhances the flavor of the potatoes.
Be careful to not overcook the potatoes. I cooked mine on a gas stove over medium high heat. They were done in 15 minutes.
The potatoes should be fork tender, but not mushy. Overcooking can lead to watery mashed potatoes.
If your butter is room temperature, it will melt faster.
For the best results, I recommend using a hand mixer to whip the potatoes into a smooth texture. If you want a more rustic texture, you can use a potato masher or potato ricer.
If you are concerned about scratching the surface of your pot, transfer the potatoes to a glass or ceramic bowl and mash them in that.
Nutrition
Calories:
195
kcal
|
Carbohydrates:
21
g
|
Protein:
3
g
|
Fat:
12
g
|
Saturated Fat:
7
g
|
Polyunsaturated Fat:
1
g
|
Monounsaturated Fat:
3
g
|
Trans Fat:
0.2
g
|
Cholesterol:
32
mg
|
Sodium:
345
mg
|
Potassium:
490
mg
|
Fiber:
2
g
|
Sugar:
1
g
|
Vitamin A:
395
IU
|
Vitamin C:
7
mg
|
Calcium:
27
mg
|
Iron:
1
mg