Discover pizza perfection with our quick and easy, no-cook homemade sweet pizza sauce. It's easy, flavorful, and your shortcut to a gourmet pizza night at home!
Jump to Recipe
Print Recipe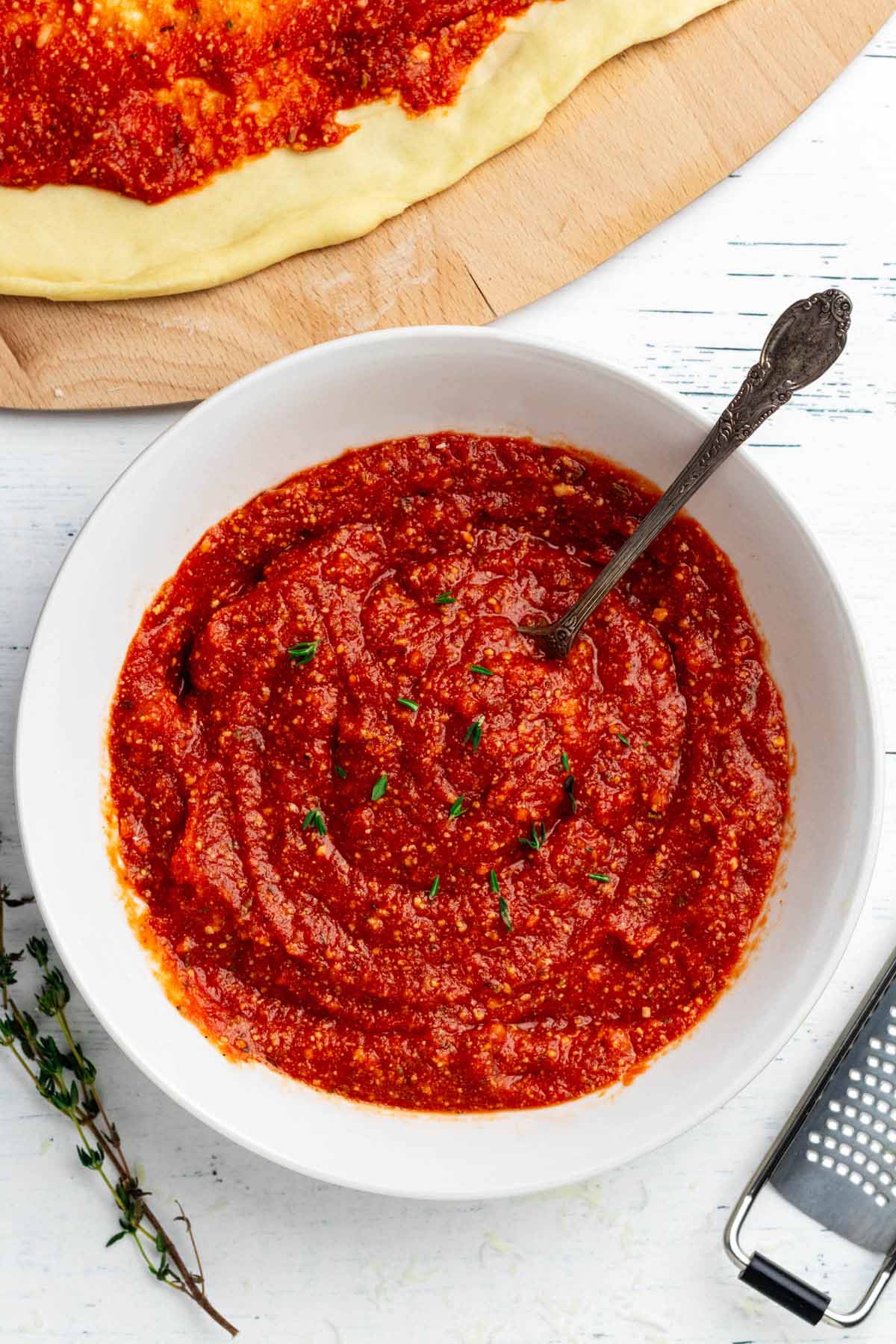 Introducing the ultimate solution for pizza night perfection: a 5-minute, no-cook homemade sweet pizza sauce that's bursting with flavor! Whether you're a busy parent seeking a quick and delicious dinner option, a homemade pizza enthusiast eager to craft the perfect pie, or simply someone who craves the mouthwatering taste of homemade pizza sauce without the hours of simmering, this recipe has you covered.
We also have the perfect no rise pizza dough to go with it! Ready in just 15 minutes! If you thought homemade pizza can't be a weeknight meal, think again!
It's more than a pizza sauce too. You can use it as a dipping sauce for homemade bread sticks, mozzarella sticks, and chicken tenders. It's also the perfect sauce to use in this chicken Parmesan casserole, and this easy dump and bake meatball casserole.
With a handful of simple ingredients and a mere 30-minute resting period to let the flavors combine, you'll have a homemade sauce that elevates your pizza to gourmet status.
Table of Contents
Why You'll Love This Recipe
❤️ Quick and Convenient. This recipe takes just 5 minutes to prepare, making it an excellent choice for busy individuals or those craving a homemade pizza sauce without the hassle of a lengthy cooking process.
❤️ No-Cooking Required. The sauce is a no-cook recipe, eliminating the need for stovetop cooking or simmering. This feature is particularly appealing during hot weather or when you want to avoid heating up your kitchen.
❤️ Customizable Flavor. The combination of ingredients like garlic, honey, and various spices creates a well-rounded, flavorful sauce. You can easily adjust the seasoning to suit your taste preferences, making it versatile and adaptable.
❤️ Flavor Enhancement. The inclusion of ingredients like Parmesan cheese and honey adds depth and richness to the sauce. These ingredients contribute to a unique and delicious pizza flavor that you might not find in store-bought alternatives.
❤️ Immediate Use. Unlike some homemade sauces that require hours of simmering or aging, this sauce can be used immediately after a brief resting period of 30 minutes. This means you can enjoy your homemade pizza without much delay.
Ingredient Notes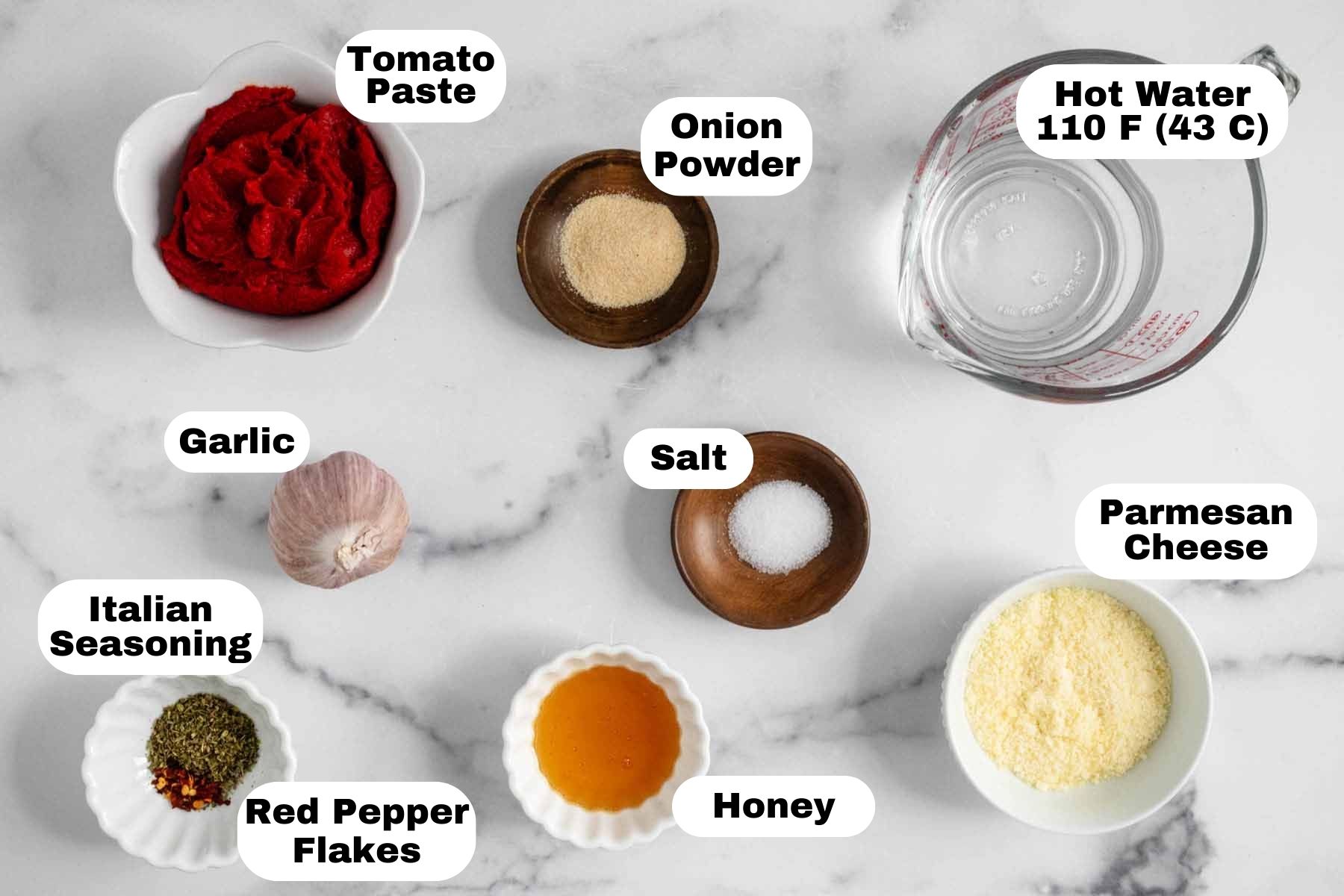 Tomato paste. This recipe uses tomato paste rather than tomato sauce. Tomato paste is a concentrated form of tomatoes. It provides the rich tomato flavor and thick consistency essential for making a no-cook pizza sauce. When choosing tomato paste, look for one with no added sugar for a more authentic taste and to control the sweetness of the sauce.
Warm water. Warm water helps to thin out the tomato paste, making it easier to mix and achieve the desired sauce consistency. The warm temperature also helps to blend the flavors of the other ingredients.
Grated Parmesan cheese. Parmesan cheese adds a salty, umami-rich depth to the sauce. Grating it finely allows it to blend smoothly into the sauce, enhancing its overall flavor. Use freshly grated Parmesan for the best results.
Honey. Honey provides a touch of natural sweetness to balance the acidity of the tomatoes and add complexity to the sauce's flavor profile. It also contributes to a slightly glossy finish.
Minced garlic. Garlic offers a pungent and aromatic quality to the sauce. Freshly minced garlic is recommended for the best flavor. Adjust the quantity to your preference, as garlic can be quite strong.
Onion powder. Onion powder adds a mild onion flavor without the texture of fresh onions. It contributes to the sauce's complexity without overpowering it.
Italian seasoning. Italian seasoning is a versatile herb blend commonly used in Mediterranean and Italian cuisine. It combines herbs like oregano, basil, marjoram, thyme, rosemary, and sometimes sage, providing a convenient way to add complex flavors to your dishes. Adjust the quantity to suit your taste, and enjoy its versatility in various recipes beyond pizza sauce.
Freshly ground black pepper. Black pepper adds a gentle heat and enhances the overall flavor profile. Use freshly ground black pepper for the best flavor.
Cayenne pepper. Cayenne pepper provides a subtle kick of spiciness to the sauce. Adjust the quantity to your desired level of heat.
Dried red pepper flakes. Red pepper flakes add a touch of heat and a hint of smokiness. You can adjust the amount to suit your heat preference.
Salt (to taste): Salt is essential for seasoning and balancing the flavors in the sauce. Taste as you go and add salt gradually to achieve your desired level of seasoning.
See recipe card for quantities.
Instructions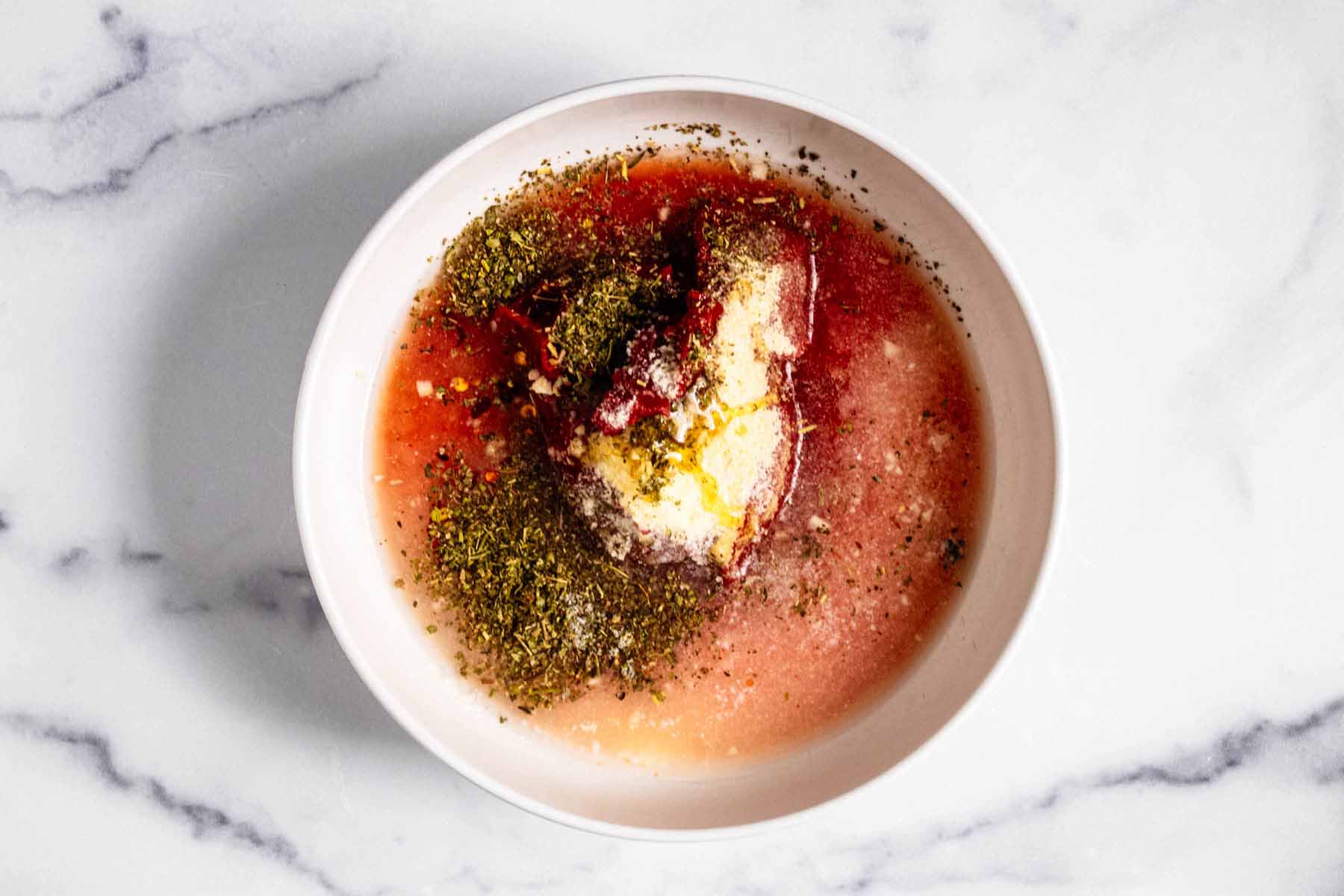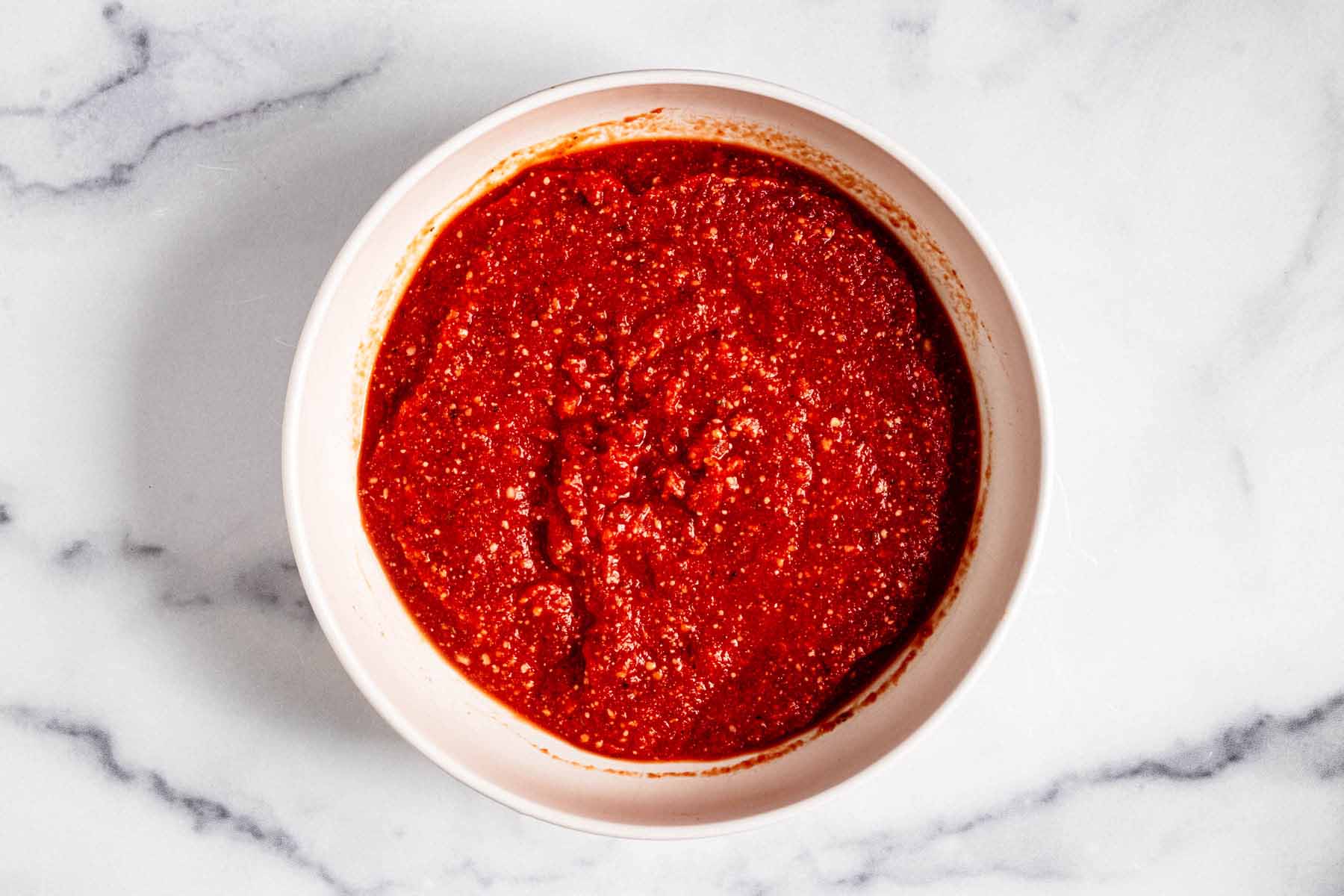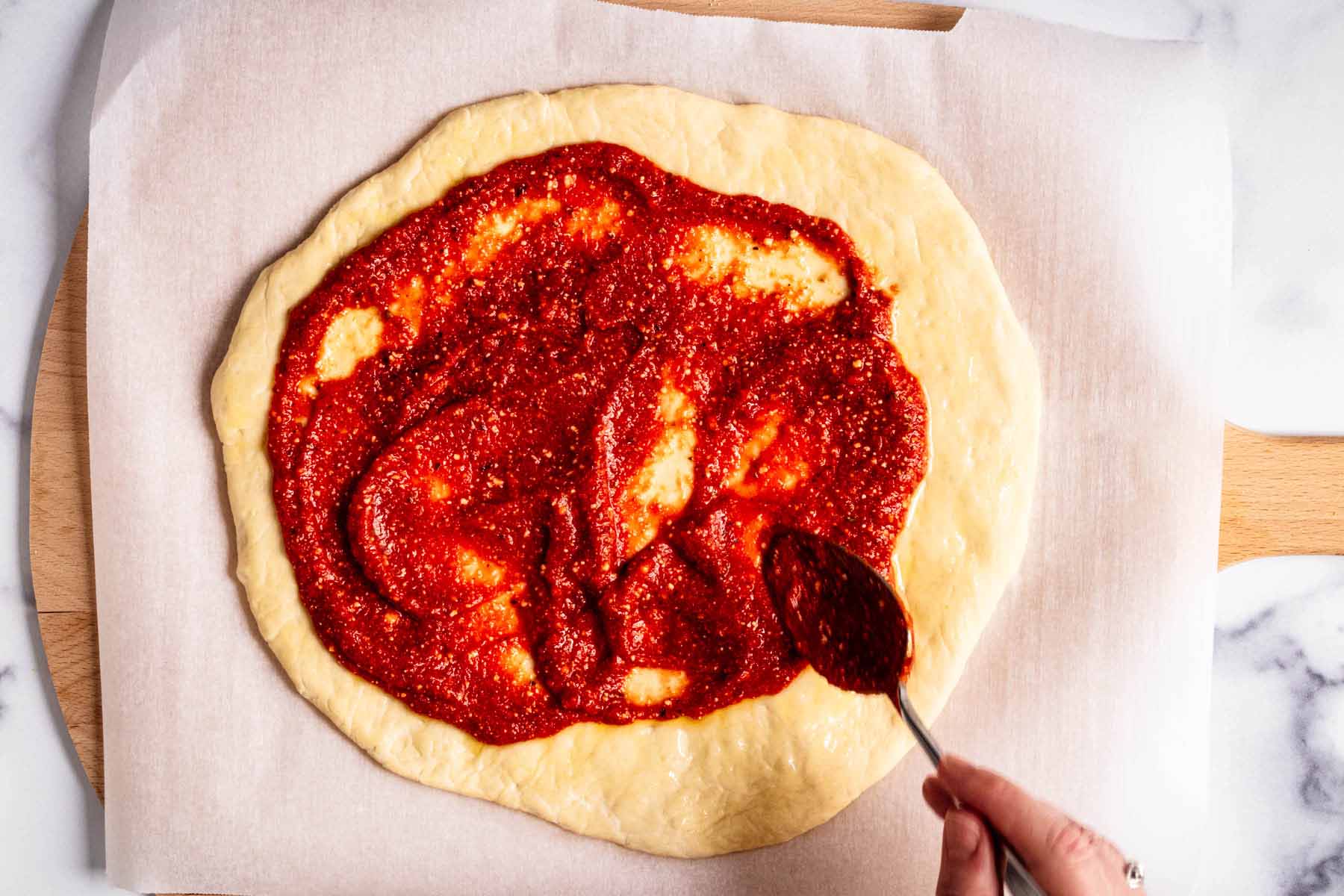 Substitutions
This section contains a few suggested substitutions you may want to try for some of the ingredients in this recipe. This is provided for your information only.
Honey. Maple syrup, agave nectar, or brown sugar are some plant-based alternatives you can swap in for the honey to add sweetness to the sauce.
Parmesan cheese. For a dairy-free or vegan alternative, you can substitute nutritional yeast for the Parmesan cheese. Nutritional yeast can provide a delicious cheesy flavor that tastes like Parmesan. Many brands also offer vegan Parmesan cheese alternatives made from plant-based ingredients.
Spice level adjustments. You can increase or decrease the amount of red pepper flakes and/or cayenne pepper to control the spiciness of the sauce.
Fresh herbs. While the recipe uses dried herbs, you can always use fresh herbs if available. Keep in mind that fresh herbs are generally less potent than dried, so you may need to use a larger quantity to achieve the desired flavor.
Variations
Fresh herbs. Add fresh herbs like basil, oregano, thyme, or rosemary for an extra burst of flavor. Finely chop the herbs and stir them into the sauce just before using it.
Sun-dried tomatoes. Incorporate finely chopped sun-dried tomatoes for a sweet and tangy flavor. They add a delightful texture and depth to the sauce.
Roasted garlic. Instead of minced garlic, use roasted garlic for a milder and sweeter garlic flavor. Simply roast a bulb of garlic, squeeze out the softened cloves, and blend them into the sauce.
Balsamic vinegar drizzle. After spreading the sauce on your pizza dough, drizzle a small amount of balsamic vinegar over the sauce for a touch of acidity and complexity.
Sautéed onions. Add depth and sweetness by sautéing finely chopped onions until they're caramelized and golden, then mix them into the sauce.
Smoked paprika. Introduce a smoky dimension by adding a pinch of smoked paprika to the sauce. It imparts a barbecue-like flavor.
Herb-Infused Olive Oil: Drizzle herb-infused olive oil, such as basil or rosemary-infused oil, on top of the sauce to infuse it with an extra layer of herbaceous goodness.
Feel free to combine these variations or mix and match to create a customized pizza sauce that suits your taste preferences and complements your favorite pizza toppings. Experimenting with different flavors can make each homemade pizza a unique experience.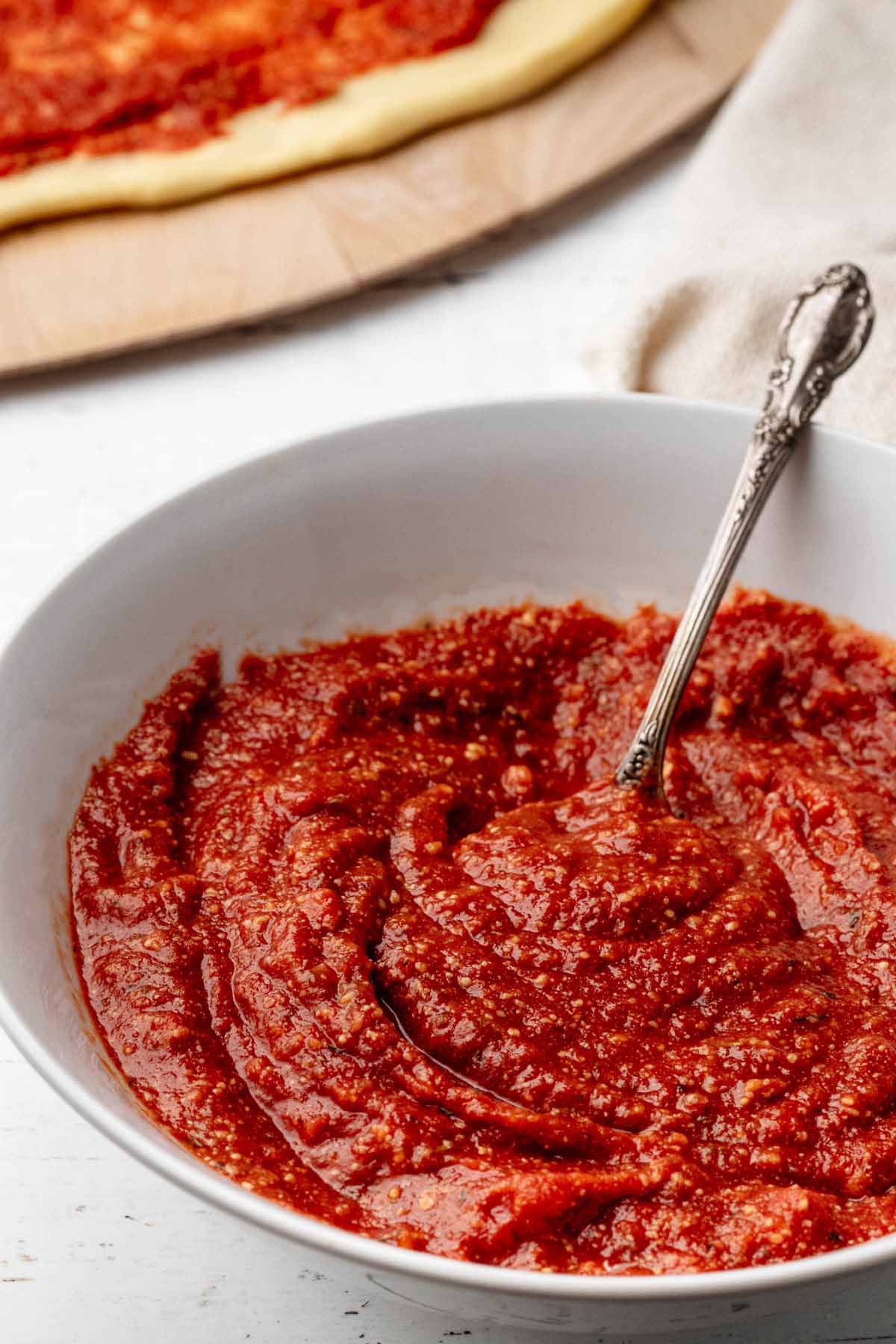 Storage
To refrigerate:
Transfer the sauce to an airtight container. A glass jar or plastic container with a tight-fitting lid works well.
Store the sauce in the refrigerator. It will stay fresh for about 3 to 5 days.
To freeze:
If you want to extend the shelf life of your homemade pizza sauce, freezing is an excellent option:
Pour the sauce into airtight, freezer-safe containers or heavy-duty freezer bags. Leave some space at the top of the container or bag to allow for expansion as the sauce freezes.
Store the sauce in the freezer. It can typically be stored for up to 3-4 months without significant loss of quality.
Thawing and Use:
When you're ready to use the frozen pizza sauce:
Transfer the container or bag from the freezer to the refrigerator and let it thaw slowly for several hours or overnight. This gradual thawing helps preserve the sauce's texture and flavor.
Once thawed, you can remove it from the fridge and bring it to room temperature. To speed up the process, you can also heat the sauce on the stovetop over low to medium heat, stirring occasionally until it's warmed through. Alternatively, you can microwave it in short intervals, stirring between each interval.
Tips for Success
Mix thoroughly. Ensure that you mix all the ingredients together thoroughly. This includes breaking up any clumps of grated Parmesan cheese to create a smooth and well-blended sauce.
Flavor balance. Taste the sauce after mixing but before using it on your pizza dough. Adjust the seasonings as needed to achieve the right balance of sweetness from the honey, saltiness from the Parmesan, and spiciness from the red pepper flakes and cayenne.
Resting time. Allow the sauce to sit for at least 30 minutes before using it. This resting time is crucial for the flavors to meld and develop, even though the sauce is not cooked. It helps achieve a more harmonious taste.
Consistency adjustment. If the sauce appears too thick for your liking, you can add a bit more warm water and mix until you reach your desired consistency. Conversely, if it's too thin, you can let it sit a bit longer to naturally thicken.
By following these tips, you'll ensure that your sweet, no-cook homemade pizza sauce is flavorful, well-balanced, and ready for your pizza creations.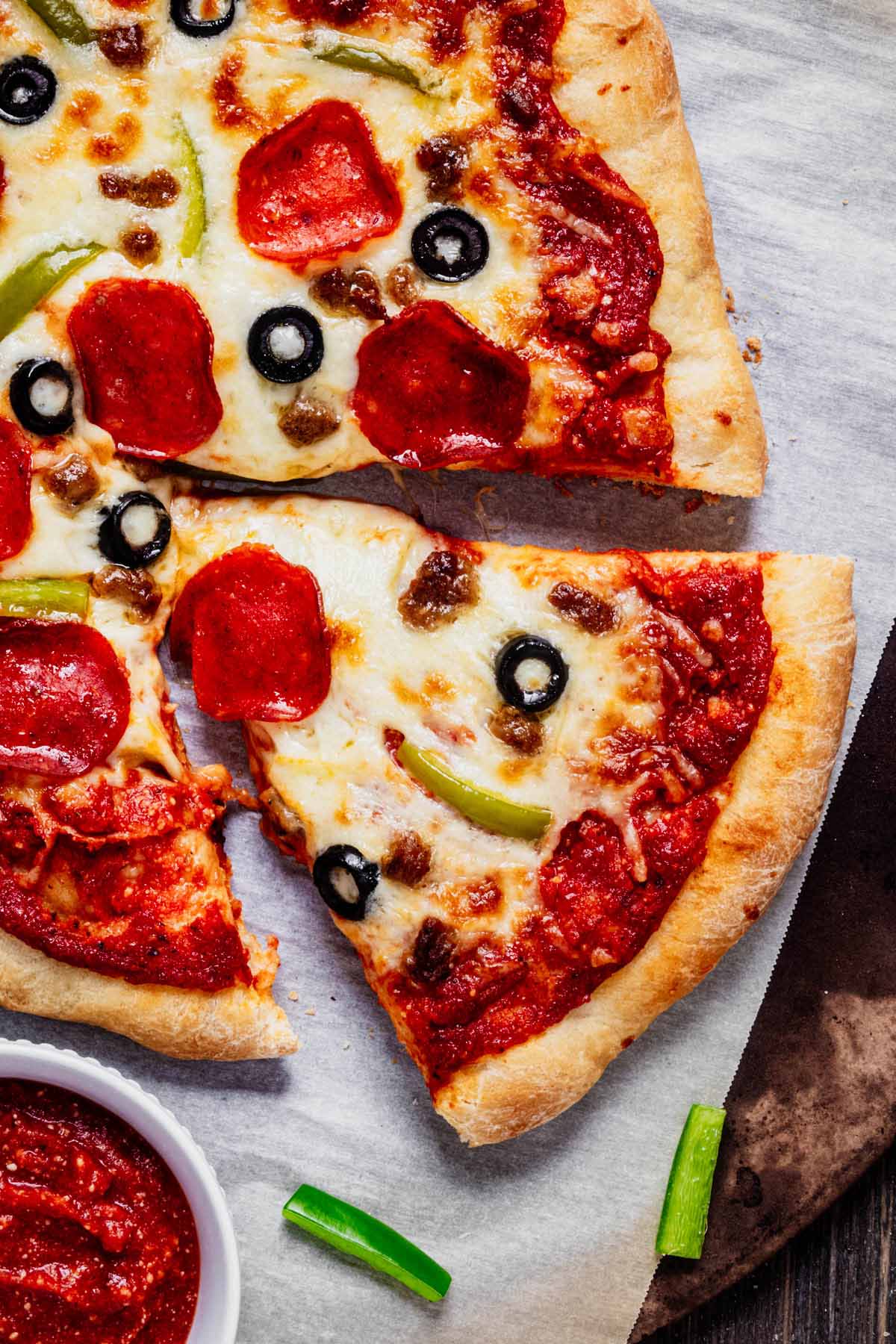 FAQ
Can you use this pizza sauce for spaghetti?
Yes. You can use this versatile and flavorful sauce for spaghetti and other types of pasta. To use it as a pasta sauce, stir in a bit more warm water to create thinner consistency.
Can you freeze pizza sauce?
Yes, you can freeze pizza sauce. To do so, pour it into airtight, freezer-safe containers or heavy-duty freezer bags, leaving some space for expansion. Seal them tightly to prevent freezer burn, label with the freezing date, and store in the freezer for up to 3-4 months.
What is the difference between marinara and pizza sauce?
The main difference between marinara and pizza sauce lies in their intended use, consistency, and flavor profile. Marinara sauce is a versatile Italian tomato sauce, often used for pasta dishes and as a base for various recipes, made with tomatoes, garlic, olive oil, and herbs like basil and oregano. It usually has a thinner consistency than pizza sauce. In contrast, pizza sauce is specifically formulated for pizzas, featuring a smoother, thicker texture and concentrated flavors, with seasonings that make it an ideal complement to pizza crust and toppings. It also makes a great dipping sauce. They can be used interchangeably, depending on your preference.
How long is pizza sauce good for in the fridge?
Homemade pizza sauce is good in the fridge for up to five days.
Related Recipes
Recipe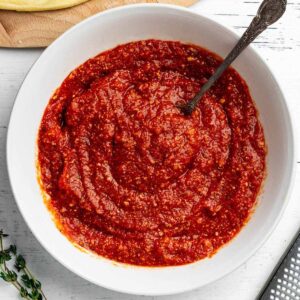 Sweet Pizza Sauce
Discover pizza perfection with our quick and easy, no-cook homemade sweet pizza sauce. It's easy, flavorful, and your shortcut to a gourmet pizza night at home!
Ingredients
6

ounces

tomato paste

1 6-ounce can.

6

fluid ounces

warm water

110 F (45 C)

3

tablespoons

Parmesan cheese

Grated.

2

tablespoons

honey

See Note 1.

1

teaspoon

minced garlic

¾

teaspoon

onion powder

1

teaspoon

Italian seasoning

Note 2.

¼

teaspoon

black pepper

Freshly ground.

⅛

teaspoon

cayenne pepper

Note 3.

⅛

teaspoon

red pepper flakes

Note 3.

salt to taste

Note 4.
Instructions
Place tomato paste, water, Parmesan cheese, honey, garlic, onion powder, Italian seasoning, black pepper, cayenne pepper, red pepper flakes, and salt into a medium bowl.

6 ounces tomato paste,

6 fluid ounces warm water,

3 tablespoons Parmesan cheese,

2 tablespoons honey,

1 teaspoon minced garlic,

¾ teaspoon onion powder,

1 teaspoon Italian seasoning,

¼ teaspoon black pepper,

⅛ teaspoon cayenne pepper,

⅛ teaspoon red pepper flakes,

salt to taste

Mix until well blended, breaking up any clumps of cheese. Set sauce aside for 30 minutes to allow the flavors to blend.

Spread over pizza dough and prepare pizza as desired. Note 5.
Notes
Honey is the secret ingredient that makes this sauce sweet and delicious. You can adjust the amount according to your taste preference. I have tried it with less, and it still tastes amazing. For some plant-based alternatives, you can substitute maple syrup, agave nectar, or brown sugar. Dissolve the brown sugar in the warm water before adding it to the other ingredients.
If you don't have Italian seasoning, you can substitute

¼ each of dried oregano, dried marjoram, and dried basil.

The cayenne pepper and red pepper flakes are optional ingredients. You can adjust the amount of heat to your taste or omit them altogether.
We used regular table salt. Adjust the amount to your taste. Start with

½ teaspoon and adjust from there. If you are using sea salt, you will likely need to use more.

Allowing the sauce to rest for at least 30 minutes is important for making sure that the flavors meld together. If you use the sauce immediately, the flavor will be quite weak and your results will suffer.
Nutrition
Calories:
229
kcal
|
Carbohydrates:
48
g
|
Protein:
9
g
|
Fat:
3
g
|
Saturated Fat:
2
g
|
Polyunsaturated Fat:
0.3
g
|
Monounsaturated Fat:
1
g
|
Cholesterol:
7
mg
|
Sodium:
1067
mg
|
Potassium:
1219
mg
|
Fiber:
6
g
|
Sugar:
37
g
|
Vitamin A:
1951
IU
|
Vitamin C:
26
mg
|
Calcium:
195
mg
|
Iron:
4
mg
Recipe adapted from exquisite pizza sauce.