Green hot pepper sauce and jalapenos give these wings the spicy, honey gives them the sweet. It's a complementary pairing that will bring you back for more again and again.
Jump to Recipe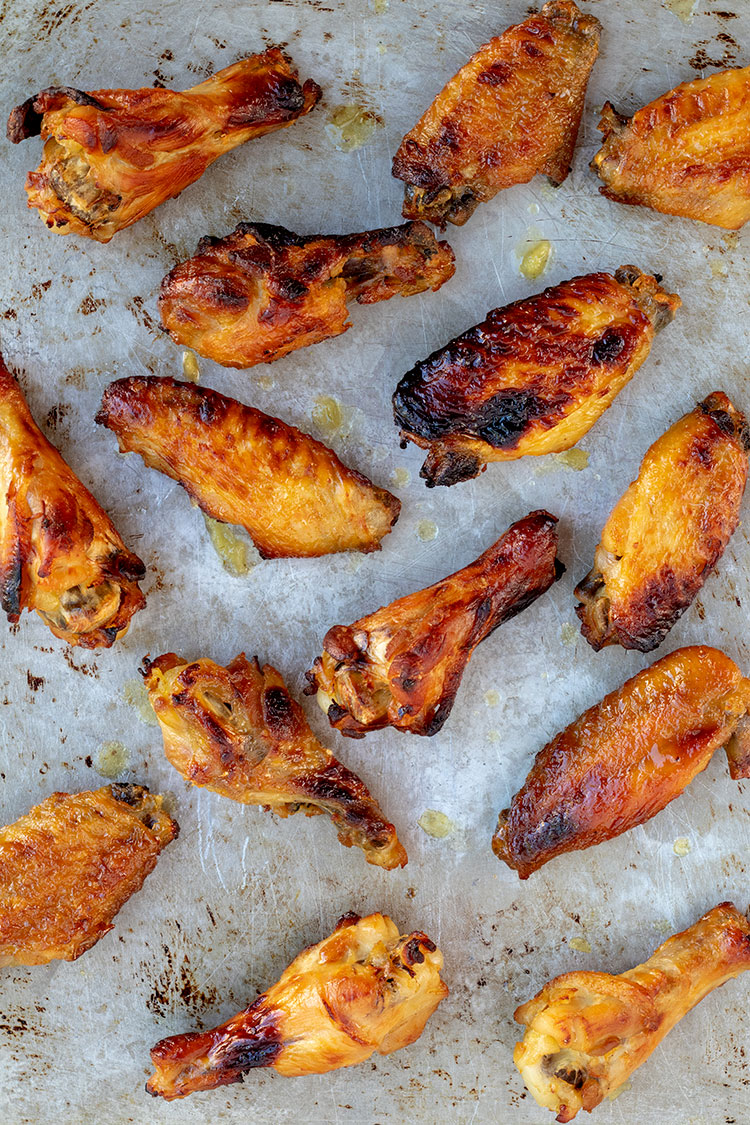 Sweet and spicy. As I was thinking about what to write for this post, the name of this dish made me think about my own personality for some reason. Go figure. And if I'm honest, I must admit that I'm a mix of sweet and spicy. Usually sweet, but sometime spicy too. And then my mind wandered to relationships. The romantic kind. Aren't the best ones sweet and spicy too? To have both makes things interesting and exciting. Never boring. I hate boring.
And what does all that have to do with chicken wings? Well, these guys are sweet and spicy too, but not too spicy, unless you want them that way. That's the beauty of cooking. You can make it any way you like it. I've said it here before, and I'll say it again. I'm not a huge fan of spicy hot food, but I am a huge fan of these sweet and spicy chicken wings. Oh yeah.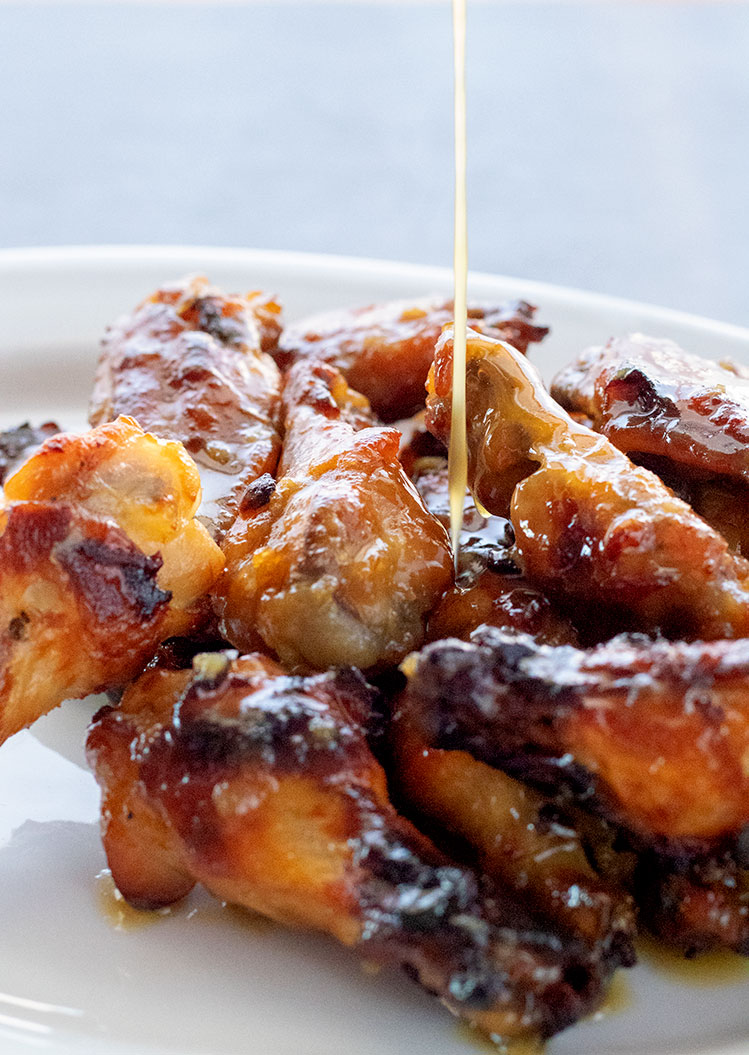 It's mainly the jalapenos that provide the heat. Now I know I just said that I'm not a big fan of spicy food, but I do like jalapenos. There's just something about them that's so tasty. The butter in this recipe does work to neutralize some of that heat. If you want some of that back, simply leave some of the seeds. It's the seeds that provide most of the heat.
If you've never worked with hot peppers before, then a word of caution is in order. You may want to wear gloves while chopping the peppers to avoid experiencing a painful burning sensation in your fingers later on. I've had this happen before, and it ain't fun. Trust me. Very painful. If you do decide to live on the edge and risk it. Hey, I understand. I enjoy taking risks myself. However, if you take the risk and lose and end up with fingers that feel like they're on fire, you can try soaking your fingers in vegetable oil. That helped when it happened to me.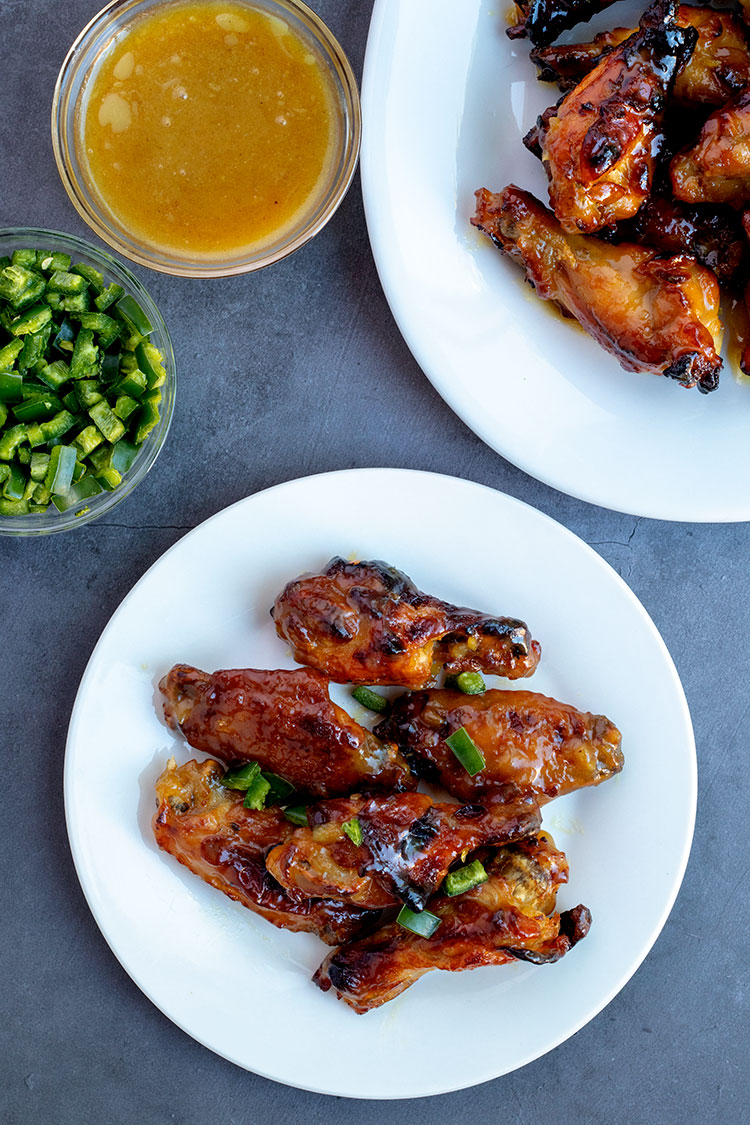 Let's just pause a moment here and savor these delectable photos.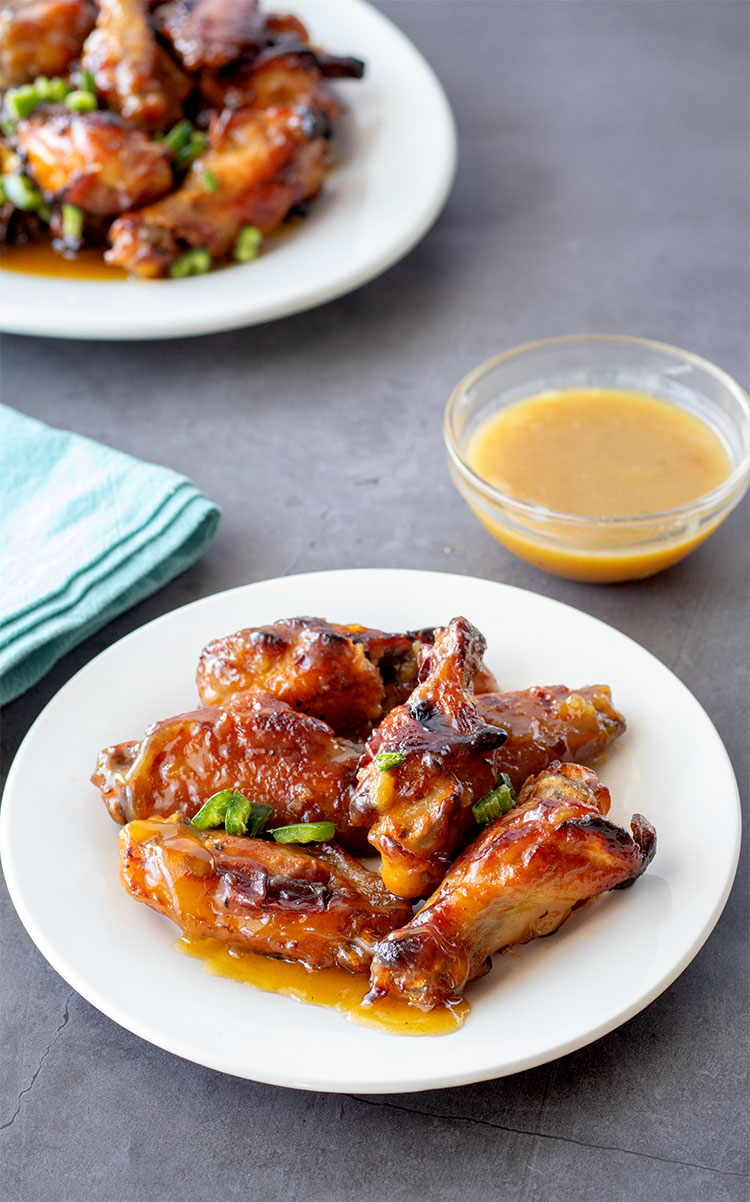 Is your mouth watering yet? Don't you just want to grab one?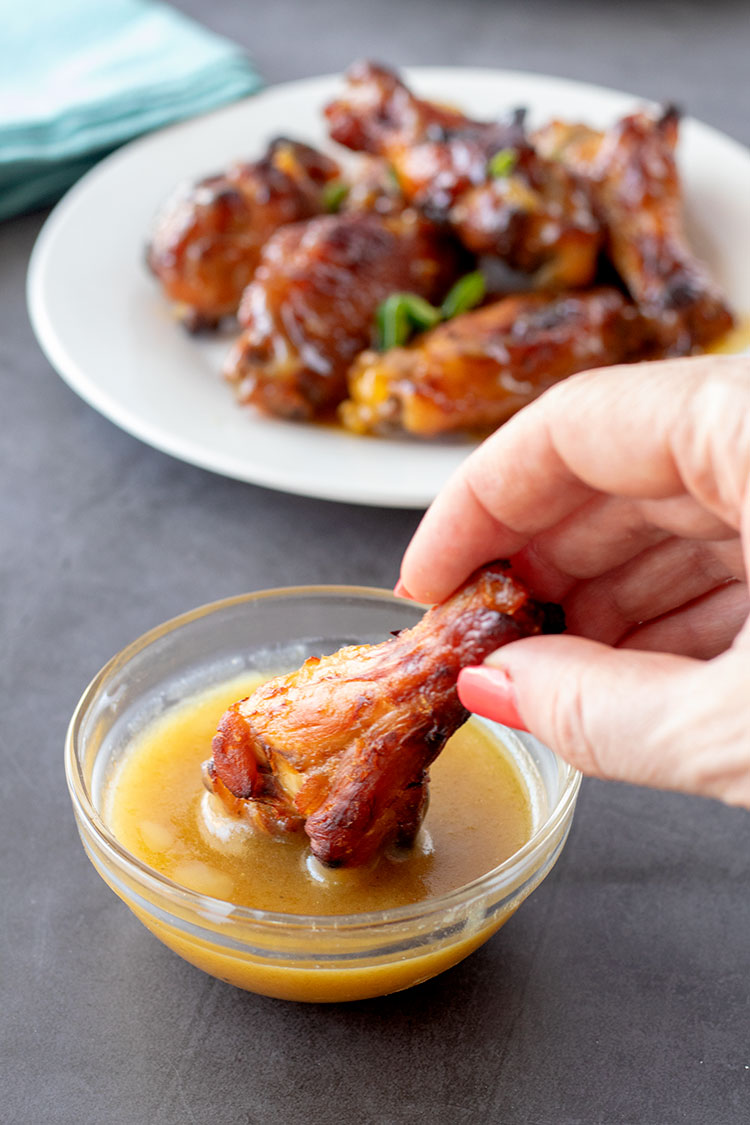 Yeah, I get it. Me too. Here's the recipe. Why don't you pick up a couple of packages of chicken wings and make this tonight for dinner? Have a party coming up? These would be perfect, and make you the talk of the town. In a good way. Try them with this chicken macaroni salad or these garlic butter mushrooms, which are just as easy to make and just as tasty!
Enjoy!
Recipe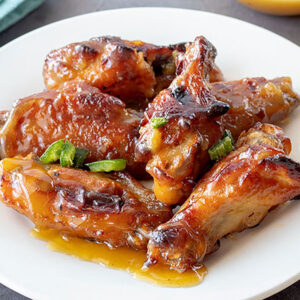 Sweet and Spicy Chicken Wings
Green hot pepper sauce and jalapenos give these wings the spicy, honey gives them the sweet. It's a complementary pairing that will bring you back for more again and again.
Print
Rate
Ingredients
6

lbs

chicken wings

tips set aside to make broth or discardedand wings split

4

cloves

garlic

thinly sliced

½

cup

unsalted butter

melted

½

cup

honey

¼

cup

green hot pepper sauce

3

tablespoon

grated ginger

1

teaspoon

kosher salt

4

jalapenos

seeded and chopped
Instructions
Preheat oven to 450 degrees F. Line two 15x10x1-inch baking sheets with nonstick foil or spray foil with cooking spray; set aside.


Bring a large pot of salted water to boiling. Add chicken and garlic. Simmer 8 minutes; drain Pat wings dry. Transfer to prepared pans. Bake 30 minutes, rotating pans halfway through.


Meanwhile, for sauce, in a small saucepan stir together butter, honey,hot pepper sauce, ginger,and salt. Bring mixture to boiling. Reduce heat. Simmer, uncovered, 4 minutes or just until sauce is thickened.


Place wings in a large bowl. Add wing sauce; toss to coat. Put them back into the oven and broil on high until the skin is crispy and browned. Remove from oven, and sprinkle jalapenos on top. Serve immediately. Makes 10 servings.

Notes
If your skin is sensitive to peppers, use gloves to chop jalapenos, and keep your fingers away from your eyes while preparing peppers.
If your skin does have a reaction to the peppers, soak your fingers in a bowl of vegetable to soothe them and remove the burning sensation.
Nutrition
Calories:
465
kcal
|
Carbohydrates:
15
g
|
Protein:
27
g
|
Fat:
33
g
|
Saturated Fat:
12
g
|
Cholesterol:
138
mg
|
Sodium:
501
mg
|
Potassium:
274
mg
|
Fiber:
1
g
|
Sugar:
14
g
|
Vitamin A:
570
IU
|
Vitamin C:
13
mg
|
Calcium:
24
mg
|
Iron:
2
mg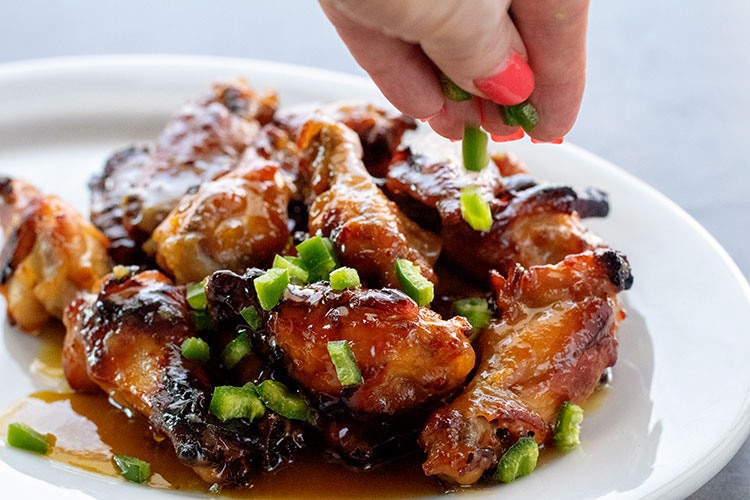 Recipe Credit: Better Homes & Gardens "Our Best Recipes"