This orange chicken and broccoli stir fry is better than anything you would get in a Chinese restaurant, and you can say that you made it yourself! Delicious!
Jump to Recipe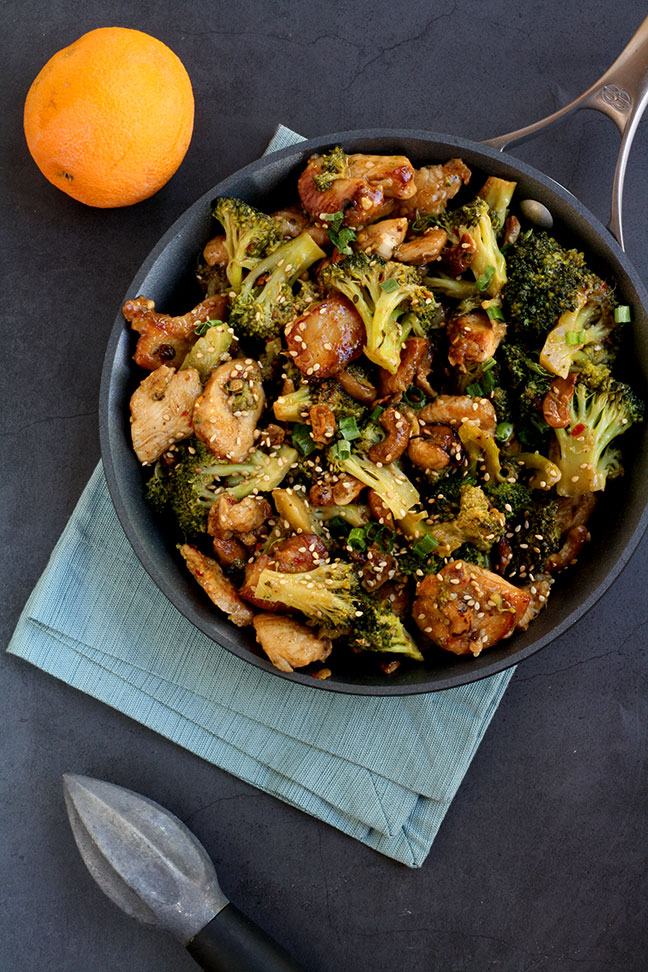 Can we get three cheers for chicken? People are always looking for chicken recipes, aren't they? It makes sense. It's versatile, inexpensive, and healthy. In the spirit of celebrating chicken and it's many benefits, I bring you this Orange Chicken and Broccoli stir fry, courtesy of Cooks Illustrated. I just bought their cookbook Cook's Illustrated Cookbook: 2,000 Recipes from 20 Years of America's Most Trusted Food Magazine, and am loving it so far. I will be sharing many more recipes in the days to come. Stay tuned! Cookbooks are so much fun, aren't they? I always get so excited when I get a new cookbook. I can't wait to try the recipes.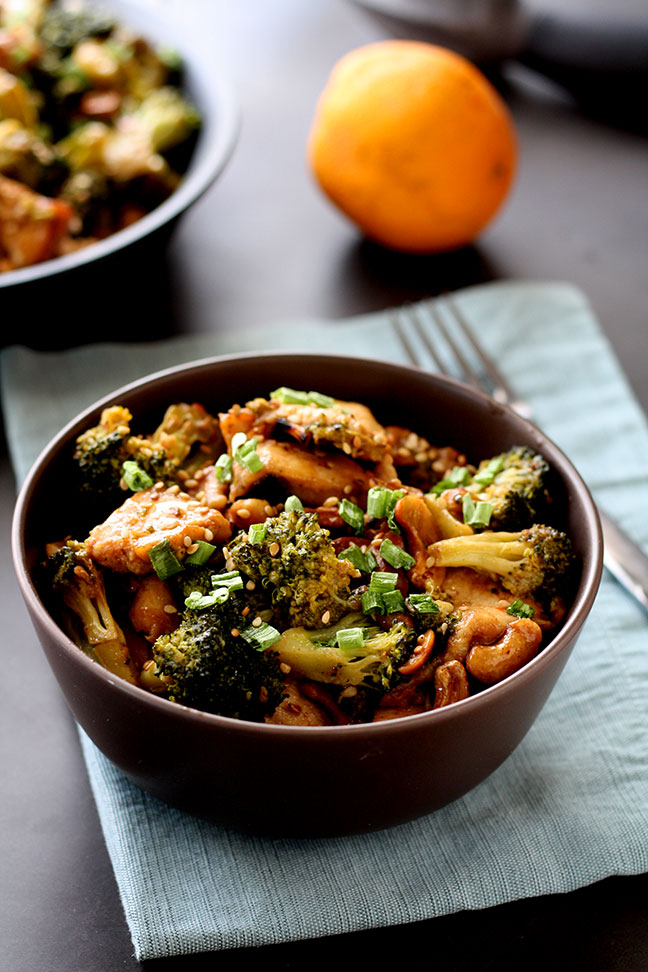 Doesn't this look yummy? It's so simple to make too. Don't let the long ingredient list scare you away. It's really super simple. You don't need a wok either. You can make this one, and any stir fry really, in a skillet that you already have. No fancy equipment required!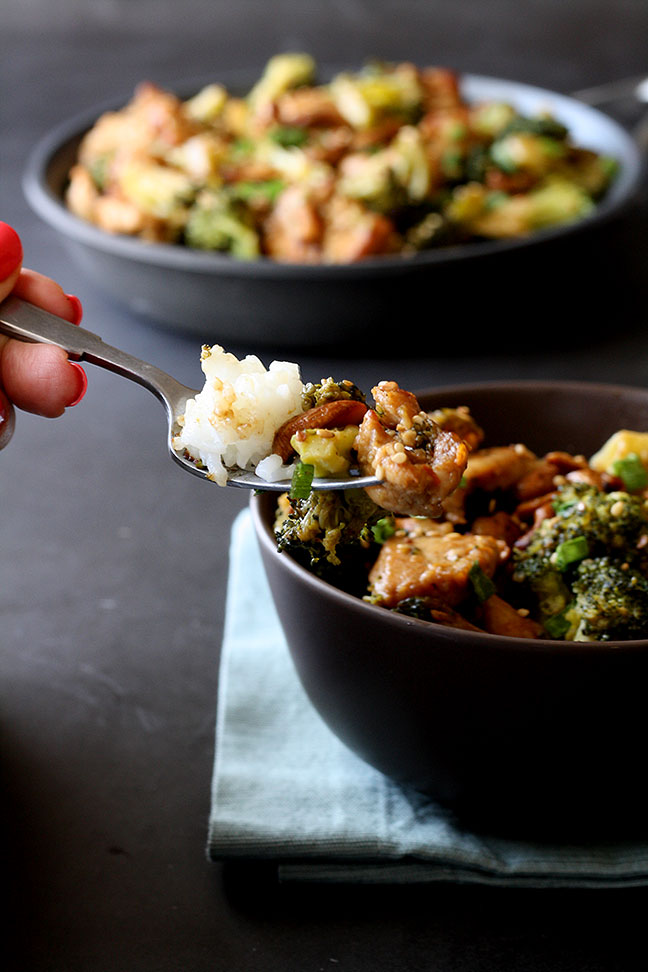 It's light, delicious and healthy. I served it with a side of jasmine rice, but it would go equally well with noodles. Make it your own and enjoy!
Recipe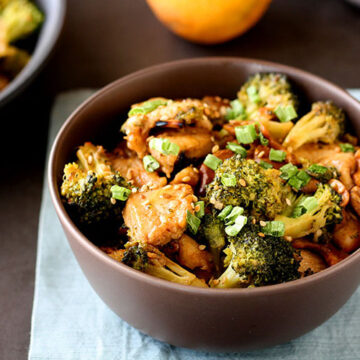 Orange Chicken and Broccoli Stir Fry
This orange chicken and broccoli stir fry is better than anything you would get in a Chinese restaurant, and you can say that you made it yourself! Delicious!
Print
Ingredients
Sauce
¼

cup

low-sodium chicken broth

¼

cup

orange juice

¼

cup

white vinegar

2

teaspoon

soy sauce

2

teaspoon

hoisin sauce

1

teaspoon

cornstarch

1

Tablespoon

sugar

½

teaspoon

red pepper flakes
Chicken Stir Fry
2

cloves

garlic

minced

1

teaspoon

fresh ginger

grated

2

Tablespoons plus 1 teaspoon

vegetable oil

1-¼

cups

water

¼

cup

soy sauce

¼

cup

dry sherry

1

lb

boneless, skinless chicken breasts

trimmed and sliced thin. To produce uniform pieces of chicken, separate tenderloins from partially frozen chicken breasts. Slice breasts across grain into ½-inch wide strips that are 1-½ to 2 inches long. Cut center pieces in half so they are approximately same length as end pieces. Cut tenderloins on diagonal to produce pieces about the same size as strips of breast meat.

2

Tablespoon

toasted sesame oil

1

Tablespoon

cornstarch

1

Tablespoon

all purpose flour

1

cup

unsalted cashews

toasted

1-½

pounds

broccoli, florets

cut into 1-inch pieces, stalks peeled and sliced on bias ¼ inch thick

4

medium

scallions

sliced ¼ inch thick on bias
Instructions
Sauce
Whisk chicken broth, orange juice, white vinegar, soy sauce, hoisin sauce, cornstarch, sugar, and red pepper flakes together in small bowl and set aside.
Stir Fry
Combine garlic, ginger, and 1 tablespoon vegetable oil in small bowl and set aside.

Combine 1 cup water, soy sauce, and sherry in medium bowl. Add chicken and stir to break up clumps.

Cover with plastic wrap and refrigerate for at least 20 mins or up to 1 hour. Pour off excess liquid from chicken.

Mix sesame oil, cornstarch, and flour in medium bowl until smooth. Toss chicken in cornstarch mixture until evenly coated.

Heat 2 teaspoons vegetable oil in 12-inch nonstick skillet over high heat until smoking. Add half of chicken in even layer and cook, without stirring, until golden brown on first side, about 1 minute. Flip chicken pieces over and cook until lightly browned on second side, about 30 seconds. Transfer chicken to clean bowl. Repeat with 2 teaspoons vegetable oil and remaining chicken.

Add remaining 1 tablespoon vegetable oil to skillet and heat until just smoking. Add broccoli and cook 30 seconds. Add remaining ¼ cup water, cover, and lower heat to medium-low. Cook broccoli until crisp-tender, about 3 minutes, then transfer to paper towel-lined plate.

Add garlic mixture to skillet, increase heat to medium-high, and cook, mashing mixture into pan, until fragrant and golden brown, 15 to 20 seconds.

Return chicken to skillet and toss to combine. Whisk sauce to recombine, add skillet, and cook, stirring constantly, until sauce is thickened and evenly distributed, about 1 minute. Off heat, add broccoli and cashews and stir to combine. Transfer to platter, sprinkle with scallions, and serve.
Nutrition
Calories:
528
kcal
|
Carbohydrates:
26
g
|
Protein:
34
g
|
Fat:
32
g
|
Saturated Fat:
10
g
|
Cholesterol:
73
mg
|
Sodium:
1177
mg
|
Potassium:
938
mg
|
Fiber:
3
g
|
Sugar:
9
g
|
Vitamin A:
642
IU
|
Vitamin C:
63
mg
|
Calcium:
61
mg
|
Iron:
4
mg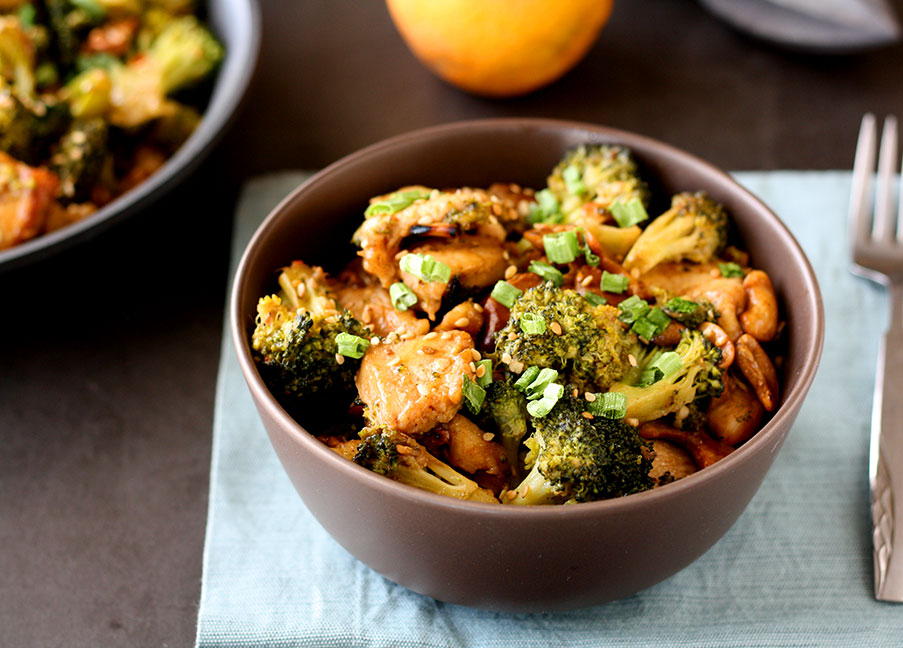 Recipe Credit: Cook's Illustrated Cookbook: 2,000 Recipes from 20 Years of America's Most Trusted Food Magazine