Jump to Recipe
Use the toppings of your choice, homemade sauce and make a surefire crispy pizza in your skillet. No more saggy and soggy pizza slices!
I love pizza. I'm probably not alone in this, right? When I was growing up my dad used to refer to me as the pizza kid. Ask me what I wanted to eat and I would always answer, "Pizza!" with all of the enthusiasm of a child on the last day of school. I could eat it morning, noon and night. Needless to say, when I became an adult I've tried my hand at making homemade pizza on numerous occasions. Some attempts were winners and some were losers. It was a definite hit or miss. I never quite figured out how to get the crust just right every time. It was either overly crisp or saggy and soggy. Usually saggy and soggy. No one complained. They were polite. But I knew my pizza-making skills could use some work.
That was until I saw a recipe that called for making the pizza in a skillet. Just a regular old (or new) skillet. Now maybe I've been living in the pizza-making dark ages, but that thought never even occurred to me. I'd heard of making pizza in a cast iron skillet, but I don't own a cast iron skillet and - call me silly - I thought cast iron was required. No indeed! Any skillet will do, although it does have to be oven safe.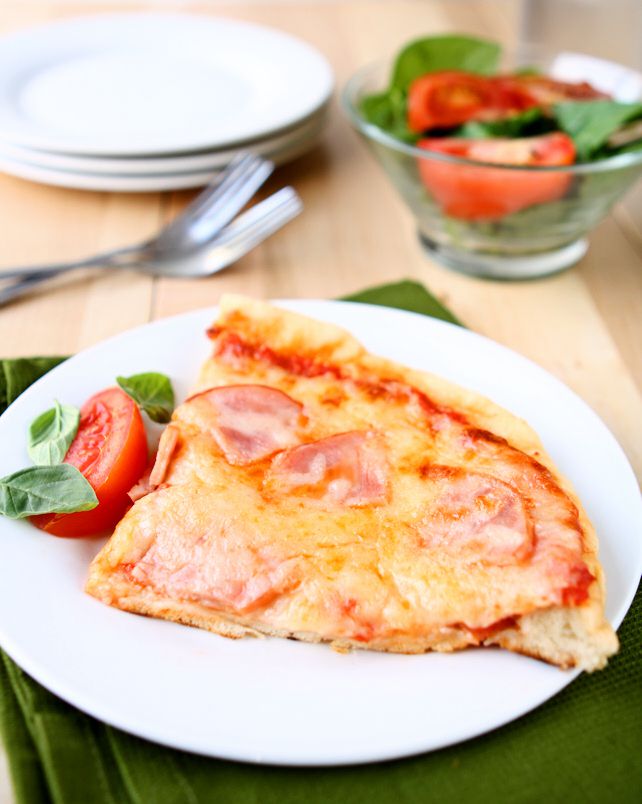 I'm telling you, that skillet is a pizza-making miracle-worker. I've made it this way about 3-4 times now. Perfect. Every. Time. Granted, this won't make a huge pizza that's big enough to feed a large crowd. Skillets are only so big. However, it will make one small-medium pizza, suitable for 2-3 people. Now, there's nothing stopping you from doubling or even tripling this recipe and making several small-medium pizzas using various toppings. It would be great for a party. And you don't have to worry about getting bogged down with lengthy cooking times because it only spends about 3 minutes on the stove and 7 minutes in the oven. It may not be something you want to do in the summer because making a batch of several pizzas adds up to a lot of oven time. I know I don't really want to fire my oven up to 500 degrees in the middle of summer, especially living in Arizona. If it was for anything other than pizza, it just wouldn't happen. Yet, fall is right around the corner and with it come fall gatherings. I've heard it's a busy time for take-out pizza places. If you're going to have a party that involves pizza, hopefully this has inspired to try making it yourself?
If that doesn't inspire you, then maybe this video will.
Easy, huh?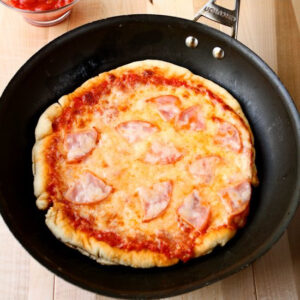 Skillet Pizza
Use the toppings of your choice, homemade sauce and make a surefire crispy pizza in your skillet. No more saggy and soggy pizza slices!
Ingredients
Dough:
1

cup

all purpose flour

¾

tsp.

rapid rise yeast

½

tsp.

salt

1-½

tsp.

olive oil

½

cup

warm water

110 degrees
Pizza:
3

tbsp.

olive oil

extra virgin

½

cup

canned diced tomatoes

drained with juice reserved

½

tsp.

minced garlic

1 clove

¼

tsp.

salt

1

cup

shredded mozzarella cheese

4 oz.

2

tbsp.

shredded Parmesan cheese

toppings of your choice. I used Canadian bacon.
Instructions
Dough:
Process flour, yeast, and salt in food processor until combined, about 2 seconds. With processor running, slowly add oil, then water, and process until dough forms sticky ball that clears sides of bowl, 1-½ to 2 minutes. If dough is sticky and clings to blade, add extra flour, 1 tablespoon at a time, as needed until it clears sides of bowl)

Transfer dough to lightly floured counter and shape into tight ball. Place dough in large, lightly oiled bowl and cover tightly with plastic wrap and towel. Let rise at room temperature until doubled in size, 1 to 1-½ hour.
Pizza:
Adjust rack to upper-middle position and heat oven to 500 degrees.

Pulse tomatoes, garlic, salt and 1 tablespoon oil together in good processor until coarsely ground, about 12 pulses. Transfer mixture to liquid measuring cup and add reserved tomato juice until sauce measures ¾ cup.

Place dough on lightly floured counter. Press and roll dough into 11-inch round. Grease 12-inch ovensafe skillet with 2 tablespoons oil. Transfer dough to skillet; reshape as needed. Spread sauce over dough, leaving about ½-inch border at the edge. Sprinkle mozzarella and Parmesan evenly over sauce. Add toppings of your choice and another layer of cheese.

Set skillet over high heat and cook until outside edge of dough is set, pizza is slightly puffed, and bottom crust is spotty brown when gently lifted with spatula, about 3 minutes.

Transfer pizza to oven and bake until crust is brown and cheese is golden in spots. 7 to 10 minutes. Using potholders, remove skillet from oven and slide pizza onto cutting board. Let pizza cool for 5 minutes before slicing and serving.
Nutrition Facts
Calories:
676
kcal
(34%)
Carbohydrates:
52
g
(17%)
Protein:
25
g
(50%)
Fat:
41
g
(63%)
Saturated Fat:
13
g
(81%)
Cholesterol:
57
mg
(19%)
Sodium:
1381
mg
(60%)
Potassium:
241
mg
(7%)
Fiber:
2
g
(8%)
Sugar:
2
g
(2%)
Vitamin A:
577
IU
(12%)
Vitamin C:
6
mg
(7%)
Calcium:
475
mg
(48%)
Iron:
4
mg
(22%)
Nutritional information provided is for one serving and is only an estimate. The accuracy of the nutritional information for any recipe on this site is not guaranteed.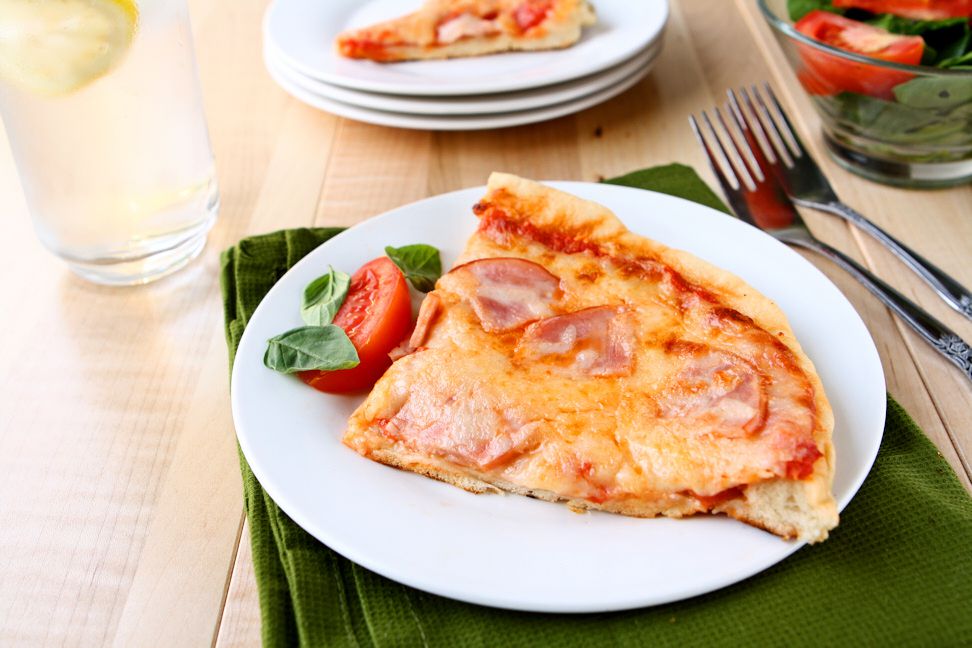 Recipe from America's Test Kitchen The Complete Cooking for Two Cookbook